Separators for Lithium-ion Batteries
Research & Development
Separators for Lithium-ion Batteries
Innovative Separator
LIELSORT

®
With the growing popularization of tablet PCs and electric vehicles, lithium-ion batteries (LIBs) are expected to achieve both of larger capacity and higher energy density. LIELSORT® electrically isolates the cathode from the anode to inhibit thermal runaway caused by short circuits and contributes high voltage stability and finally consumer safety. 
Cylindrical-type battery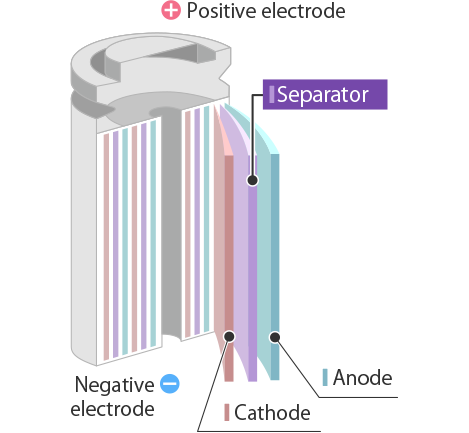 Laminated-type battery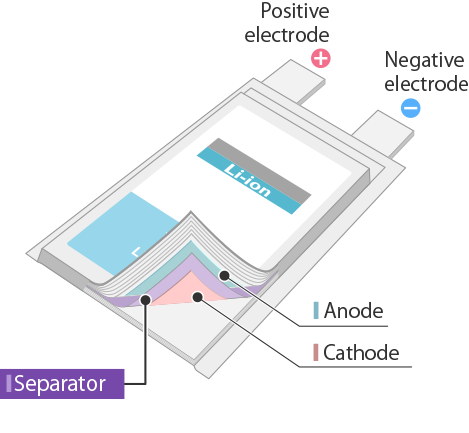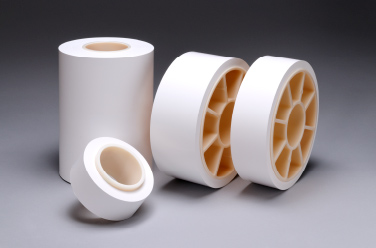 In responding to increasingly evolving and diversified market needs, Teijin developed LIELSORT®, innovative separators using microporous polyethylene substrate, one coated with Teijinconex® meta-aramid, and the other coated with the world's first fluorine-based compound, for superior heat-resistance and adhesion to polymer electrolyte.
Longer Battery Life as well as 20% Higher Output
The separator coated with Teijinconex® meta-aramid maintains its shape even at 250℃. In spot heating tests, Teijin has verified that the separator does not break down even at 400℃. This superior heat-resistance persistently inhibits thermal runaway, enabling LIB production with greater safety.

Another type is fluoride coated separator. It has been designed for pouch-type of LIBs used for tablet PCs and smartphones for instance. This separator has excellent adhesion to electrodes and prevents leakage of electrolyte, resulting in a LIB with higher reliability and longer lifespan.

These two types of innovative separator LIELSORT® products give superior resistance to oxidation and high affinity / wettability with electrolyte. LIELSORT® may combine with a high-potential cathode and contribute LIB safety and lifespan liability.
Functionality of Innovative Separator
LIELSORT

®