Intellectual Property Strategy
Innovations
Intellectual Property Strategy
With the advent of the fourth industrial revolution, business and intellectual property (IP) environments are massively changing. Nowadays, it is more precisely important for business enterprises to strategically utilize IP as well as technology developments and patent protections. The Teijin Group aims to create new solutions that contribute to people and societies around the world. To accomplish our aim, we are involving business model creations as well as technology-oriented approaches to won technology situation. It is essential for us to focus on effective IP utilizations and business model creations in formulating management, business and R&D strategies to avoid finding ourselves winning in technologies but losing in business. Our IP strategy requires ourselves to undertake a series of activities: conducting ICT-based analyzing tools to get senses of technology/IP trends inside and outside of the Teijin Group; establishing procedures for acquiring technologies and IP encompassing those developed in-house and those available under open innovation; and then developing competitive business models.
Major IP activities contemplated by the Teijin Group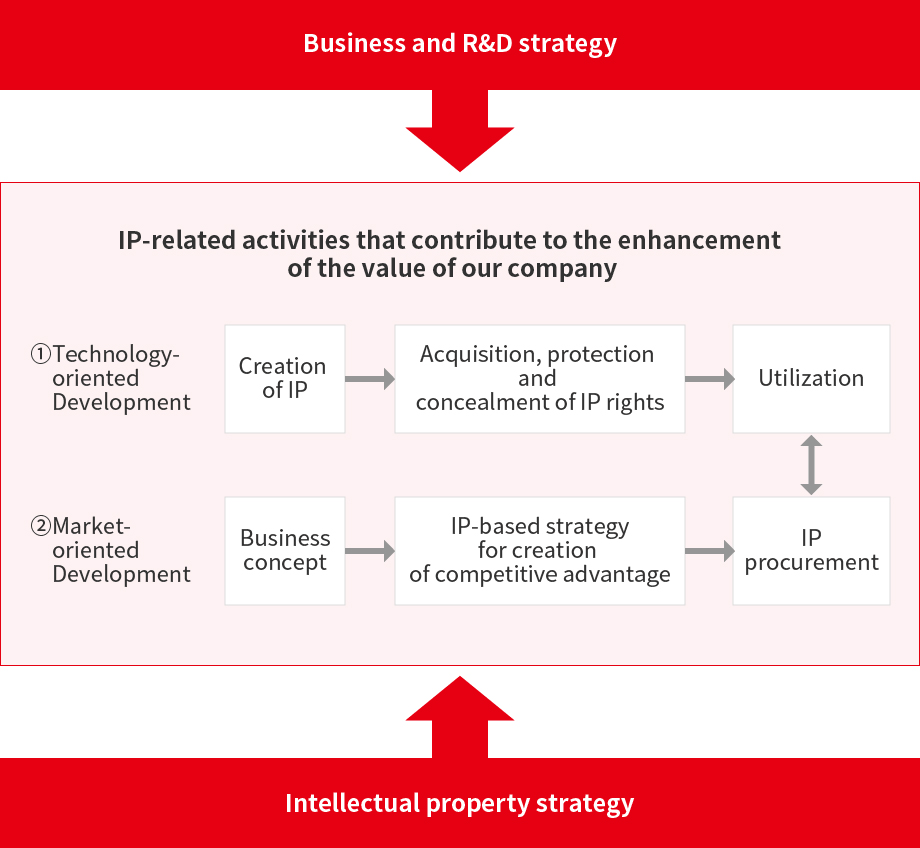 Intensive analysis of the business environment is essential for planning business strategies and Teijin promotes the utilization of IP information analyses. We at the Teijin Group has a scheme in which both patent and non-patent information is fully drawn upon to analyze technology trends and information on other companies' IP (IP landscape analysis), and utilizes the results for business decision-making.
The Teijin Group regards intellectual property rights as an important tool for establishing competitive strategies in all of our business fields. Based on the results of a detailed analyses of business environments, we strategically obtain IP rights focusing on core technologies that can become core business competencies. This enables us to build a solid IP portfolio that effectively discourages competitors from market entry while generating competitive advantage for us.
As tools for establishing and implementing our competitive strategy, we obtain and utilize any and every kind of IP rights, including not only patents but also utility models, design rights, trademark rights, copyrights, contracts, etc. In addition, we have a scheme in which our own technical know-how to be strictly controlled as trade secrets in accordance with groupwide criteria, thereby ensuring that our competitive advantages are sustained even after the expiration of IP rights. Moreover the Teijin Group is stepping up efforts to foster specialists in the field to deal with the ever-rising importance of IP agreements in association with IoT business growth.