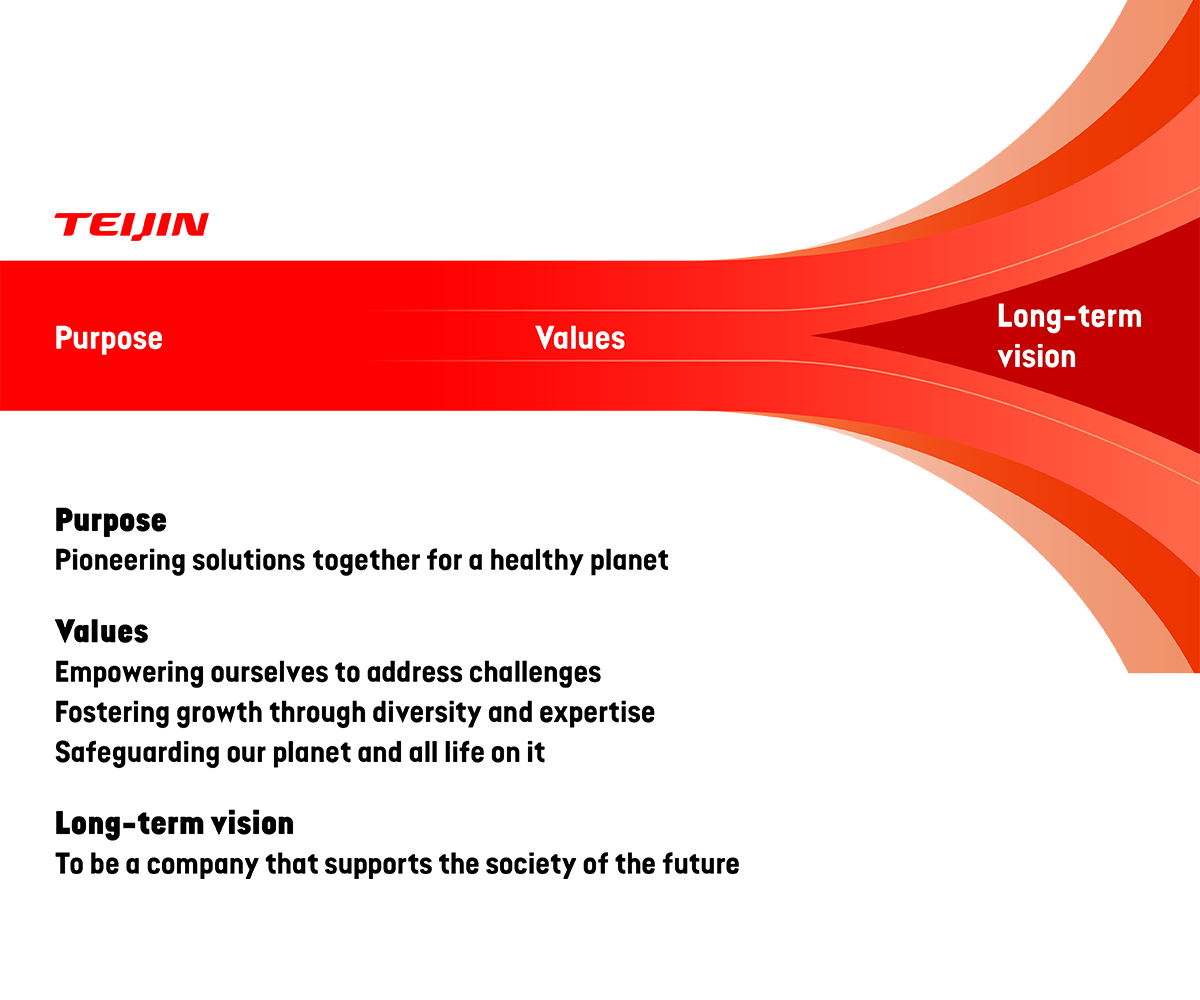 Quality of Life
The Teijin Group's purpose is to enhance the quality of life through a deep insight into human nature and needs, together with the application of our creative abilities.
a.

The term "quality of life" characterizes most of the positive aspects of human life: material well-being, good health and peace of mind; the full variety of joy and satisfaction gained from rewarding work, favorite pursuits and daily human contact; and affection and due respect for all living things.

b.

We believe that the ultimate goal of any enterprise is to help people realize and maintain a high quality of life. We seek to reach this goal by developing creative technologies and by setting and meeting the highest standards of marketing skills and other business strategies.
Our aim is to grow and evolve in harmony with the progress of society, thus justifying the trust of our shareholders, customers and the public at large. To this end, we strive constantly to raise corporate value and place our highest priority on safety and the environment.
a.

An enterprise is but one member of society. Accordingly, we strive to maintain harmony with society and ensure sound growth. We also endeavor to offer innovative products and services and new life style ideas that enhance the quality of life.

b.

In line with our commitment to being fair and open, we maintain an active dialogue with society, enabling us to hear clearly the voice of the public and respond effectively to its needs.

c.

With a global perspective, we operate with respect for local customs and concerns to ensure that we earn the trust of the communities in which we operate.

d.

Enhancing humankind's quality of life depends directly on responsible care for the environment. We give first priority to this critical task in the development of our products and services as well as in our everyday manufacturing activities.
We encourage our employees to achieve self-realization by developing and exercising their abilities to the fullest. We nurture a corporate community with a wide variety of abilities and personalities to foster creative innovation.
a.

We support our people in all their efforts to improve their own quality of life by providing many chances to experience challenging and rewarding work and the joys of achievement.

b.

Among our many management resources (well-trained personnel, capital, facilities, technologies, information, brand, corporate culture, etc.), our people are the most important. We aim to maximize each individual's full potential through fair and impartial evaluation and treatment.

c.

To maintain the status quo is to accept eventual decline. An enterprise can only grow and evolve through continual creation and innovation. We attach special importance to the development of latent capabilities of those employees who wish to meet the challenges of future possibilities in addition to accomplishing the tasks of today.

The promise of the Teijin brand is summed up in the resonant statement:"Human Chemistry, Human Solutions." Our promise is to enhance quality of life. We do this by maximizing the potential of chemistry, focusing on its benefits for people, society and the global environment to ceaselessly pursue solutions that encourage the evolution of society.
We will keep this promise and continue to win the trust of our stakeholders.
Our core competence is expressed as "Human Chemistry."
"Human Chemistry" means chemistry developed with respect for humankind and the global environment. This chemistry is not only the chemistry between substances, but also between people, products and services. By using these interactions to create new value and bring people together we are maximizing the potential of chemistry.
Our core value is expressed as " Human Solutions."
"Human Solutions" means providing solutions that encourage the evolution of society by using technologies, products and services created through "Human Chemistry," thereby enhancing quality of life.
The Teijin Group relentlessly strives to be a company that supports the society of the future, by utilizing our diversity to create value for society's needs.
We — The Teijin Group, including its officers and employees — act according to our conscience, with the aim of enhancing the quality of life for all stakeholders.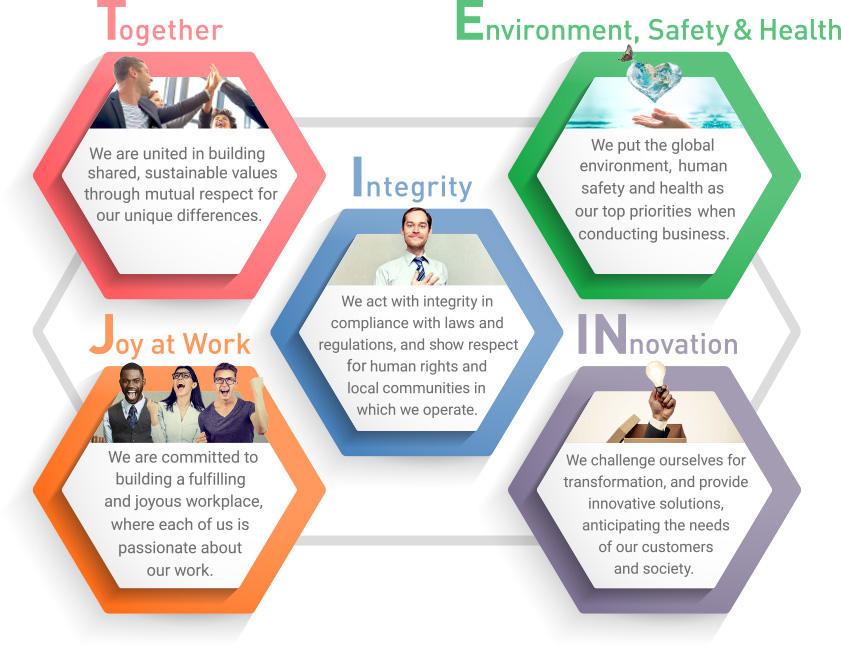 Corporate Standards of Conduct
Established on April 1, 1998
Latest Revision: April 1, 2012
The Teijin Group Corporate Ethics Handbook distributed to all employees in Japan specifies 17 items of Corporate Standards of Conduct. The main text of each item of the Standards is followed by the topics for the employees such as Explanation, Courses of Action, Major Relevant Laws and Regulations in Japan, Group's Relevant Regulations and For more information and consultation. On this web site, however, only the titles of the 16 items of the Standards and their main texts are shown.
These Corporate Standards of Conduct apply to the employees of the Teijin Group in Japan. Therefore, Corporate Standards of Conduct for the employees serving the overseas Group companies are also prepared considering the laws and regulations and social norms of the country where the business is operated.
1.

Ensuring of Safety and Quality of Products and Services

We shall strive to provide safe, reliable and environmentally-friendly products and services.

2.

Disaster Prevention/Safety and Health

We shall strive to ensure disaster prevention and safety and health maintenance at all stages of our business activities from research and development, procurement and production to distribution, sales, usage and waste disposal.

3.

Global Environment

We shall endeavor towards preserving the environment at all stages of our business activities, from research and development, procurement and production to distribution, sales, usage and waste disposal, and towards providing products and services that reduce our environmental footprint.

4.

Social Contribution Activities

We shall contribute to society through business activities. We shall form symbiotic relationships with society and engage in social contribution activities appropriate for good corporate citizen.

5.

Respect for Diverse Cultures and Practices

We shall strive to exist and prosper alongside local communities, such as those in countries and regions where our business is operated, by respecting local cultures and practices.

6.

Information Disclosure to Stakeholders

We shall disclose information concerning corporate management and business activities to our stakeholders in a timely and appropriate manner, and sincerely deal with opinions or information given by our stakeholders.

7.

Respect for Human Rights and Prohibition of Discrimination and Harassment

We shall respect the human rights of all employees and other individuals engaged in our business activities and shall neither discriminate against nor harass any of them.

8.

Respect for Personality and Individuality of Employees

We shall respect the personality and individuality of employees and their diverse values and strive to allow each employee to make full use of his/her individuality and capability so that all employees can take pride and pleasure in their jobs and experience self-realization.

9.

Defense against Anti-Social Activities

We shall take a resolute attitude towards organized crime and other anti-social forces, forbid those groups to become involved in corporate affairs, and sever any and all relationships with them.

10.

Prohibition of Insider Trading

We shall never participate in insider trading and shall avoid behavior that leaves us open to suspicion of involvement in insider trading.

11.

Export Control for Security

We shall verify the end users at sales destinations and intended usage and carry out other designated procedures for the export of "all products and technologies that fall under list controls" and "all products and technologies intended for non-white countries," as well as strictly implement regulations on export control for security as they pertain to the export of the above.

12.

Adjustment of Conflict of Interest between Private Individual's

We shall not seek private profit by taking advantage of information known to us over the course of job performance. We shall draw a clear line between corporate affairs and private affairs and shall not use any corporate properties for private purposes.

13.

Compliance with Antimonopoly Laws and Relevant Laws

We shall comply with antimonopoly laws and other relevant laws and regulations effective in countries or regions where our business is operated.

14.

Fair and Transparent Commercial Transactions

We shall implement fair and transparent commercial transactions.

15.

Social Interactions with Business Partners

We shall neither offer nor receive gifts or entertainment that deviates from common sense.

16.

Respect for Intellectual Property Rights

We shall protect and utilize our intellectual property rights and strive to avoid infringing those of other companies, acknowledging that such rights are important corporate property.

17.

Collection, Recording, Storage of Information and Confidentiality

We shall collect information in a fair manner, record it precisely, store it in an appropriate manner and maintain the security of such information.