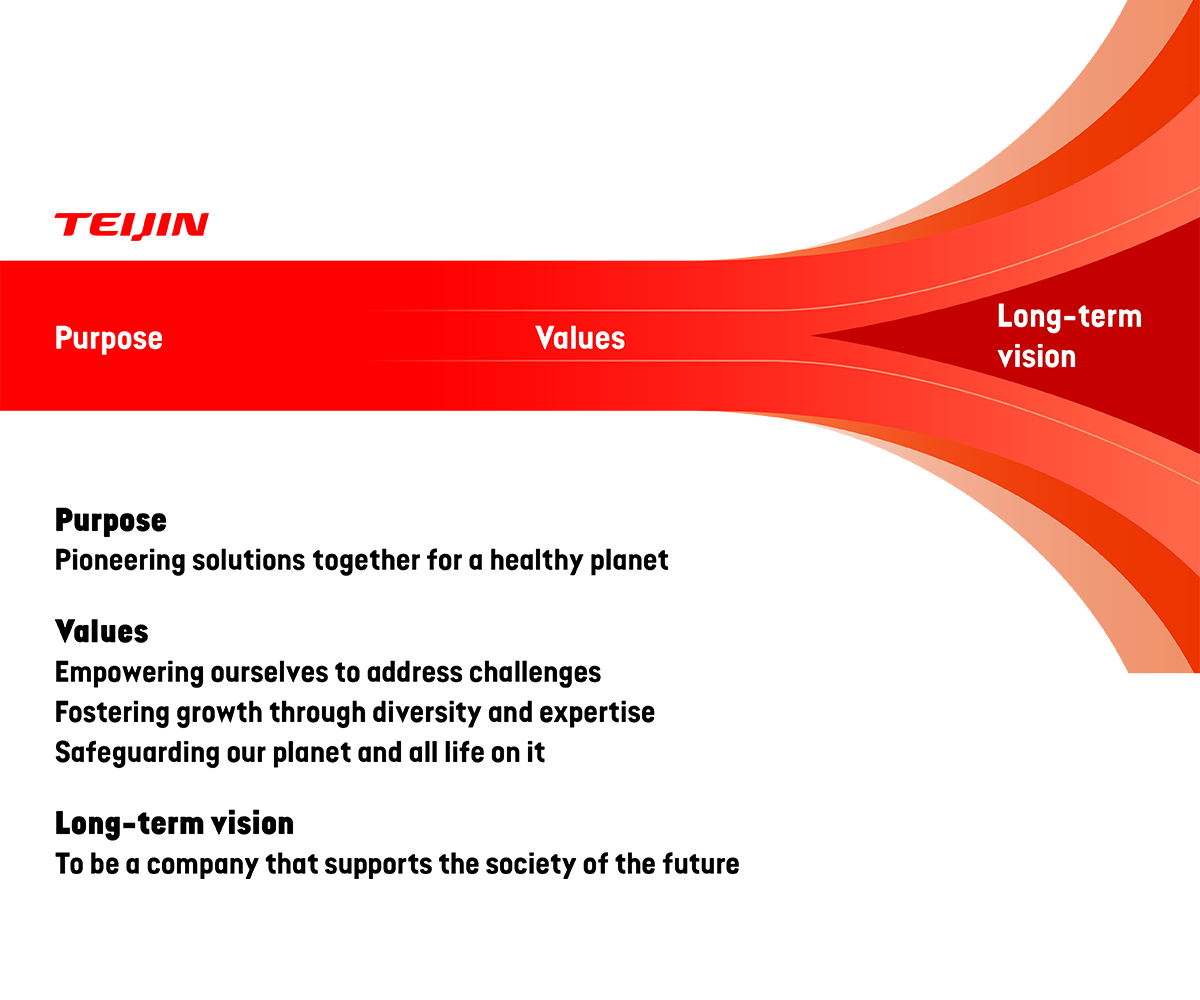 Enhancing the Quality of Life
The Teijin Group's purpose is to enhance the quality of life through a deep insight into human nature and needs, together with the application of our creative abilities.
a.

The term "quality of life" characterizes most of the positive aspects of human life: material well-being, good health and peace of mind; the full variety of joy and satisfaction gained from rewarding work, favorite pursuits and daily human contact; and affection and due respect for all living things.

b.

We believe that the ultimate goal of any enterprise is to help people realize and maintain a high quality of life. We seek to reach this goal by developing creative technologies and by setting and meeting the highest standards of marketing skills and other business strategies.
Our aim is to grow and evolve in harmony with the progress of society, thus justifying the trust of our shareholders, customers and the public at large. To this end, we strive constantly to raise corporate value and place our highest priority on safety and the environment.
a.

An enterprise is but one member of society. Accordingly, we strive to maintain harmony with society and ensure sound growth. We also endeavor to offer innovative products and services and new life style ideas that enhance the quality of life.

b.

In line with our commitment to being fair and open, we maintain an active dialogue with society, enabling us to hear clearly the voice of the public and respond effectively to its needs.

c.

With a global perspective, we operate with respect for local customs and concerns to ensure that we earn the trust of the communities in which we operate.

d.

Enhancing humankind's quality of life depends directly on responsible care for the environment. We give first priority to this critical task in the development of our products and services as well as in our everyday manufacturing activities.
We encourage our employees to achieve self-realization by developing and exercising their abilities to the fullest. We nurture a corporate community with a wide variety of abilities and personalities to foster creative innovation.
a.

We support our people in all their efforts to improve their own quality of life by providing many chances to experience challenging and rewarding work and the joys of achievement.

b.

Among our many management resources (well-trained personnel, capital, facilities, technologies, information, brand, corporate culture, etc.), our people are the most important. We aim to maximize each individual's full potential through fair and impartial evaluation and treatment.

c.

To maintain the status quo is to accept eventual decline. An enterprise can only grow and evolve through continual creation and innovation. We attach special importance to the development of latent capabilities of those employees who wish to meet the challenges of future possibilities in addition to accomplishing the tasks of today.

The promise of the Teijin brand is summed up in the resonant statement:"Human Chemistry, Human Solutions." Our promise is to enhance quality of life. We do this by maximizing the potential of chemistry, focusing on its benefits for people, society and the global environment to ceaselessly pursue solutions that encourage the evolution of society.
We will keep this promise and continue to win the trust of our stakeholders.
Our core competence is expressed as "Human Chemistry."
"Human Chemistry" means chemistry developed with respect for humankind and the global environment. This chemistry is not only the chemistry between substances, but also between people, products and services. By using these interactions to create new value and bring people together we are maximizing the potential of chemistry.
Our core value is expressed as " Human Solutions."
"Human Solutions" means providing solutions that encourage the evolution of society by using technologies, products and services created through "Human Chemistry," thereby enhancing quality of life.
The Teijin Group relentlessly strives to be a company that supports the society of the future, by utilizing our diversity to create value for society's needs.
We — The Teijin Group, including its officers and employees — act according to our conscience, with the aim of enhancing the quality of life for all stakeholders.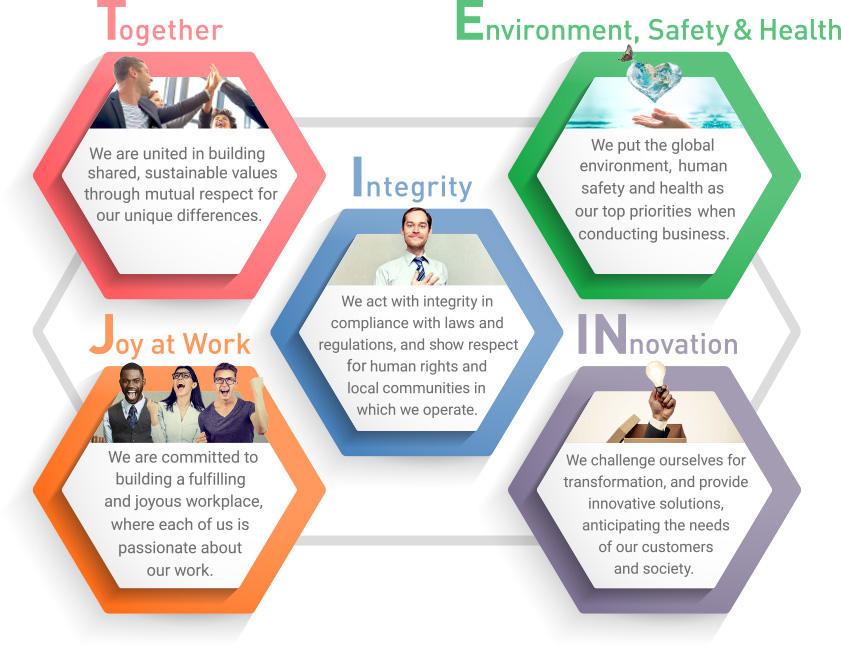 We are united in building shared, sustainable value through mutual respect for our unique differences.
We accept our diversity in terms of race, religion, sex, gender, and cultural background, and we respect each other's personality and character.
We appreciate different opinions and perspectives and engage in honest discussions for better conclusions.
We leverage our partnerships internally and externally, cooperating to create products and services that help society's sustainable development. As good corporate citizens, we contribute to society in an appropriate manner for evolving together with our local communities.
Environment, Safety & Health
We put the global environment, human safety and health as our top priorities when conducting business.
We seek to protect the environment and reduce the environmental burden in every part of our business; including research and development, procurement, production, logistics, sales, use, recycle, and disposal.
We put human life first in every step of our business. We strive to provide a safe work environment and protect our physical and mental health. We also provide our customers with safe and trustworthy products and services.
We act with integrity in compliance with laws and regulations, and show respect for human rights and local communities in which we operate.
We respect human rights and do not allow any discrimination and harassment in any part of our business and supply chain. We also maintain accountability by conducting our business in a way that helps to win the trust of local communities.
We comply with applicable laws and regulations in every country and region where we do business and respect internationally-accepted principles.
We respect and/or protect:
fair trade
accurate records, reports and documentation
timely, appropriate, and fair disclosure
intellectual property
personal data, and confidential information
whistle-blowing
security export control
We do not allow for:
anticompetitive behaviors, such as cartels
corruptions such as bribery
insider trading and market manipulation
money laundering and terrorism financing
dealing with antisocial forces
We are committed to building a fulfilling and joyous workplace, where each of us is passionate about our work.
We accept each other's roles and contribution. We also trust and help each other to create a work environment where everyone can work with a sense of security and vigor.
We enhance our team's capabilities by boldly pursuing new possibilities and actively supporting the growth of our colleagues.
We contribute to society through our work by understanding and sharing our goals and purposes of our work.
We challenge ourselves for transformation, and provide innovative solutions, anticipating the needs of our customers and society.
We stay perceptive to future society's needs by being observant of changes in the world and boldly innovating and creating revolutionary products and services.
We create better ideas, technologies, and processes, taking full advantage of the chemistry of diverse opinions and perspectives. We transform ourselves by thinking outside the box.
*

Established on April 27, 2018 after the corporate resolution of the Board of Directors of Teijin Limited.