Research and Development
R&D Strategies
With an aim to be an "company that supports the society of the future", Teijin continuously promotes transformation by anticipating changes in the external environment, and conducts research and development to create new value at all times.

Under the medium-term management plan for 2017‐2019 named "ALWAYS EVOLVING", Teijin is striving to improve core earnings through growth strategies, establish new core businesses through transformation strategies and strengthen group-wide management systems.
R&D Strategy for Growth Centered on Technologies
Recognizing that technical innovations are the basis for corporate growth, Teijin has set a group-wide R&D strategy inclusive of basic research, and is strengthening alliances among group companies, aiming to expedite research achievements.

Teijin's core technologies assuring sustainable business growth and structural innovations are supported by various basic technologies in the fields of polymer science, drug discovery, biotechnology and nanotechnology. Based on these technologies, we are continuing to strengthen our R&D, specifying Environmental Value Solutions, Safety, Security and Disaster Mitigation Solutions, and Demographic Change and Increased Health Consciousness Solutions as priority technological fields.
Increased technological capabilities to realize a solution-oriented business
In our material business field, we have taken a customer-oriented approaches, maintaining healthy profits through proposals and supplies of materials highly suited to customer needs and issues. However, there are certain limitations in creating new businesses with growth capacities under the conventional business models as a materials provider based on discovering potential needs from customers and markets. Therefore, we develop unique components, materials and devices not only by extending our existing technologies and strengthen our competitiveness but also by implementing customer-involved product developments combining our cutting-edge materials with advanced processing technologies.

Furthermore, Teijin is aiming to provide with valuable new solutions to customers and markets. To achieve this, we keep striving our flexibilities in combining materials by utilizing internal and external materials from wide-ranging fields both.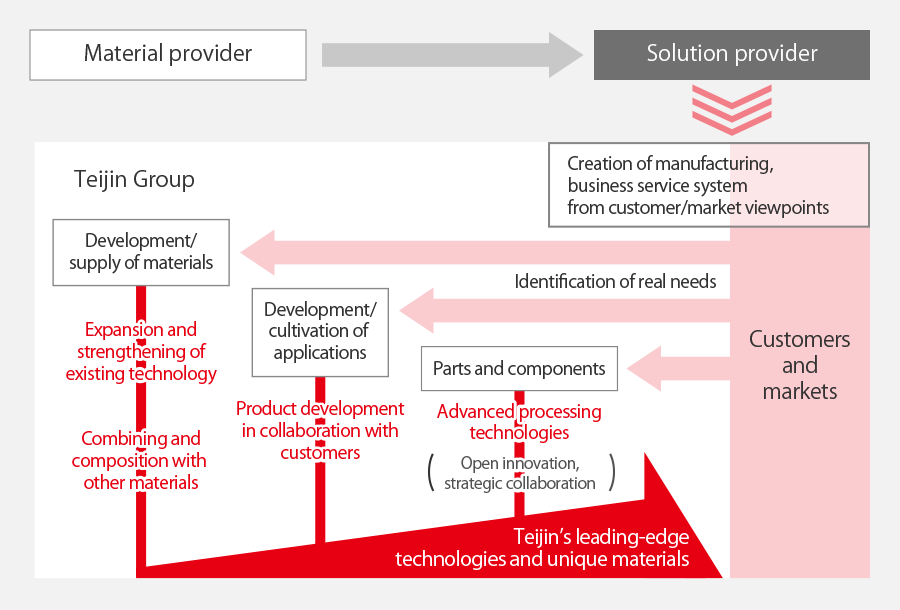 Development in healthcare new business
Teijin will diversify its product and service lineups in the fields of medical equipment, digital healthcare, implantable medical products and functional food materials without merely relying on the fields in the existing pharmaceutical and home healthcare businesses. We also make every effort to establish a healthcare business platform for pre-symptomatic condition, diseases and nursing care, and new business using the group's information platform.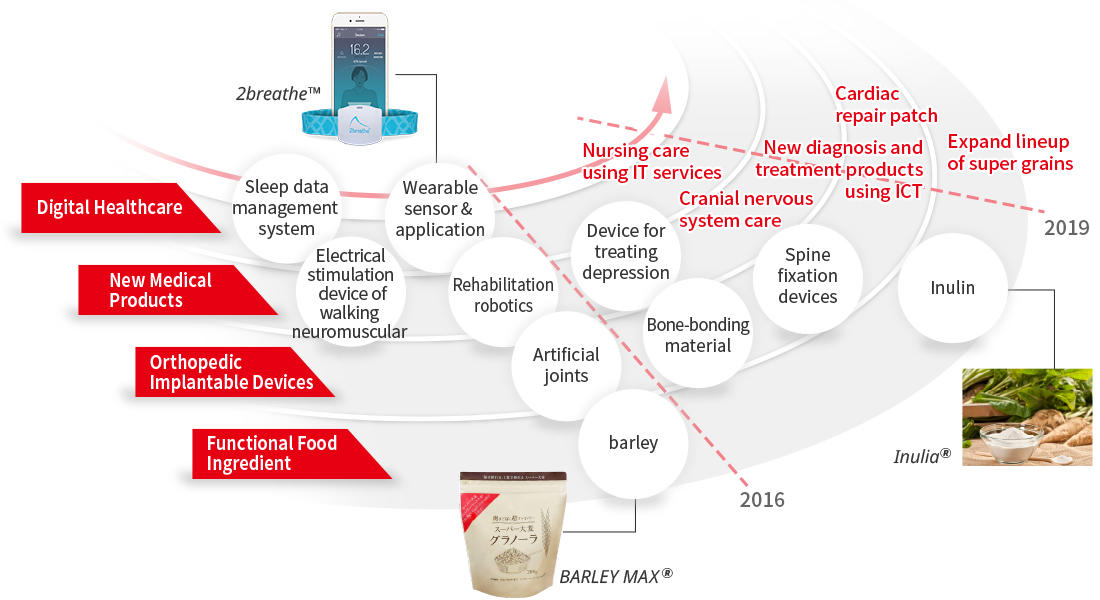 Expand our healthcare business fields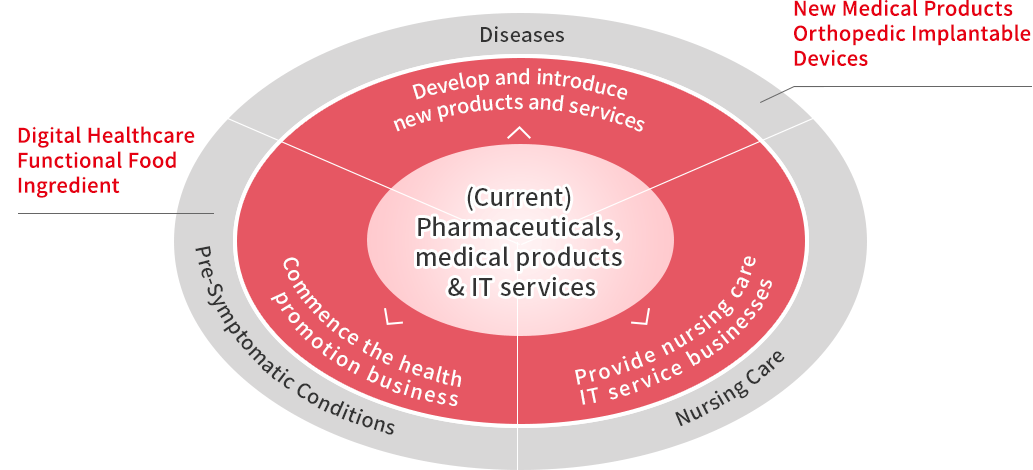 We work to Strengthen;

Cultivating Technologically-skilled Human Resources
To realize sustainable corporate growth, it is essential to have technological innovations and to develop technologically-skilled human resources to propel these innovations forward. Teijin is focusing on cultivating technologically-skilled personnel who will lead the future. For example, the Teijin Mirai Forum, which aims to foster young researchers and create network of researchers involved in polymer science and other chemical fields; the Teijin Technology Advisory Council, a committee comprised of university professors and researchers from various fields of specialties, that give researchers opportunies to discuss future technologies, innovative processes and technology trends, and to assign young researchers to leading research institutions globally. We have also established the Teijin Techno College, an educational institution that involves retired employees as lecturers, passing down technical knowledge, skills and techniques to our next-generation R&D personnel.

Furthermore, we have Dr. Ei-ichi Negishi of Purdue University in the US, formerly worked at Teijin and was awarded the Nobel Prize in Chemistry in 2010, as a Teijin Group Distinguished Fellow. Dr. Negishi provides consultations on selected research themes.
Acquiring new technologies through cooperation with industry, academia and government
To promote R&D aimed at developing new businesses, Teijin upholds Open Innovation Strategy for strengthening our internal and external collaborations. This policy promotes to provision timely and advanced solutions to customers by building strong and active networks for R&D-related information and personnel exchanges among industry, government and academia.

Based on this Open Innovation Strategy, we have implemented a more open R&D structure, and integrated basic research, incubation and marketing systems, aiming to speed up developments and efficient R&D results.

In basic research, we are proactively networking with researchers and academic societies conducting frontline research in the areas of polymer science, drug discovery, nanotechnology and biotechnology. In addition, we are focusing on the development of emerging and leading-edge technologies matched to market needs through participation in public organization projects and collaborative research with universities.

At incubation stages for commercial applications, we are aiming to combine our technologies with the technologies of customers in our key fields and joint research partners to accelerate developments and achieve more efficient results.

In marketing, to ensure that customers' requirements are incorporated into our R&D more quickly and precisely, we have established the Teijin Mirai Studio as a showroom for the Teijin Group's latest technologies and products, and a customer laboratory to bring customers' ideas and product concepts to technology trial stages. Moreover, we are actively promoting cross-sectional for our marketings key fields.
Open Innovation R&D