Sustainability
Materiality and KPIs
We introduce the five material issues of the Teijin Group, and the key performance indicators (KPIs) and target values.
Materiality of the Teijin Group
Materiality is social issues that we prioritize in our actions to realize our long-term vision of being a company that supports the society of the future.
In the Medium-Term Management Plan 2020-2022, based on global social issues and the goals set forth in the SDGs, we have organized risks and opportunities that our company faces and identified five material issues to be addressed as management issues from fiscal 2020 onward.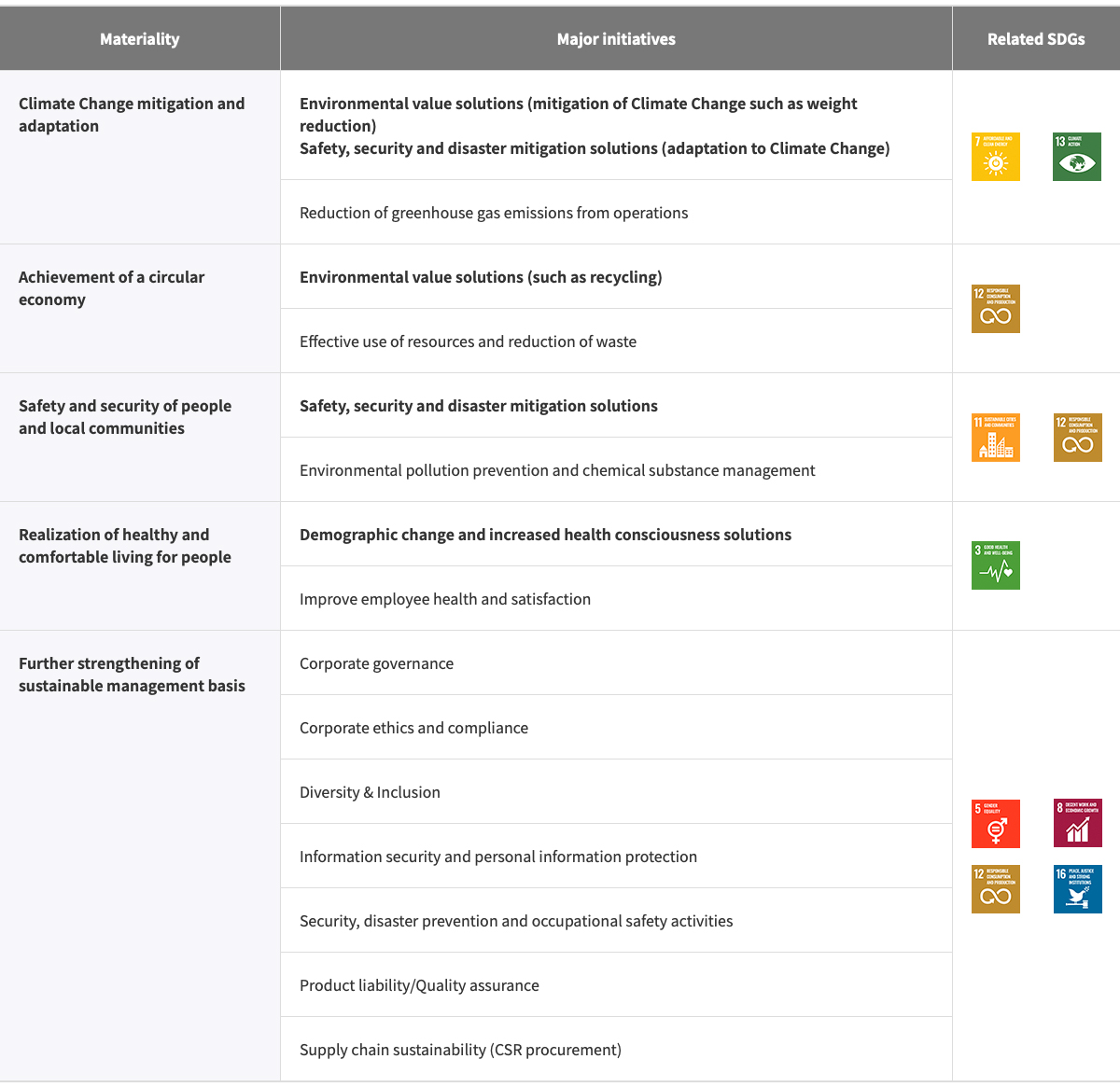 Process of identifying materiality
The Teijin Group grasps a wide range of social issues and screens them by conducting a materiality analysis from the perspective of their degree of importance to the Teijin Group and degree of impact on stakeholders. The Chief Social Responsibility Officer then consults with external experts. The Teijin's Group Management Committee finally identifies the materiality to the Teijin Group.

Grasp the trends of a wide range of social issues including the SDGs, and digest them
STEP2 Analyze materiality
The digested social issues are analyzed and mapped two-dimensionally, with importance of the social issues to the Teijin Group in ascending order along the horizontal axis, and impact on stakeholders in ascending order along the vertical axis.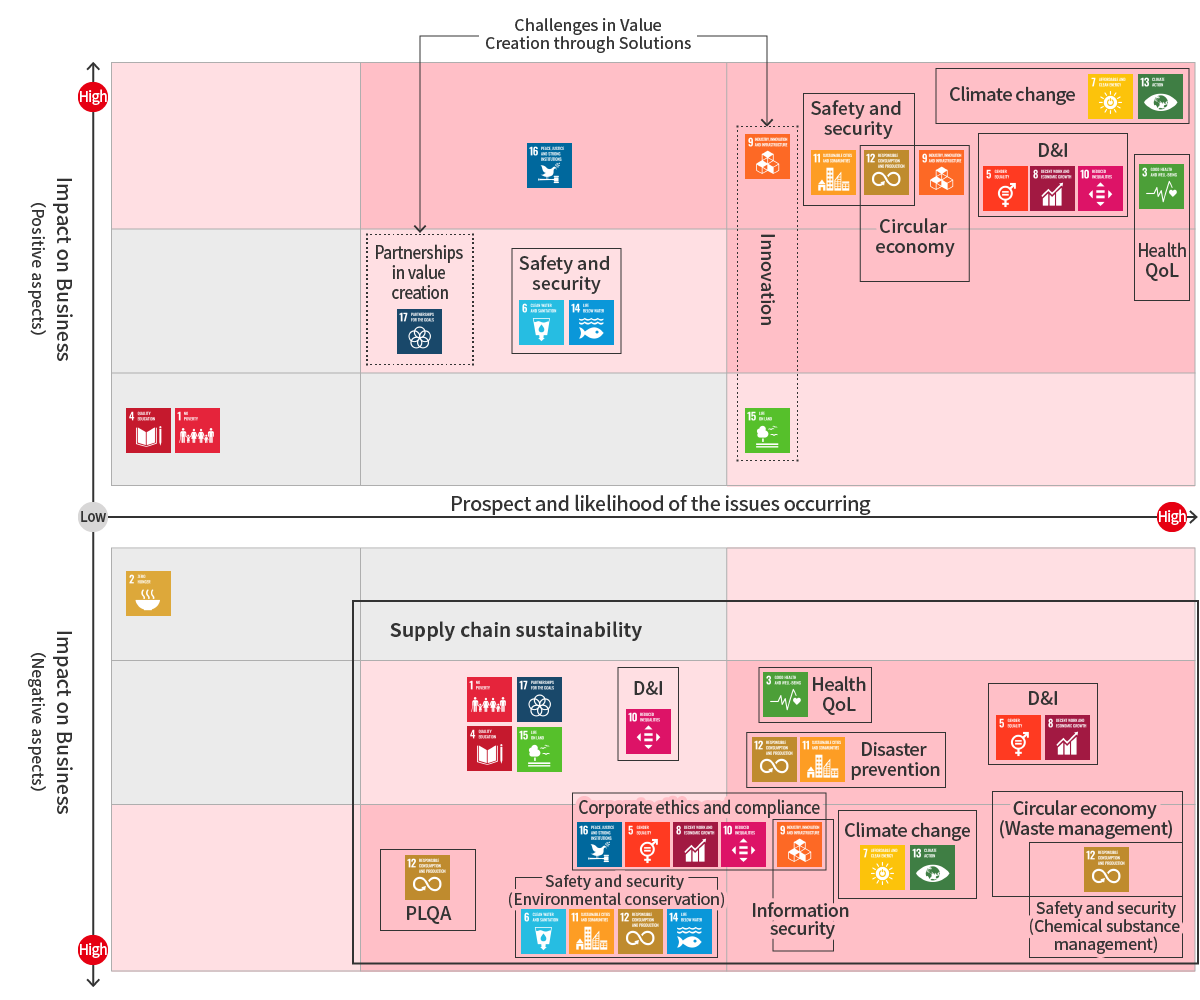 Method for determining impact on stakeholders (vertical axis)
Stakeholders are categorized into (1) shareholders and investors, (2) employees, (3) customers, (4) suppliers, and (5) local residents. The ascending order of degree of impact on stakeholders is determined by whether a social issue is of particular interest to each stakeholder category and then categorizes into high, medium and low.
Method for determining degree of importance to Teijin Group (horizontal axis)
Importance to the Teijin Group is determined from both the degree of impact on business (taking into account both the positive and negative aspects), and also the prospect and likelihood of the issues occurring.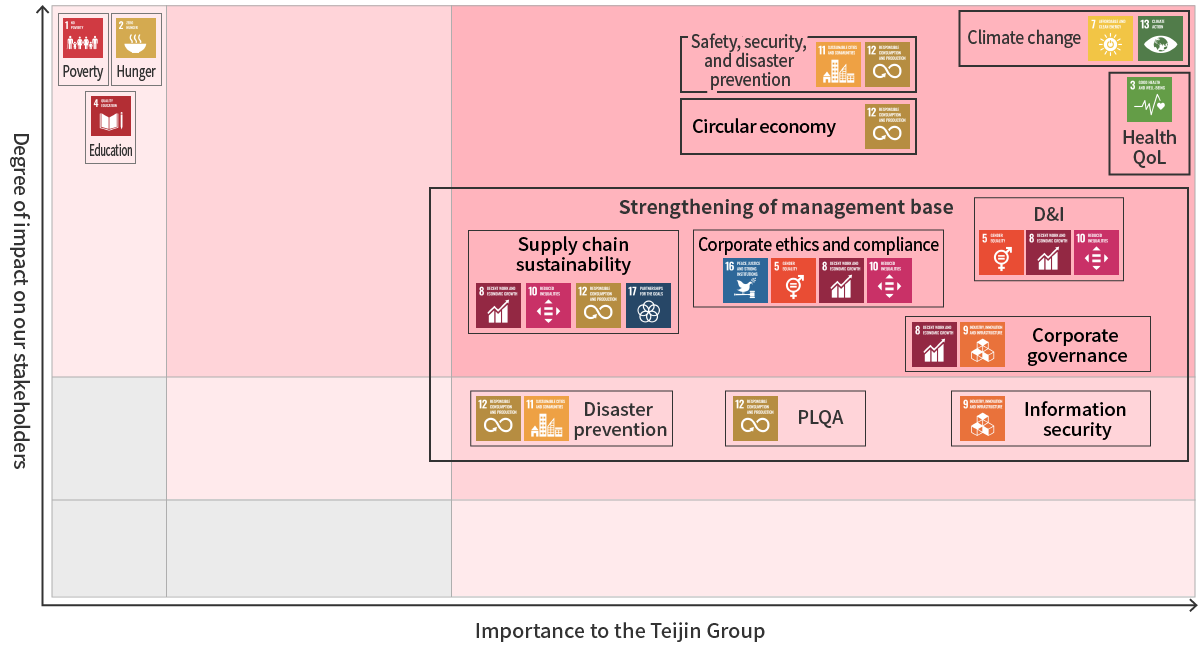 STEP3 Select material issues
From the issues analyzed at STEP 2, we select those issues which have a particularly high importance to the Teijin Group and a high degree of impact on stakeholders.
STEP4 Dialogues with external experts
We conduct dialogues with external experts about the Teijin Group's process of identifying Materiality and the selected issues.
Details of Implementation
We conducted dialogues about the Group's process of identifying materiality and the selected issues in October 2019, and received inputs from external experts from a wide range of perspectives.
Connecting business fields with solutions helps improve corporate value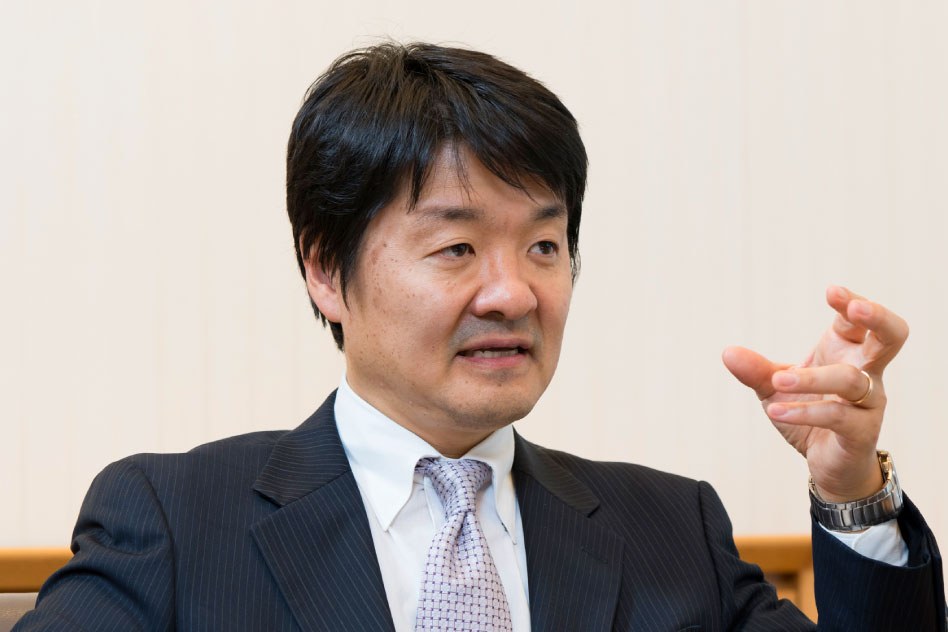 When organizing its materiality with a focus on the SDGs, I believe Teijin can establish a greater sense of a narrative by showing how its three solutions, which are created as a result of its business activities, contribute to society. In addition, Teijin should be able to enhance its corporate value to an even greater extent by extending a particular material or business across multiple solutions. I also think it is important for each employee to gain an understanding on the kind of business opportunities that are created by responding to the SDGs.
Backcasting from the future with a view to the next 100 years is important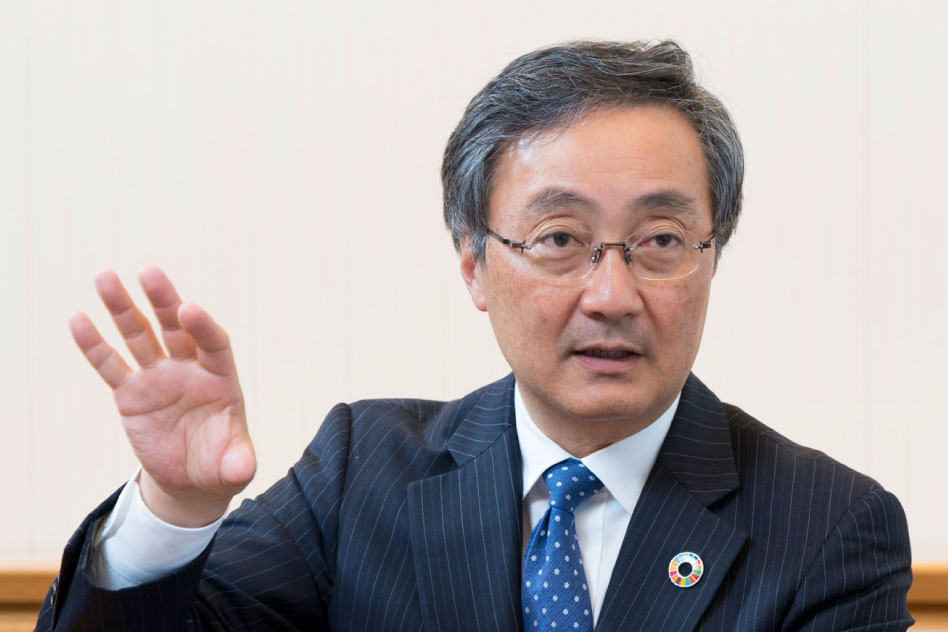 From the viewpoint of a long-term investor, the purpose of a corporation's efforts toward ESG and the SDGs is to achieve sustainable value creation over the long term. To that end, it is important to accumulate existing businesses and make commitments to the future and then think backwards on how to accomplish them. In addition to considering "what" actions it should undertake, Teijin should think about "why" they are pursuing a particular action. I therefore would like to see Teijin promote backcasting with a focus on the next 100 years. Going forward, the extent to which Teijin can ascertain changes in the business environment and consider aspects outside the perspective of its past successes will become increasingly more important.
Looking forward to long-term value creation related to climate change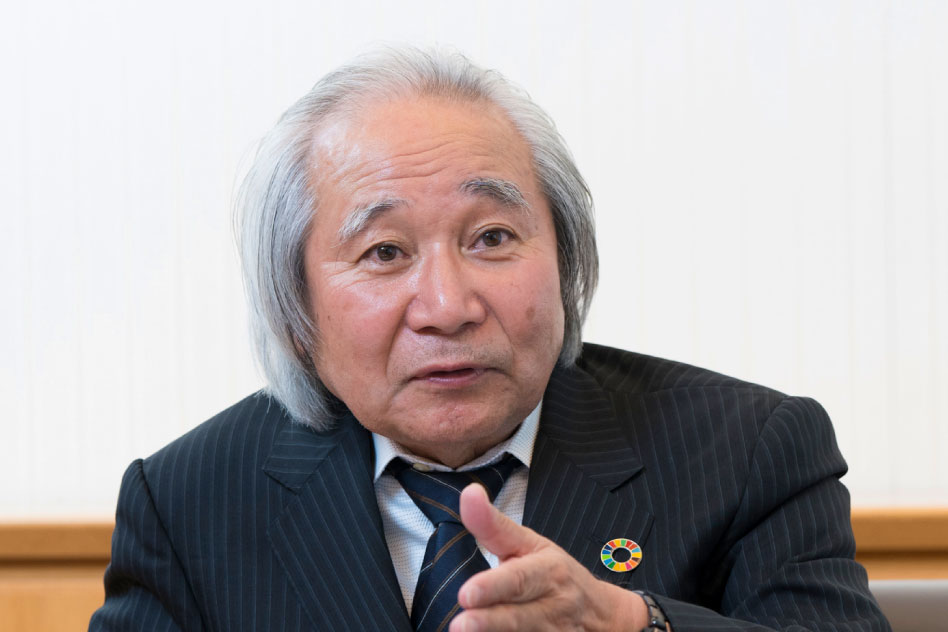 From a short-term perspective too, Teijin deserves praise for supporting the Task Force on Climate-related Financial Disclosures (TCFD). I think the Company could benefit from adopting a more long-term perspective with its vision and strategies. I would like to see Teijin establish goals for 2030 through a backcasting approach that considers the kind of company Teijin aims to be by its 150-year anniversary. If Teijin's management is able to indicate the direction toward which the Company is heading, I believe that knowledge of this path will spur various ideas from employees on how to reduce CO2 emissions and other matters. To survive as a company going forward, it is crucial to pursue efforts from the perspective of value creation related to climate change.
STEP5 Identify material issues
The Group Management Committee deliberates, checks, and identifies the Teijin Group's Materiality. The current five material issues were identified at the Group Management Committee in December 2019.
The KPIs for each material issue newly set by the Teijin Group are indicated below.
Change from the KPIs for CSR materiality identified in 2015 and new KPIs set at this time are indicated in the reference column.
Materiality

Materiality
KPIs
Target
Reference
1.2.3.4
Sales ratio of the three solutions
by FY2030
75% or more of total sales
New
1
Avoided CO2*1 emissions*2
by FY2030
Avoided emissions > Total emissions
New
1
Climate Change
(CO2*1Emissions)
FY2030

20% reduction vs. FY2018

(total amount)
Update
FY2050
Net Zero Emissions
Update
2
Water (Freshwater Intake)
FY2030

30% improvement vs. FY2018

(volume of freshwater intake per sales unit)
New
2
Landfill Waste
FY2030

10% improvement vs. FY2018

(volume of landfill waste per sales unit)
Update
3
Hazardous Substance
FY2030

20% improvement vs. FY2018

(hazardous substance emissions per sales unit)
Update
5
Diversity & Inclusion
Diversity of Executives*3
No. of female executives
FY2030
10+
Update
No. of non-Japanese executives
FY2030
12+
Update
Women's advancement key goals*4
Japan
No. of managers (or higher)
FY2030
300+
Update
US
No. of senior managers*5
FY2030
10
New
EU
No. of global core talents*6
FY2030
10
New
China
No. of senior managers*5
FY2030
12
New
ASEAN
No. of senior managers*5
FY2030
8+
New
*1

Includes CO2, methane and nitrous oxide

*2

Calculation of effects for avoiding CO2 emissions in the downstream supply chain by using the Company's products

*3

Total number of board members, auditors, group corporate officers

*4

Key goals are set based on the regional situations (Targets in China and ASEAN to be set in September 2020)

*5

Senior management including presidents of group companies

*6

Human resources of female senior managers selected and certified as executive candidates