Resources Recycling Initiatives
Sustainability
Resources Recycling Initiatives
We promote resources recycling initiatives with a focus on reducing the amount of landfill waste.
Reduction of Landfill waste
So far, the Teijin Group has been engaged in reduction of waste material with the goal of achieving its targets by FY2020. In FY2019, the Group set new targets for FY2030 and launched initiatives for achieving them.
The Group's targets (KPIs) for FY2030
By FY2030, improve the landfill waste volume per sales unit by 10% compared to FY2018
In FY2019, the landfill waste volume was 16.3 thousand tons

(down 6% from the previous fiscal year) compared to total emissions of 83.8 thousand tons

, and the landfill waste volume per sales unit was 1.91t/100 million yen (down 2% from the previous fiscal year).
Further, with regard to reduction of waste with no effective use for which the target was to reduce by 85% or more compared to the FY1998 level by FY2020, the amount was 19.1 thousand tons

for FY2019 (percentage of total amount of waste discharged was 22.8%). The reduction rate compared to FY1998 was 59% and the target could not be achieved.
In FY2018, Continental Structural Plastics (CSP) was included in the scope of aggregation so the amount of waste increased significantly. However, the Teijin Group is committed to reducing the amount of waste it generates in order to achieve our FY2030 targets, and is working on reducing landfill waste by promoting a shift to reuse and recycling based on material, chemical or thermal processing among other things.
Trends in landfill waste volume and volume per sales unit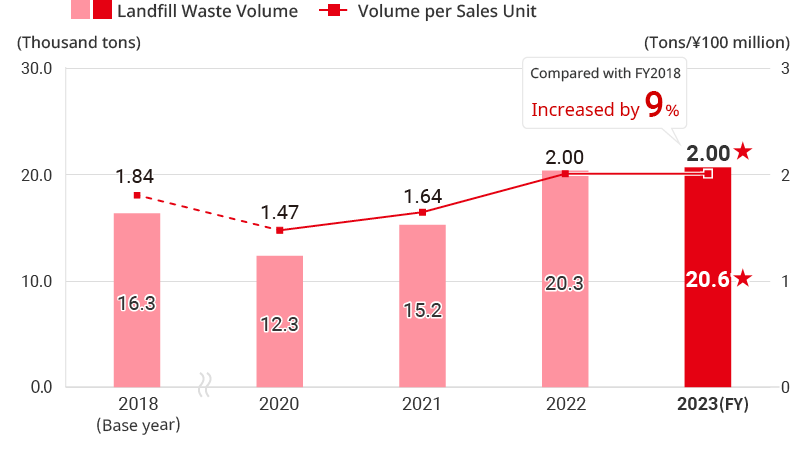 Trends in "waste with no effective use"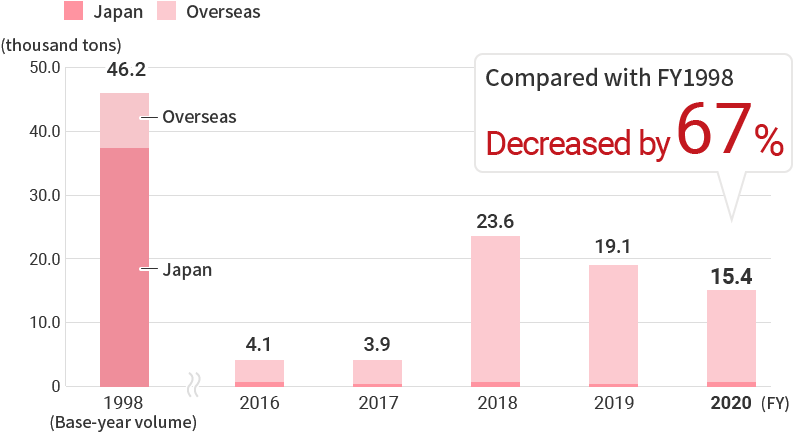 The Teijin Group has defined zero emissions as reducing the ratio of "waste with no effective use" to 1% or less of the total waste generated.
In Japan, all factories that produce 500 tons or more of waste per year achieved zero emissions by FY2011.