Sustainability
Social Contributions
In addition to developing social contribution activities common to the Teijin Group, we also engage in social contribution activities that take advantage of the individuality of each business unit and business site.
The Teijin Group established the Basic Policies for Social Contributions based on its SDGs Approach Policy.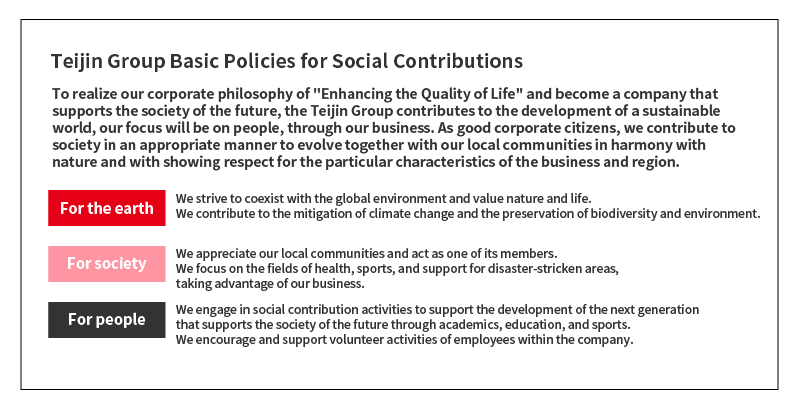 Teijin Group System to Promote Social Contribution Activities
Based on the Code of Conduct, the Teijin Group promotes social contribution activities in each business group and business site from the standpoints of science and education, culture, health and sports activities, environmental preservation activities and disaster prevention activities.
In addition, the CSR Planning and Promotion Department plays a central role in supporting volunteer activities and proposing Group-wide social contribution programs in which employees can easily engage. Through these programs, we are fostering human resources who can participate independently in and promote social contribution activities.
Expenses of Social Contribution Activities in FY2021
Since joining the Keidanren (Japan Business Federation) 1% Club in FY2003, the Teijin Group has been aiming to set aside at least 1% of ordinary income for social contribution costs. Expenses of social contribution activities in FY2021 were approximately 475 million yen, 1.0% of ordinary income.
Expenses of social contribution activities in FY2021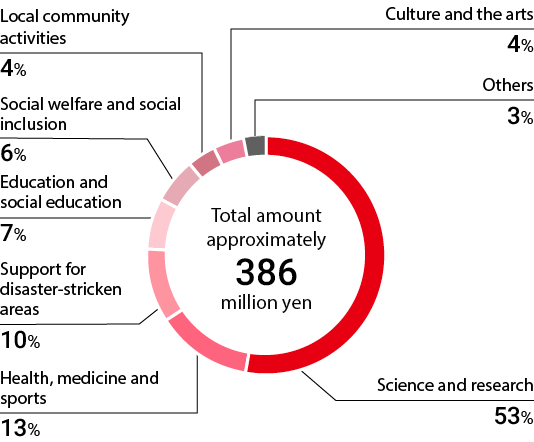 Breakdown of expenses of social contribution activities in FY2021
Item
Description
Amount
(millions of yen)
Monetary
Monetary donations and other expenses for social contribution activities
362
Donations of goods
Donations of our products and other goods to social welfare organizations
8
Free renting of company facilities
Expenses for free renting of company facilities such as gyms and playgrounds
30
Participation/Dispatch of employees
Personnel expenses for employees who participated in philanthropic activities during their work hours, such as joining local events as part of their work, and employees who gave lectures at meetings
74
Total
475
*

Data for all group companies, based on the Keidanren "Procedures for Implementing FY2018 Survey on Results of Corporate Philanthropic Activities".
Supporting the Development of Local Communities
Scholarship system in Japan and China
Since 1953, the Teijin Group has offered the Teijin Kumura Scholarship named after Seita Kumura, a pioneer in the Japanese chemical fiber industry, with the aim of passing on and developing an original R&D spirit and fostering young scientists who will contribute to social development and the creation of new culture (reorganized to the Teijin Scholarship Foundation in 2011). One of the oldest scholarships in Japan established and operated by a private company, it was awarded to 48 people in 2021 and has benefited more than 1,700 technical students so far.
Establishment of the Nantong Teijin Charitable Scholarship Fund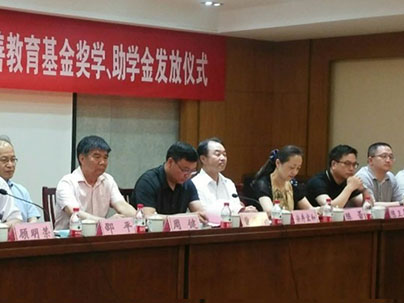 In April 2014, Nantong Teijin Co., Ltd. established the Nantong Teijin Charitable Scholarship Fund for students enrolled in junior and senior high school and university in Nantong, Jiangsu Province, China. Nantong Teijin Co., Ltd. is the Teijin Group's manufacturing and sales base for textiles in China. This fund was established with the aim of contributing to the community of Nantong by providing economic assistance to local students; it was the first charitable fund associated with a company name in the Nantong Economic and Technological Development Zone. In FY2021, we extended support of about the same amount of 18,000 yuan to the Nantong Teijin Charitable Scholarship Fund.
Co-sponsor of the "All Japan Science Koshien"
Aiming to foster human resources for science and technology by integrating industry-government-academia research groups, the Japan Science and Technology Agency established the Science Koshien in FY2011.

The Teijin Group has co-sponsored the Science Koshien for senior high school students since FY2011, and also began sponsoring the newly established "Science Koshien Junior" for junior high school students from FY2013.
The All Japan Science Koshien Junior for junior high school students was held in December 2021, and the all Japan Science Koshien for senior high school students was held in March 2022. The awards ceremonies were held without spectators to prevent the spread of COVID-19, and scenes from the event were streamed live via the internet.
On-site Course on the SDGs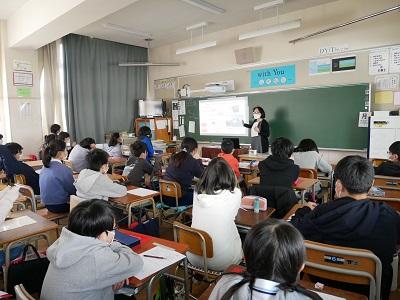 The Teijin Group conducted an on-site course for sixth graders at an elementary school located near a Group company housing facility.
This was a valuable opportunity, not just to provide environmental education to the students, but also as an aspect of career education in which the students learned about advanced efforts by companies.
Co-sponsor of the All Japan High School Soccer Tournament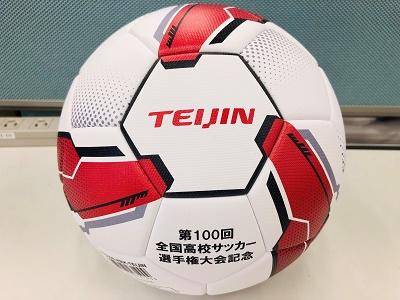 On the basis of our corporate philosophy of "enhancing the quality of life" and growing "in harmony with society," the Teijin Group has co-sponsored the All Japan High School Soccer Tournament since 1991 in line with our goal of contributing to society by supporting amateur and youth sports.
Every year we donate soccer balls using CORDLEY artificial leather to the participating schools representing each prefecture in Japan.
Supporting youth football in Southeast Asia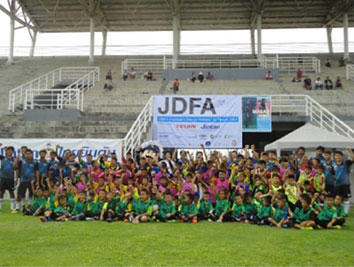 Teijin Polyester (Thailand) Limited (TPL) has been an official sponsor of the Japan Dream Football Association (JDFA) since 2012. The JDFA is an organization set up in 2011 by Masao Kiba, the former captain of Gamba Osaka professional soccer team. By conducting football workshops and other activities in Southeast Asian countries, the JDFA aims to inspire children to pursue their dreams for the future, along with spurring the development of soccer in Japan and Asia.
Cosponsor of the Green Lane environmental diary project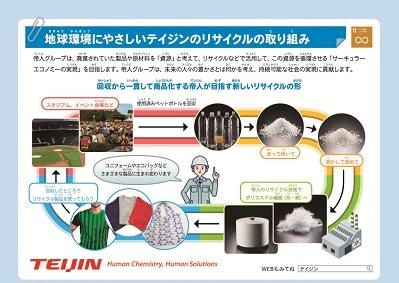 The Teijin Group cosponsors the Green Lane environmental diary project, an environmental education initiative organized by Green Cross Japan for elementary school children in Japan. This project involves children keeping an environment-related diary for 12 weeks, thereby raising their awareness of the importance of the environment.
In FY2021 about 100,000 diaries were distributed to elementary schools and other facilities nationwide. The Teijin Group's initiatives in pursuit of a carbon-free society were introduced in these diaries. The environmental diary contest was held in October 2021, with 4,159 entries received from 128 organizations. Although the award ceremony was cancelled due to the COVID-19 pandemic, award certificates were sent to the recipients.
Exhibit at EcoPro 2021: Toward the realization of a sustainable society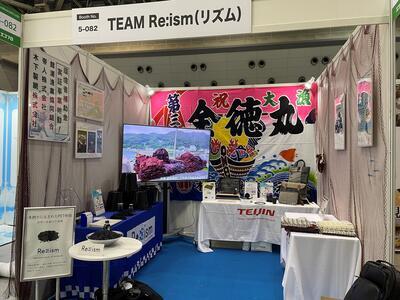 The Teijin Group exhibited at EcoPro 2021, Japan's largest environmental exhibition, raising environmental issues and presenting information on materials, products, and initiatives for solving problems. The Teijin booth also displayed drawings made by children concerning the theme "What will become of our world?"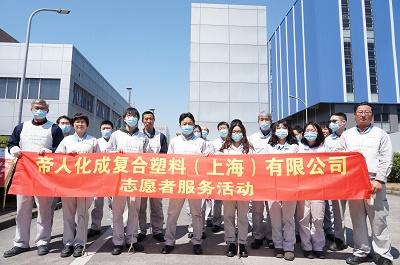 Employees of Teijin Chemicals Plastic Compounds Shanghai Ltd. participate in beautification programs as a part of the company's environmental preservation and community contribution measures.
In FY2021, a total of 74 employees collected trash from a road near the company's plant.
Fostering Volunteer Personnel
Promotion of Volunteer Support Program
In June 2011, we established the Volunteer Support Program. Under this program, the administration committee decides which volunteer activities are to be supported from volunteer activities that group employees in Japan are engaged in, and partial financial support for the activities is provided via the Teijin Group Social Contribution Fund made up of donations from volunteer employees and directors as well as from companies.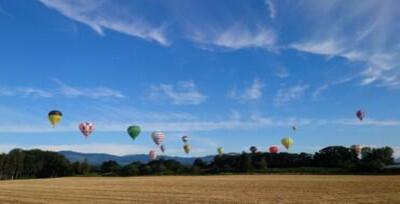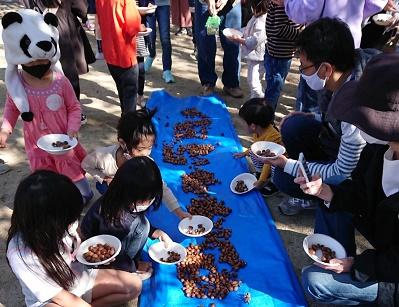 The fund donated operating money to the following 9 nonprofit organizations (NPOs) in FY2021:
Tokachi Soratabidan Hot Air Balloon Club (100,000 yen)
Group to Enliven Kushiro with Marimo (100,000 yen)
(NPO) Kodomo e no Manazashi (100,000 yen)
(NPO) Minuma Farm 21 (100,000 yen)
(NPO) Matsuyama Suicide Prevention Center (100,000 yen)
Protecting the Nature of Hino Organization (100,000 yen)
(NPO) Japan Association for Galapagos (100,000 yen)
Teijin Soccer School (100,000 yen)
(Public Interest Incorporated Association) Natural Environment Conservation Society of Osaka (100,000 yen)
Picture book donating activities-Book Dream Project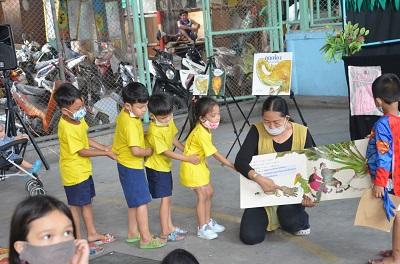 The Book Dream Project, which started in FY2008, uses money received in exchange for used items provided by Group employees in Japan to buy Japanese picture books and donate them to libraries overseas. Before donations are delivered, volunteer employees affix translated seals to the books so that they can be read in the local language.
In FY2021, we donated 36 picture books to a library, special-needs school, elementary school, and kindergarten in Indonesia. We also donated 44,288 yen of the money received from the exchange of books to a mobile library activity operated by Sikkha Asia Foundation in Thailand.
Support for Areas Affected by Disaster, Humanitarian Support
Support for areas affected by the Great East Japan Earthquake
To support the areas affected by the Great East Japan Earthquake, the Teijin Group has extended support of over 500 million yen in total, including monetary donations; blankets, masks and other relief goods; and free provision of home healthcare equipment such as oxygen cylinders and oxygen concentrators.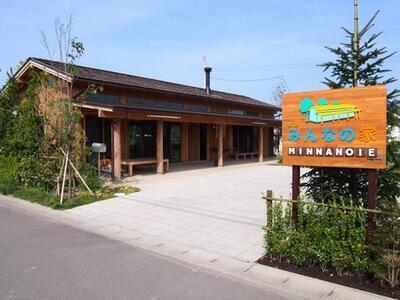 In addition, we are also engaged in ongoing reconstruction support through our business activities. In 2013, the IT Business Group's Infocom Corporation opened a multipurpose facility "Minna no Ie" (Home-for-All) in Iwanuma City, Miyagi Prefecture. From this facility, Infocom is providing reconstruction support for agriculture utilizing IT and creating businesses to support ongoing reconstruction. In FY2021, we supported direct sales by farmers impacted by the disaster and worked to develop "sixth industry" products using produce grown directly by farmers.
Examples of support for areas affected by Natural Disasters
The Teijin Group makes donations and provides products free of charge with the aim of helping people and communities recover from natural disasters.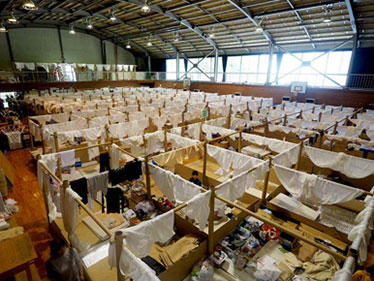 Main support in Japan

On July 20, 2020, Teijin Limited donated a total of 3 million yen as assistance for the region affected by torrential rainfall in that month.

On the occasion of the torrential rainfall in July 2020, Teijin Healthcare Limited, a member of the Teijin Group, giving top priority to ensuring the safety of patients, confirmed safety, sent oxygen cylinders, and installed oxygen concentrators and other equipment. In addition, on the occasion of a magnitude 7.1 offshore earthquake that hit Fukushima Prefecture on February 13, 2021, amid concern about the spread of COVID-19, Teijin Healthcare again placed top priority on the safety of patients and, after completing the confirmation of safety as quickly as possible, implemented emergency response support.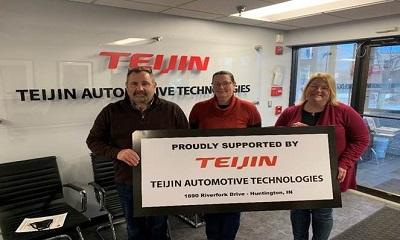 Main support overseas

Teijin Automotive Technologies, a Group company, donated 200 U.S. dollar in food and toiletries and 700 U.S. dollar in cash to the Indiana Dream Center, a facility in Kentucky that was severely damaged in the tornado disaster that struck six states of the United States in December 2021.

In July 2020, Teijin Limited donated 500 kg of OLSORB, a high-performance oil-absorbent sheet, to assist the cleanup of fuel oil spilled when the freighter Wakashio ran aground off the island of Mauritius in the Indian Ocean. (This amount would allow the absorption of about 10 tons of oil.) Teijin made the donation to the government of Mauritius through Mitsui O.S.K. Lines, Ltd., which was tackling environmental recovery in the area.
Humanitarian support for Ukraine
The Teijin Group decided to donate up to 40 million yen in humanitarian aid to Ukraine. Based on this, Group companies in Japan, Europe, and other regions donated 10 million yen to the United National Children's Fund (UNICEF) and the United Nations High Commissioner for Refugees (UNHCR) and made other donations.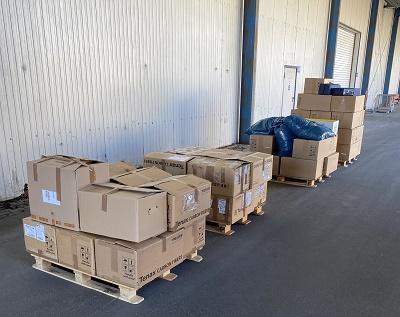 Teijin Automotive Technologies provided financial assistance to directly-employed Ukrainian employees to support refugee families with day-to-day and housing expenses. Teijin Carbon Europe and Ziegler provided clothing, bedding, medical supplies, and other goods to displaced families. Additional support will be provided on an on-going basis.
Support for the prevention of COVID-19 infection
The Teijin Group as a whole (domestic and overseas) made donations of approximately 119,000 masks, 300 protective clothing wear, 3,200 nitrile rubber gloves, and 2,800 medical gowns to facilities, including medical institutions, welfare nursing homes, and airline companies (return charter flights) where essential workers were engaged in work.
Furthermore, in Japan, we provided polycarbonate resin sheets for use in face shields (equivalent to 700,000 yen) and non-woven fabric for masks (equivalent to 1,500,000 yen ) free of charge to manufacturing companies and others.
Overseas, Esteve Teijin Healthcare (Spain) donated about 700,000 yen to hospitals, Continental Structural Plastics Holdings Corporation (United States) donated about 100,000 yen to food banks, Teijin Chemicals Plastic Compounds (Shanghai) donated about 50,000 yen to charities, and Inapal (Portugal) guaranteed salaries for employees who worked as volunteer firefighters. This aid is equivalent to 22 million yen (from February 2020 to end of March 2022).
In addition, the Group has declared support for the prevention of COVID-19 infections and stated that it will not seek any consideration or compensation for acts aimed at the diagnosis, prevention, containment, and termination of the spread of COVID-19 infections and will not exercise patent rights, utility model rights, design rights, and copyright rights held by the company for a certain period of time.
For details, see COVID-19 Related Initiatives and Announcement