Disaster Prevention Activities
Corporate Social Responsibility
Disaster Prevention Activities
Protecting local communities and employees from disasters
Basic Stance
In order to prevent accidents and disasters such as explosions, fires, and leaks/spills of hazardous substances, we adhere strictly to disaster prevention management standards and are committed to preventative action/recurrence prevention of accidents and disasters, including countermeasures for natural disasters such as earthquakes and tsunamis.
Code of Conduct
Environment, Safety & Health
We put the global environment, human safety and health as our top priorities when conducting business.
System to promote disaster prevention management
The Teijin Group is engaged in disaster prevention management and has established group-wide Disaster Prevention Guidelines. For each fiscal year, we design plans based on these guidelines relating to preventative measures such as disaster prevention assessment, fire prevention and earthquake countermeasures as well as plan and implement initiatives including the strengthening of disaster prevention training, drills and upgrading of fire prevention equipment.
Each Business Group / manufacturing site manages the implementation status and achievements of these disaster prevention activities, and gives guidance to improve any areas of non-compliance. The results of this are then audited by the Chief Social Responsibility Officer at the end of each fiscal year.
Implementing disaster prevention assessments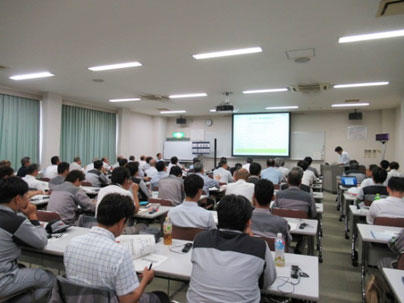 The Teijin Group has been conducting disaster prevention diagnoses since 1980 and mini disaster prevention diagnoses since 2008 in line with our own independent standards.
In disaster prevention diagnoses, safety is assessed every five years by experts in manufacturing, facilities and ESH* at a total of 15 plants globally. These are Teijin Group plants where large amounts of high-pressure gases or hazardous substances are handled. Results of the assessments are reported at the following year's disaster prevention diagnosis meeting. In FY2017 assessments were conducted at three plants and the results of the assessments of two plants conducted in FY2016 were reported.
Mini disaster prevention diagnoses mainly examine fire prevention, focusing on small-scale locations with a risk of fires, such as boilers and places where hazardous materials and combustibles are stored (17 factories). These assessments were implemented in ten risk areas of four factories in FY2017.
In FY2017, we revised our mini disaster prevention diagnoses implementation standard in order to strengthen fire prevention in our warehouses and buildings. In accordance with this revision, we formulated a 5-year plan to expand the scope of domestic facilities targeted by the diagnoses from FY2018.
*

ESH: an abbreviation for "Environment, Safety and disaster prevention, and Health"
Trends in the number of disaster-prevention-assessed plants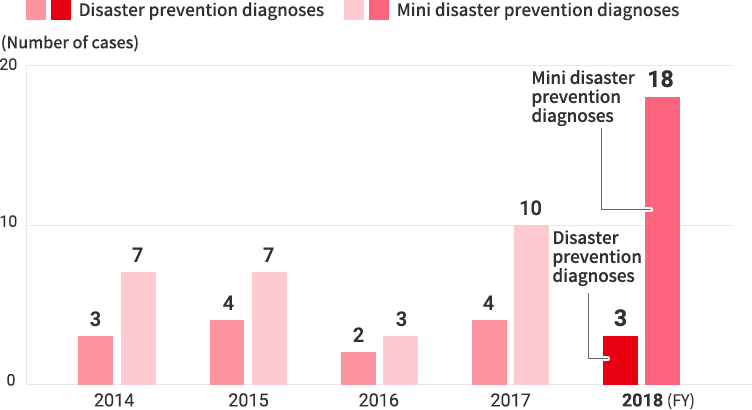 Other activities aimed at realizing zero serious accidents
To achieve our aim of zero "serious accidents," which we have defined as including explosions, fires and external leakage/spills of hazardous substances, we are working to enhance disaster prevention management at our chemical plants and power plants.
In FY2017, we were able to achieve zero serious accidents. This result was achieved through activities such as: (1) holding the disaster-prevention diagnostics report meeting, at which administrators of the chemical plants and power plants come together to exchange case studies on "Disaster prevention at Iwakuni Conex Plant" and "Overview of Beacon* and questions regarding its utilization" under the theme of "Disaster prevention training"; as well as (2) implementing steady disaster-prevention activities, which target personnel in charge of disaster prevention at business sites and fire-prevention management liaison meetings, which target Group companies, to improve the level of fire prevention by sharing information and other actions.
In the future, with the objective of maintaining zero serious accidents, we will strive to further enhance our accident prevention management level.
*

Beacon (Process Safety Beacon): In light of the 1984 accident in Bhopal, India, the Center for Chemical Process Safety, U.S. (CCPS) began issuing Beacon in 2001 as a monthly safety message.
Trends in the Number of Serious Accidents and Disasters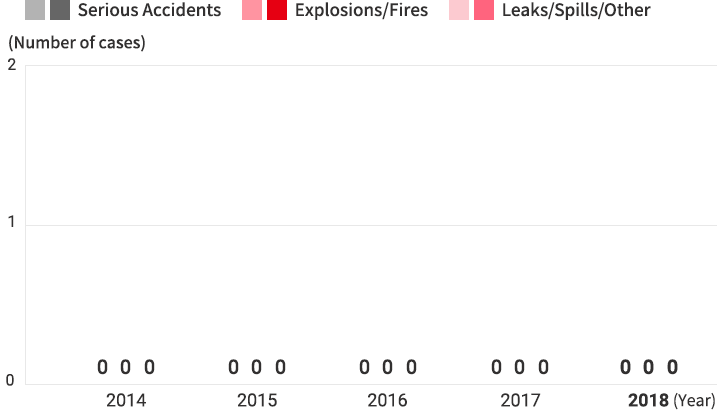 Activities of the specialist disaster prevention team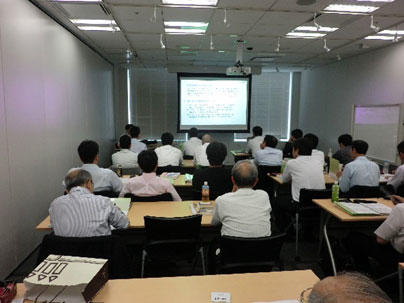 The Teijin Group has established a team comprising of current and former employees and external experts who have vast knowledge and experience in disaster prevention. This team, known as the Teijin Group Chemical Accident Preventions Specialist Team (TCAP), provides technical support for voluntary disaster prevention activities at our chemical plants and in-house power plants.
In FY2017, the TCAP team held training for disaster prevention control technology and provided guidance relating to disaster prevention diagnoses, mini disaster prevention diagnoses and accident case studies in 6 Japanese plants and 1 overseas plant in accordance with a diagnosis schedule. Overseas, TCAP provided support on disaster prevention control to the four plants located in Thailand, namely; Teijin Corporation (Thailand) Limited, Teijin Polyester (Thailand) Limited, Teijin (Thailand) Limited and Teijin Cord (Thailand) Co., Ltd.
Fire prevention activities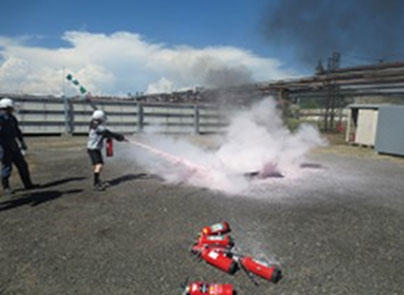 Since 2008, November 10 has been the Teijin Group Fire Prevention Day. On this day, each Group company conducts its own fire prevention activities as well as common activities for the whole Teijin Group such as a periodical fire prevention check. These activities are shared group-wide in order to strengthen the fire prevention system.