Sustainability
Diversity and Inclusion
The Teijin Group fosters a corporate environment that makes use of employee diversity and facilitates the continuous creation of new value required by society, promotes diversity and inclusion, and seeks to carry out various work styles that will achieve this.
To promote our business activities globally, it is essential to make full use of the abilities of diverse human resources who differ in race, religion, gender, cultural background, or other attributes. To invigorate the Teijin Group's organization and accelerate innovation, we will further promote diverse workstyles, the advancement of women, and diverse human resources. Through these efforts, we aim to be an organization that can leverage the capabilities of human resources with various values and experience to the greatest extent possible, and that can spur diverse collaborations.

Promotion of Diversity & Inclusion
The Teijin Group has maintained the belief that making full use of the abilities of diverse human resources helps enhance its creativity and promote innovation. Since establishing the Diversity Office in 2000, we have been actively engaging in such efforts as recruiting global personnel and promoting the advancement of women.
In light of the globalization of our businesses, we are currently expanding these efforts on a worldwide basis. Under our Medium-Term Management Plan 2020-2022, we have created regional strategies that address the issues in each region of operation and established group-wide diversity and inclusion KPIs as follows.
Main Actions

KPIs
October
2019*6
April
2020*6
April
2021*6
April
2022*6
April
2023*6(Milestone)
April
2031*6
Diversity of executives*1
Female executives
3
4
4
5
6 or more
10 or more
Non-Japanese executives
3
5
5
4
6 or more
12 or more
Key goals for women's advancements*2
Japan*3
Managers (or higher)
117
127
143
162
174
300 or more
U.S.
Senior managers*4
2
2
2
3
4
10
EU
Global core talent*5
0
1
1
3
3
10
China
Senior managers*4
-
4*7
4
7
9
12
ASEAN
Senior managers*4
-
5*7
5
7
5 or more
8 or more
*1

Board of Directors, statutory auditors, Group executive officers, and Group corporate officers.

*2

Key goals are set based on regional situations (Targets in China and ASEAN were set in September 2020).

*3

Major subsidiaries in Japan: Teijin Limited, Teijin Pharma Limited, Teijin Frontier Co., Ltd., Infocom Corporation

*4

President or his/her direct report in a Group company.

*5

Female senior managers selected and certified as executive candidates.

*6

As of October 1 and April 1, respectively.

*7

As of August 1, 2020, the most recent data at the time when KPIs were established.
The Teijin Group maintains the belief that corporate culture has a close relationship with innovation. Guided by this belief, we aim to foster a new corporate culture that is agile, innovative, and inclusive. To that end, we launched an initiative to transform our corporate culture, the "Power of Culture Project," in September 2020. Under this project, we aim to clarify the desired corporate culture for the Group and promote reforms geared toward realizing that culture.
As the first stage of this project, in FY 2020 all corporate officers in Japan and overseas gathered together to discuss the kind of new corporate culture we should foster and what actions need to be reinforced to foster such a culture. As a result of this discussion, the Group's management agreed to the new Teijin Group Leadership Charter, thereby demonstrating its commitment to reform.
In FY2021, we held a series of workshops in Japan and overseas, for general managers and core talent below executive level. First, we formulated our own commitments through an understanding the direction of the transformation based on the Leadership Charter as well as the need for it. A few months later, we shared with each other the status of the implementation of the commitments we had made. We expect the introduction to the senior management to be almost complete by the end of the three-year plan at the end of FY2022.
Designing the future award
In FY2021, we established the "Designing the Future Award" to commend outstanding initiatives that have yet to show economic effects in the three domains of "Diversity and Inclusion," "Innovation," and "Sustainability."
The award is open to all Teijin Group employees. In the first year 58 applications were received globally and five awards were conferred after two rounds of screening. More than 120 people participated from all over the world in the online award ceremony. The ceremony also featured a demonstration of the executive team's commitment in actively supporting challenges the employees take on.
We are committed to building a corporate culture that promotes collaboration among organizations and innovation creation while also sharing these values within the Group and globally.
In FY2021, we commenced a global engagement survey targeting roughly 19,500 employees around the globe in an effort to ascertain employee awareness of the Company and relevant organizations and employee willingness to contribute to performance.
In the first round of this survey, around 60% of the participants responded with "very satisfied" or "satisfied" and about 30% answered "normal," indicating that the level of engagement was overall good.
Going forward, we aim to continue to implement measures for improvement for issues at the department and section level through regular surveys. Establishing an inclusive and highly engaged environment in which all employees can demonstrate their skills to the greatest extent possible will enable our employees to contribute to the success of our business activities. We are committed to the realization of our long-term vision through the implementation of the PDCA cycle for engagement surveys.
Accelerating female career development
The Teijin Group first created a specialized organization to promote the empowerment of women in 2000. Since then, we have created systems and conducted training and education to achieve four objectives: Expand the population of female employees, promote a good work-life balance, foster a corporate climate of diversity and inclusion, and support the career continuation and enhancement of women.
Since 2002, we have set goals for number of female managers in Japan and the heads of each business and function (officers) have set KPI for individual businesses and functions and supported the development and careers of female employees. In addition, CHO reports on the status of diversity and inclusion to the Board of Directors.
Further, Empowerment of Women's Advancement training (half-year training that includes group training, action learning, and presentations) is continuously conducted for selected employees of major Group companies in Japan, who are one step away from a management position. In FY2021, which is the eleventh time this program has been conducted, 28 employees participated, bringing the total number of participants to 226. Among them, there are who are currently enrolled in a select program for core human resources and those who have been promoted to management positions where they are exhibiting leadership at their workplaces.
Changes in number and ratio of newly recruited career-oriented female university graduates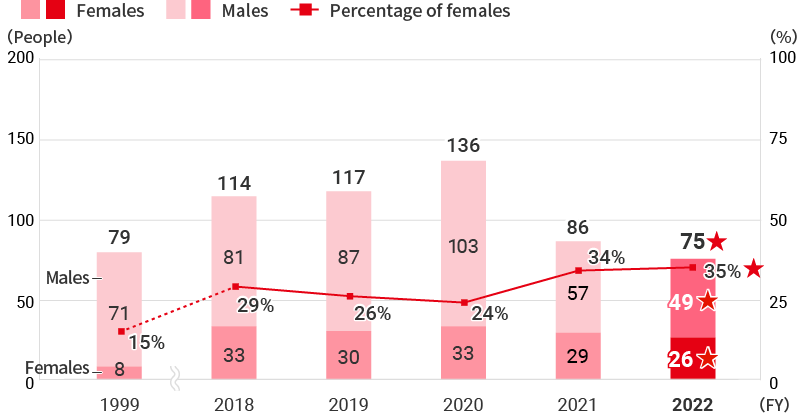 *

Figures are totaled based on number of employees recruited as of April of each fiscal year.

*

Four core group companies in Japan: Teijin Limited, Teijin Pharma Limited, Teijin Frontier Co., Ltd., Infocom Corporation
Changes in number of female employees in managerial positions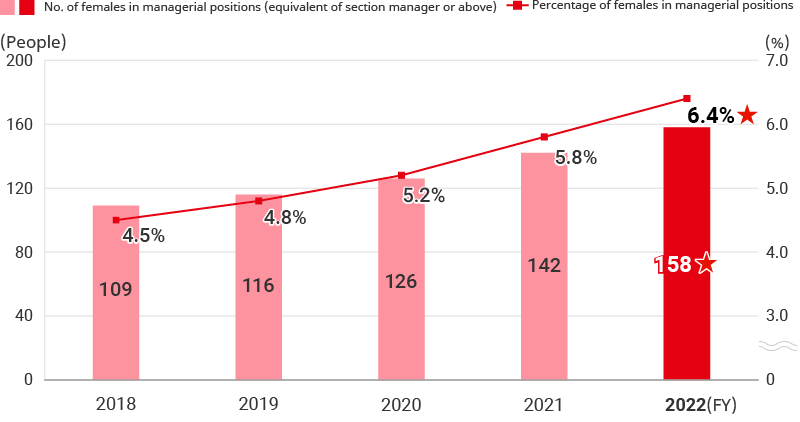 *

Data as of March 31 of each fiscal year

*

Four core group companies in Japan: Teijin Limited, Teijin Pharma Limited, Teijin Frontier Co., Ltd., Infocom Corporation

*

Percentage of female employees in managerial positions of the total number of managerial positions in the companies.
Career building support for employees
There are few female role models in positions such as sales, research and development, and engineering compared to other jobs. In FY2021, we held online workshops conducted by guest lecturers to encourage young sales employees to know about the theory of mind necessary for sales. In addition, round-table discussions were held with senior employees to develop the career awareness of women in science and technology who are engaged in research and development, among other things.
At the same time, in our participation in the "Riko-challe" sponsored by the Cabinet Office for the first time, we entrusted our group of young science and engineering employees with everything from planning to operations, and were thus able to build a network transcending business and organizational boundaries.
Some employees must unavoidably interrupt their careers when a spouse is transferred overseas. We established a leave program for employees accompanying a spouse to an overseas assignment that permits leaves of up to three years so that these employees can continue their careers. While on leave, some employees study a language or engage in other self-development and enhance their work skills and then return to work. To date, 22 employees have made use of this program.
Teijin Limited and Teijin Pharma Limited have established the Hello-Again system for employees who left the companies for reasons including marriage, pregnancy, child-rearing, nursing care, or work transfer of their spouses. Employees in this situation who wish to return to the Teijin Group due to the reason for leaving no longer applying will be rehired as full-time employees on the condition that it is not more than 10 years since they left and if the need exists. Up to the end of FY2021, 14 employees who had left the companies had been rehired through the Hello-Again system.
We have also established a system by which employees at all domestic group companies may continue to work after retirement. In FY2021, a total of 46 employees

continued to work after retirement at 43 group companies.
Employment of people with disabilities
As of April 1, 2022 at 31 group companies (consolidated) subject to a legal requirement to employ people with disabilities in Japan, the total number of employees with disabilities* was 275

, more than the 272 specified by the related laws and regulation. Due to the large impact of the higher statutory employment rate and the retirement effective from March 2021, etc., 16 individual companies

failed to meet the legal requirement for employment of people with disabilities. In FY2022, we will share successful cases of hiring employees with disabilities in each company in an attempt to employ more people than the recruitment number required by laws and regulation.
In February 2019, Teijin Limited established the special subsidiary Teijin Soleil Co., Ltd., with the objective of creating workplaces in which people with disabilities can experience the satisfaction and enjoyment of working. Teijin Soleil offers a diverse range of workplaces and work duties mainly in agricultural work (cultivation and sale of produce and flowers) and office support (administrative assistance). In April 2021, we launched a new office support team in Iwakuni district. In addition, we established a support team and started a cleaning business in the Hino district as well in June 2021. Since then, we have continued working to expand the range pf work duties and work sites in each region.
*

Number of employees with disabilities does not refer to the headcount, but to number of persons with disabilities calculated taking into consideration the type of disability and the working hours. These form the basis for calculating the employment rate of persons with disabilities as per the employment quota system for persons with disabilities.
Expanding diversity awareness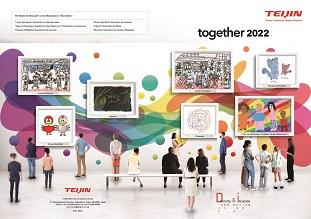 To strongly promote our business activities globally, it is essential to make full use of the abilities of diverse human resources who differ in nationality, race, gender, sense of values, ideas and experience. The Teijin Group upholds "Empowering Our People" as part of its corporate philosophy, and accordingly has put in place a work environment in which every Group member can fully harness their individuality and attractiveness to make the most of their abilities.
We promote diversity and inclusion as a management strategy, and management uses various opportunities to disseminate our diversity and inclusion objectives and policies to employees.
We have also issued a pamphlet entitled "together" to raise awareness of diversity every year since 2002. Starting with the 2020 version, in addition to the Japanese version, an English version is prepared so that it can be distributed to all group employees. In the latest 2022 issue, we have presentations by five executives including the current CEO discussing the significance of Power of Culture and their own experiences in a roundtable discussion format, under the theme of "Creating a New Corporate Culture." Further, the issue includes a special feature on domestic and global initiatives on innovation creation and efforts to promote the active participation of women.
We have incorporated LGBTQ issues in diversity courses conducted as a part of new employee training and new manager training since FY2015 to raise understanding., and from FY2019, training on LGBTQ issues was conducted in conjunction with Teijin Group Corporate Ethics Month training. In addition, we conducted training and e-learning for human resources and general affairs personnel who serve as contacts for LGBTQ related employee consultations using virtual reality.
Since FY2017, interested employees have participated in the Tokyo Rainbow Pride parade, one of Japan's largest LGBTQ event. From July 2020, we have revised the human resources and salary systems at Teijin Limited and Teijin Pharma Limited, ensuring that same-sex partners of LGBTQ parties concerned are treated in the same way as spouses for various allowances and benefits. Following on from last year, in recognition of these efforts, we received the gold certification at work with Pride in 2021 as well.
We will continue our efforts to create an environment of acceptance regarding sexual orientation, sexual identity, sexual expression, and so on in the future.
Human Resources System and Global Human Resources Recruitment
One of the key actions in the Medium-Term Management Plan for Diversity & Inclusion is to advocate changes in the human resources system, and we are restructuring the human resources setup to support global strategy.
Global management of human resources
In April 2020, the Corporate human resources organization was established under the Human Resources Division. Our aim is to build and operate a globally shared human resources system that can foster and manage human resources at our bases in Japan and overseas.
In FY2021, in order to address personnel issues, we established a section-level organization under the regional HR directors in Europe and the Americas, and strengthened functions related to talent management, D&I, human resource development, and recruitment.
In FY2021, we identified four candidates for overseas dispatch as part of the Overseas Practical Training Program launched in FY2019 as a new initiative, (which aims to enable young employees to gain practical experience at overseas group companies, hone their international awareness, and build interpersonal networks). Although the dispatch period of some candidate employees was changed due to the COVID-19 pandemic, we dispatched two people during FY2021. (Dispatch of the remaining two has been deferred to FY2022).
Recruitment of global human resources in Japan
In FY2021, we proactively pushed forward with initiatives to recruit global human resources, including participation in seminars for foreign university students on exchange in Japan. As a result, we hired one student of foreign nationality and 11 individuals with extended experience living or studying overseas as new career-oriented recruits in FY2021.
Human Resources Development and Global Talent Management
One of the key actions in the Medium-Term Management Plan for Diversity & Inclusion is to advocate global talent management, and we are strengthening the nurturing of the next generation of global leaders.
Teijin group basic human resources policy
In 2003, we established the Teijin group basic human resources policy.
Teijin Group Basic Human Resources Policy
Goals of human resources management
Fulfill the corporate philosophy of "Empowering Our People"
Realize continuous improvements in employees' productivity and enhance their quality of life
Basic Policies
1.

Strive to maintain good employment relationships with employees

2.

In the treatment of employees, emphasize factors relating to the employees' duties, achievements and capabilities while pursuing transparency, fairness and understanding

3.

Endeavor to assign the right persons to the right positions, taking into consideration work requirements and human resource conditions

4.

Actively support the development of employees' capabilities

5.

Respect diversity
Teijin group medium-to long-term personnel plan
The medium-term management plan from FY2020 to FY2022 positions the promotion of diversity and inclusion as a priority measure for the creation of innovation. We are promoting the diversification of work styles, the empowerment of women, and the diversification of human resources more than ever and accelerating the revitalization of organizations and creation of innovation.
Penetration of diversity and work style reforms
Anticipating an improved QOL for each and every employee, create systems that supports a wide variety of work style choices and life plans
Promoting the success of human resources regardless of gender, nationality
Create human resources systems that enable flexible personnel appointment/relocation across countries, companies and organizations to meet the wishes of all employees
Promoting the design of systems to support diverse work styles in step with the times
Create a training/education system enabling career development to meet all employees' needs
Leadership development programs (core human resource cultivation)
Based on the results of the discussions we held as part of the Power of Culture Project, we established new leadership development programs in FY2020. The new programs incorporate strategic assignments, external personnel evaluations, and mentoring as well as KPIs on female employee and employee of foreign nationality participation.
In fiscal 2021, all corporate officers undertook mentor training, and with respect to core human resources, mentoring was conducted for 11 persons.
Increase number of selected excellent overseas human resources for core human resources development programs
The following programs are implemented with a view to developing core human resources who will forge the future of the Teijin Group. In FY2021, we reviewed our core human resources development program, and in STRETCHⅠ and STRETCHⅡ we changed the system so that personnel from all countries, regardless of their country of origin, receive the same training with English as the common language.
The Strategic Executive Team Challenge (STRETCH) Ⅰ and STRETCH Ⅱ are Group-wide core human resources development programs used to develop human resources who can work actively on the global stage. The programs target employees at all group companies including overseas. In FY2021, 11 employees participated in selection training for STRETCHⅠ, a program for employees in positions close to department manager, and 23 employees participated in selection training for STRETCHⅡ, a program for employees in positions close to section manager.
JuMP stands for Junior Management Program, a three-year program for select trainees aimed at developing core human resources candidates. In FY2021, everything was conducted online due to the COVID-19 pandemic. There were 31 new persons selected and 35 persons in the second round of selection. At the end of the training, they were divided into groups and they presented proposals for new businesses.
In addition, in FY2021, 16 new persons from each region, including Japan (11 of whom participated from overseas), were newly selected for the biennial overseas course, and preparations are ongoing for proposing new projects.
Group-wide leadership training program, EaGLES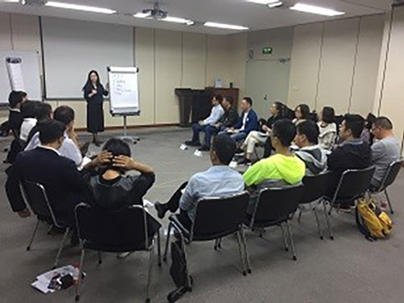 "EaGLES" is the name of the Teijin Group's shared leadership training program launched in FY2011.
EaGLES training is as an opportunity for all employees in managerial positions in the Teijin Group to acquire leadership experience and learn the Teijin Group's values, management policies and history. As such, all employees in Japan and overseas requiring these skills and knowledge are sequentially completing this training program every year.
EaGLES consists of three steps: (1) e-learning (available in Japanese, English, Chinese and Thai), (2) group training in five world regions (Japan, EU, the United States, China and Thailand) and (3) measuring learning outcomes. For group training overseas, we hold informal gatherings with regional representatives of Teijin Limited which serve as valuable opportunities to interact.
In FY2021 as well, the training program was held online to prevent the spread of the COVID-19, and 55 people took the course in Japan.
Human resources development and training
The Teijin Group promotes and encourages self-development based on the independent study of each and every employee and coordinates on-the-job training, a job rotation/appointment system and other training programs as part of a systematic approach to developing Group human resources.
Basic Approach to Human Resources Development and Training
A fundamental part of human resources development is to promote and encourage self-development based on the independent study of each and every employee.
1.

On-the-job training
A means for leaders to promote the self-development/study of each team member through individual training and guidance in the course of daily work. This supports the growth of each employee based on the sense of fulfillment/achievement attained through having a sense of urgency in relation to work and through the process of completing work.

2.

Job rotation/appointment
An opportunity for each individual to develop/extend capabilities and a means to encourage further self-development/study. Leaders should have a good understanding of the strengths and personalities of team members and work to implement appropriate job rotation/appointments based on self-applications and other information.

3.

Training
This refers to off-the-job training, which is a means to provide employees with content based on requirements for present and future execution of duties and management needs, and an opportunity to provide each individual with an opportunity for self-development/study. Leaders should proactively send team members to training in order to encourage wider outlooks and mutual development with other employees inside and outside the group.

4.

Career development and 360-degree evaluation
Company employees and supervisors have self-application system and supervisors conduct career development of employees once a year. Further, in order to encourage employees' own awareness, a 360-degree evaluation is conducted targeting all management employees.
The results of the personnel evaluation are conveyed as feedback by supervisors to the concerned personnel, and guidance and advice that will lead to the growth of employees is provided. If one is not satisfied with the results of the personnel evaluation, one can use the self-application system by which one can directly report independently to the Human Resources Department.
Job rotation / transfer system
The Teijin Group has set a range of measures to ensure that employees are appointed to positions based on their desires and suitability for positions with consideration to Group-wide human resources needs.
In relation to personnel transfers, we have established an annual personnel plan at all group companies, aiming to realize objectivity and transparency in relation to transfers. group companies in Japan also have a self-application system that respects each employee's desire regarding transfers and new appointments. Additionally, in as early as 1988, we introduced an in-house staff recruitment system (Job Challenge System) that was pioneering for Japanese companies at the time. In FY2021 10 people were transferred using this system.
Furthermore, from January 2018, we introduced the "FA (Free Agent) System" to release employees to the business unit they wish to be transferred to in order to match their abilities, experience and so on, and made the selection of transfer destination possible. 10 people used this system in FY2021.
We also implement systematic transfers of core human resources selected for STRETCH from among group companies worldwide, with the transfers extending beyond business departments and country borders.
At group companies in Japan, we also review the appointment status of contract employees and temporary staff every year. In FY2021, reviews were conducted at 29 group companies in Japan. We will continue to check the status on a regular basis.
The Teijin Group training and job rotation / transfer system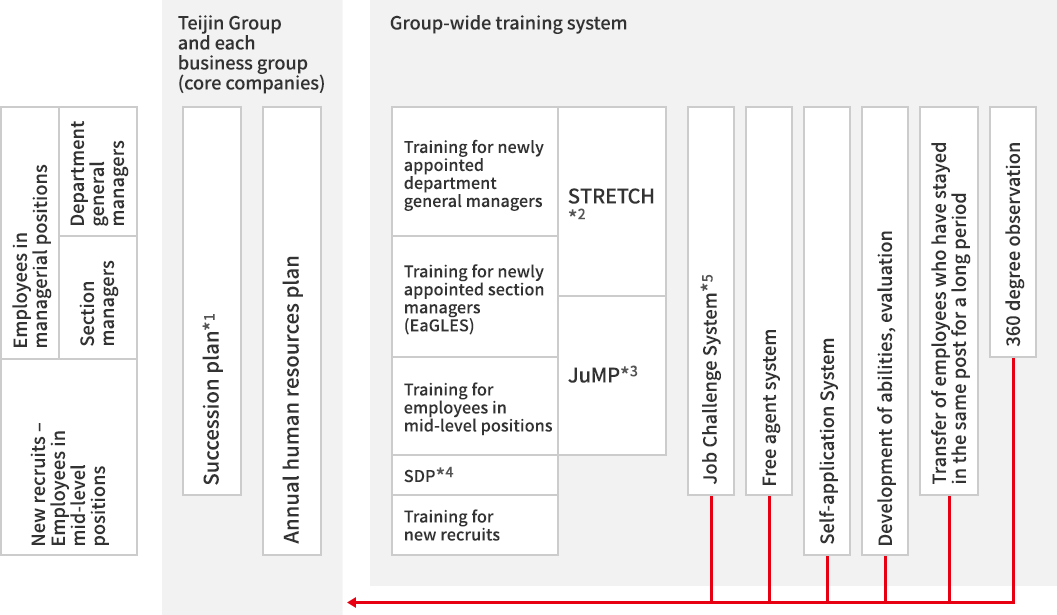 *1

Succession plan: A plan to foster successors to important posts from the viewpoint of business continuity.

*2

Strategic Executive Team Challenge (STRETCH): A group core human resources development system for leaders.

*3

Junior Management Program (JuMP): A leadership training program for mid-level employees aimed at developing executive talent.

*4

Specialty Development Program (SDP): An educational program designed to enable career-oriented employees to gain specialized knowledge relating to marketing, engineering or clerical work.

*5

Job Challenge System: An in-house staff recruitment system. Any employee can file an application for a position without permission from the division manager, and the manager cannot overrule decisions.
Workstyle Reform and Work-Life Balance
One of the key actions in the Medium-Term Management Plan for Diversity & Inclusion is to advocate workstyle reform, and we are committed to promoting appropriate management of working hours and to designing flexible human resources and employee-treatment systems to support diverse human resources and workstyles.
The Teijin Group embraces telework as an effective means of realizing new workstyles that respond to the new normal era in which coming to the office is not a prerequisite.
In FY2021, we implemented specific measures for the five themes of "paperless," "work visualization," "communication," "office space and physical distancing," and "systems and evaluations," examined in FY2020. For example, in the case of "paperless," we investigated the types and contents of operations that required the use of paper through quarterly surveys and identified the status of reduction in usage over time. Simultaneously, we promoted the digitization of operations through business consolidation and elimination of projects, review of internal rules, and by introducing a workflow system. As a result of understanding the current situation and working on specific measures, we were able to reduce the amount of paper used by more than 50%.
In FY2021, we continued to expand the use of telework mainly at our head offices in Tokyo and Osaka, from the perspective of countermeasures against COVID-19.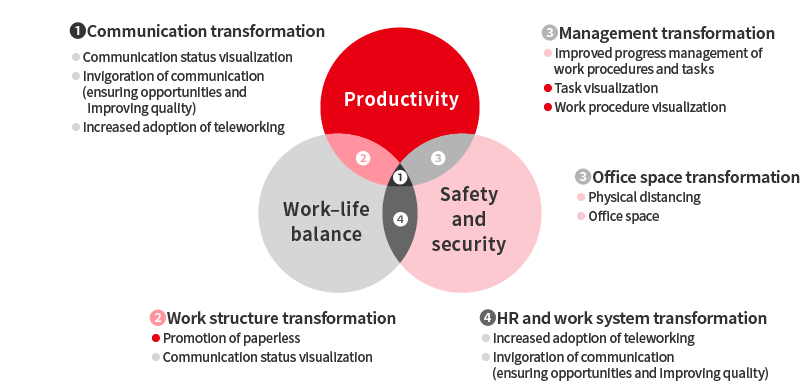 Status of the work-from-home system
In FY2019, Teijin Limited and Teijin Pharma Limited introduced telework programs that allow employees to work outside the office even in the absence of a reason such as childcare or family care.
We are also making full use of the telework program as a means of preventing the spread of COVID-19 infections, and to this end, we have implemented the following temporary measures: (1) elimination of the limit of 70 hours of telework per month; (2) payment of telework duty allowances; (3) allowing newly-hired recent college graduate employees, part-time employees, and temp workers, who were previously excluded, to use the telework program; and (4) use of empty rooms in company housing as satellite offices.
In addition, as a temporary measure to deal with the temporary closure of schools nationwide, we relaxed the criteria for availing independent paid leave apart from annual paid leave, granted special leave, and compensated for the cost of using babysitters, among other things.
By adopting these measures, we are working to reduce the risk from the COVID-19 infections while increasing the flexibility of workstyles and enabling employees to demonstrate their full capabilities.
Promoting Work-Life Balance
In order to strengthen the promotion of work-life balance, Teijin Limited introduced a system in October 2014 under which the spouses of employees who are transferred overseas for work may also take leave from work to be with their spouses. They may take leave for three years. As of the end of March, 2022, 22 employees had used the system and 13 employees had returned to work.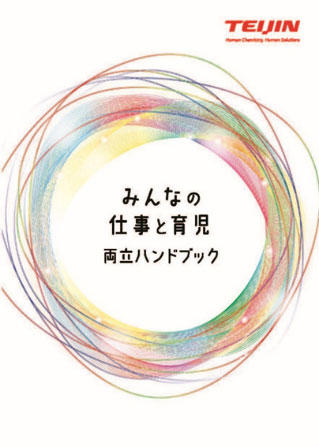 In April 2018, the Childcare Work-Life Balance Handbook for Everyone was created not only for female employees with a baby, but also for their supporting partners, superiors at the workplace, team members, and everyone to promote a better understanding of the demands of working while raising children, so that supportive workplace environments can be created.
In FY2021, we implemented an online seminar to gain an understanding about the relationship between women's body cycles and the workplace and invited employees as well as their families to participate.
Furthermore, there is a shortage of nursery schools mainly in urban areas, and there are cases where employees cannot return to work as scheduled after childcare leave, as nursery schools have not yet been determined. Since 2017, we have been providing support for activities related to children's enrollment in nursery schools during the period of childcare leave. In FY2021, we introduced the "Childcare Future Concierge " and promoted its online usage increasing convenience and leading to a smoother return to work.
In addition, in October 2020, we introduced a shortened working hour system for treatment of illnesses and other matters, to support a balance between work and treatment for employees with cancer and other conditions and employees undergoing infertility treatment.
Reducing actual working hours
For some time now, group companies in Japan have been utilizing a system that requires applying for overtime in advance and actively promoting no-overtime days.
In FY2021, the four core group companies* in Japan reported an average overtime of 13.6 hours per month

(an increase of 1.7 hours compared to FY2020). The utilization of annual paid holidays was 76%

(an increase of 1 point compared to FY2020). In FY2022, we will strive to improve results as compared to the previous fiscal year, with the aim of further reducing actual working hours.
In order to realize appropriate working hours, we are using IT tools and external consultants to conduct survey on work and work visualization and exerting all efforts to comprehensively revise tasks (IT utilization, standardization of operations, making meetings efficient, etc.). As a specific measure we are prioritizing the development of RPA (Robotic Process Automation) to promote the reduction of working hours and the optimization and equalization of labor loads by automating and improving the efficiency of operations.
The Teijin Group in Japan has set the goal of "overall actual working hours of 2000 or less for all employees and 10 days or more of annual paid leave." At present, this is yet to be achieved, but we are committed to achieving this goal while building a new way of working in anticipation of a post-corona era.
*

Four core group companies in Japan: Teijin Limited, Teijin Pharma Limited, Teijin Frontier Co., Ltd., Infocom Corporation
Promoting childcare leave for employees
In group companies in Japan, besides preparing a support manual to promote supervisors' understanding and smooth communications with female employees during pregnancy or before/after maternity leave, in order to promote childcare leave for male employees, activities that raise awareness of the importance of promoting childcare leave, among other matters, have been incorporated into action plans based on the Act on Advancement of Measures to Support Raising Next-Generation Children (Amended Next-Generation Act). For example, we have been sending individual monthly e-mails to male employees eligible to take childcare leave and their superiors in order to provide information about how to obtain childcare leave and other related matters. This aims to create an environment in which it is easy for male employees to take childcare leave.
In FY2021, a total of 204 employees

took childcare leave at the four core group companies in Japan. Of these, number of male employees who took childcare leave was 76, and although there is variation depending on the number of children born, the gender gap for employees taking childcare leave is narrowing. We will continue to conduct awareness raising activities so that employees can start planning to take childcare leave before they have children. At the same time, we will work to develop a workplace environment that is conducive for male employees to take long-term childcare leave.
Trends in number of employees taking childcare leave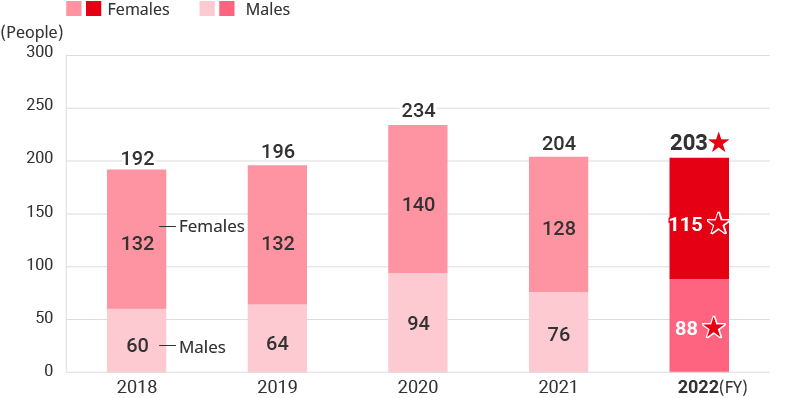 * Four core group companies in Japan: Teijin Limited, Teijin Pharma Limited, Teijin Frontier Co., Ltd., Infocom Corporation
* Includes employees who took holidays for childcare.
Balancing work and nursing care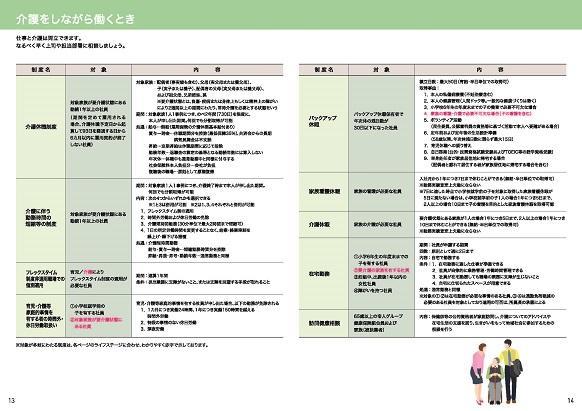 In the future, as the baby boomer generation reaches the late elderly age, there will be an increase in number of employees who will need to balance work and nursing care. As a countermeasure, we have launched the "Wakaru Kaigo Biz ," a service that allows employees who are providing nursing care as well as those who may be have to provide it in the future to look up any information they need at any time.
In addition, we have commenced support for the introduction of care managers to long-distance caregivers providing care for relatives who are far away.
Nursing care is something that can become necessary suddenly. In the future, we are committed to supporting the balance between nursing care and work by developing measures that focus on preparations for nursing care, and on information provision that ensures immediate access to necessary information when faced with a need for nursing care, as well as on support for long-distance caregivers.
Nursing care leave system
Our nursing care leave system operating at three of the four core group companies in Japan allows each applicant to take up to 730 days of nursing care leave per reason (also obtainable in portions). This far exceeds the total of 93 days of leave specified under the Child Care and Family Care Leave Law.
In addition, the systems for nursing care reduced working hours, flexible work start/finish time, etc. can be used for as long as an employee is providing nursing care.
In FY2021 there were 2 employees

taking nursing care leave and 3 employees on shorter working hours for nursing care, for the four core group companies combined.
The baby boomers generation will be reaching late elderly age in the future, and an increase among the current generation of workers who are providing nursing care while working is expected. We will continue to hold seminars to raise awareness and strive to foster a corporate culture with a good work-life balance.
With a view to encouraging volunteer activities, the Teijin Group has introduced a paid Volunteer Leave System at Teijin Limited and Teijin Pharma Limited. As of March 31, 2022, there were 15 employees using the Volunteer Leave System.
Determining the Status of Group-Wide Labor Management
The Teijin Group carries out regular surveys on labor management at group companies. We identify management issues in our Group personnel management system and implement effective measures as required, particularly from the viewpoint of labor CSR. Survey forms are sent to 43 group companies in Japan and 22 overseas, every year. From the survey, we obtain data on basic labor CSR indicators. After amendments to labor-related laws or if otherwise needed, the Teijin Group reviews the labor management status, employment rules and personnel systems of all group companies in Japan.
Since labor laws and regulations differ from country to country, with regard to overseas group companies, we conduct surveys of basic items, and also implement additional surveys on the human resources system and salary systems, as necessary.
Survey items (group companies in Japan)
Basic labor CSR indicators - conducted annually
(1)

Number of employees (by position/gender)

(2)

Average years at company and average age

(3)

Number of newly recruited employees (by position/gender/career stage (new versus mid-career)/type of work (administrative versus technical)

(4)

Number of retired employees (by position/reason)

(5)

Data on re-employment after age-limit retirement (by position)

(6)

Number of executives by gender

(7)

Number of fixed-term employees

(8)

Overtime hours (per month)

(9)

Rate of taking annual paid holidays/Number of annual paid holidays taken

(10)

Use of childcare leave/childcare short-time work system

(11)

Use of nursing care leave/nursing care short-time work system
Status of labor management - conducted when required
[Legal compliance]
(1)

Employment of the elderly

(2)

Work hours

(3)

Temporary/Contract workers

(4)

Maternity protection and childcare

(5)

Care and nursing

(6)

Equal-opportunity employment
[Labor affairs measures]
(1)

Work-life balance (e.g. overtime hours/annual paid holidays/flex-time system)

(2)

Retirement allowance system

(3)

Progress in promoting diversity

(4)

Recruitment and education

(5)

Health and welfare system (dormitories/other issues)

(6)

Other issues (e.g. existing issues for which demand for support exists)
Survey items (overseas group companies)
Survey of the following basic labor CSR indicators
(1)

Number of employees

(2)

Average years at company and average age

(3)

Number of new recruits

(4)

Number of employees who retired
Maintaining Sound Industrial Relationships
The Teijin Group sees the labor union as an important stakeholder, and we are working to maintain and improve our good relationship with the union. As fundamental concepts in industrial relations, we emphasize "mutual understanding and thorough prior consultation."
In regards to labor-management meetings, Teijin Limited adheres to a comprehensive collective bargaining agreement by which meetings will be called upon request from either the company or union side.
At group companies in Japan, all employees except directors and managers belong to the labor union. At the Group Labor-management Council, which brings management and main union officials together, and also at Labor-management Committee meetings (held as required), members exchange opinions on businesses as a whole and hold discussions with the aim of improving workplace environments.
In initiatives to date, we have held discussions on expanding the system to promote work-life balance. In this regard, both workers and management have worked together to bring about the implementation of an hourly-based annual paid holiday system and a short-time work for childcare system that can be divided into intervals. Furthermore, to limit long working hours, workplace patrols on no-overtime days are being continued through the cooperation of workers and management.
In FY 2021, following FY2020, kindergartens, nurseries, and schools were occasionally closed and home schooling was adopted to prevent the spread of the COVID-19 infection. This caused a significant burden on employees raising children. Therefore, we support employees by relaxing the requirements for taking backup leave (lapsed paid reserve leave) and family-care leave and covering the cost of using babysitter services.
Labor unions and work councils (joint labor-management councils) have been established in overseas group companies, and consultations are held between the company and representatives of the employees to achieve a better work environment and working conditions.
Preamble of Labor Agreement between Teijin Limited, Teijin Pharma Limited and Teijin's Labor Union (largest labor union of Teijin Group)
Teijin Limited, Teijin Pharma Limited and Teijin's labor union mutually respect the position of one another, and work together towards establishing industrial peace through the sound development of business and consideration of union member's welfare. With this in mind, the Teijin Labor Agreement was concluded, and both sides are committed to observing it in good faith.
*

The labor agreement with Teijin's Labor Union is applicable to all full-time and fixed-term employees, except managers.