Management of Water Resources
Sustainability
Management of Water Resources
In response to the increasingly critical water shortages and water pollution worldwide, the Teijin Group is endeavoring to reduce water consumption at business sites bearing in mind water-related risks, while promoting the efficient use of water resources.
Management of Water Resources
The Group's targets (KPIs) for FY2030
By FY2030 improve the freshwater intake volume per sales unit by 30% compared with FY2018.
We are expanding the number of products that use less water during the production process and making efficient use of water in our business activities.
In FY2020, with a decline in operation rate due to the impact of COVID-19, the freshwater intake volume decreased 10% compared with the previous year to 62.7 million tons

, which constituted a 4% improvement per sales unit over FY2018.
In these ways, in the future too, we aim to achieve our targets for reducing the amount of freshwater intake with a focus on curtailing water use at manufacturing sites and other locations that use high volumes of water, including the Mishima Factory in the Carbon Fibers Business and each domestic and overseas Group company in the Fibers & Products Converting Business.
Trends in freshwater intake volume

and volume per sales unit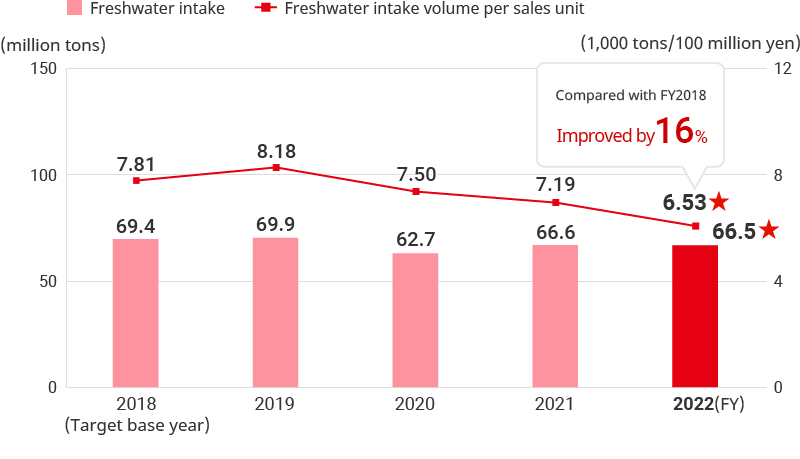 Environmental Load due to Wastewater
In FY2020, wastewater volume decreased by 6% year-on-year to 58.2 million tons

. In addition, chemical oxygen demand (COD) decreased by 26% year-on-year to 304 tons

, bio-chemical oxygen demand (BOD) increased by 23% year-on-year to 64 tons

, and the load due to wastewater (calculated from COD and BOD) decreased by 21% year-on-year to 368 tons

.
Trends in freshwater intake and water discharged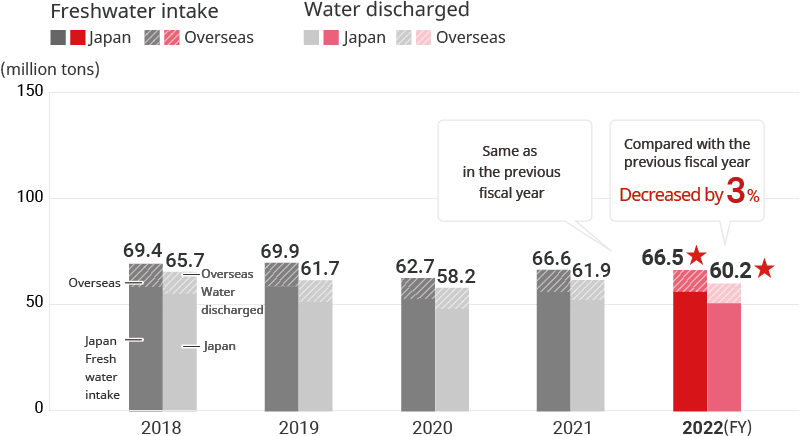 *

The amount of freshwater intake is the total of industrial water, groundwater, and tap water.

*

The amount of water discharged includes seawater used for cooling (until FY2016).
Trends in COD and BOD loads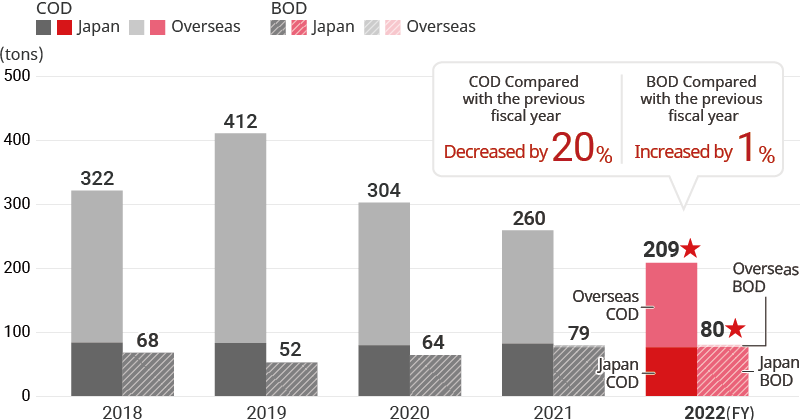 *

The tally covers wastewater discharged in rivers, sea areas, and lakes.

*

At sites measuring both COD and BOD, the COD value is used if data exists.
The Teijin Group uses the Aqueduct water risk assessment tool of the World Resources Institute to analyze risks at manufacturing sites. At the present point in time, there are no sites harboring serious risks, but at sites in regions where there are concerns that water usage might be limited, we are promoting measures toward the reduction of water usage.