Sustainability Policy and SDGs
Sustainability
Sustainability Policy and SDGs
Based on the following sustainability policies, the Teijin Group contributes to the development of a sustainable world by providing value to solve social issues through three solutions focusing on people: (1) environmental value solutions; (2) safety, security and disaster mitigation solutions; and (3) demographic change and increased health consciousness solutions.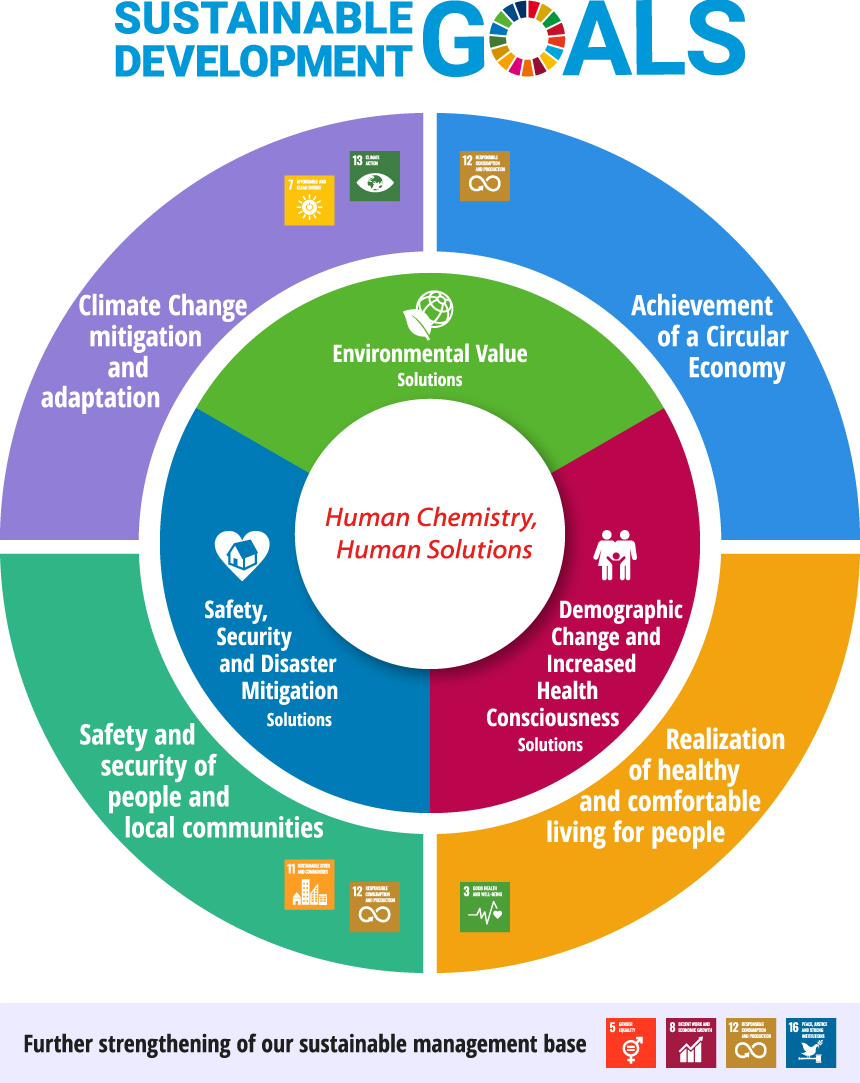 To realize a sustainable world, our focus will be on people, to provide innovative solutions to enhance the quality of life, while minimizing the impacts of our activities on the environment and society.

The Teijin Group defines its CSR Basic Policy as follows. Basically it's a long-term policy, but enumeration of specific issues in it are reviewed in the medium term.
CSR Basic Policy
1. Basic Stance: Sustainable Development of Business and Society

Work positively and proactively on important issues related to corporate social responsibility such as the environment, society and governance (materiality) with high sensitivity to aim for sustainable development of business and society as "an enterprise that is essential to tomorrow's society."
2. Contribute to Society through Business

Proactively grasp those problems that society needs to solve related to the environment, safety/security/disaster mitigation and health, and provide sustainable solutions to such problems through business.
3. Appropriately Respond to Various Risks

Manage various risks related to business activities appropriately such as corporate ethics and compliance, environmental impacts, quality assurance, occupational safety, etc., and demonstrate strong resilience even when risks actualize.
4. Dialogue with Society to Improve Continuously

Maintain positive dialogue with society and continuously improve these recognitions and practices. At the same time, contribute to gaining and maintaining social recognition as a "sustainability advanced enterprise" globally.
Participation in the Global Compact
Teijin Limited joined the UN Global Compact* in March 2011 by a decision of the Board of Directors. Participation in this global initiative for sustainable development is voluntary. Participating companies are required to follow the 10 basic principles of the Global Compact relating to "human rights," "labor," "environment" and "anti-corruption."
As a global company, in order to practically implement high-quality CSR management, in FY2011, the Teijin Group reviewed its Corporate Code of Conduct and Corporate Standards of Conduct based on the principles of the UN Global Compact. In addition, in terms of business activities, we clarified policies to practically implement the basic principles such as respecting human rights.
Further the Teijin Group has revised its previous Corporate Code of Conduct and Standards of Conduct to the Code of Conduct to clarify the Group's engagement with the United Nations' Sustainable Development Goals (SDGs), the Global Compact and other frameworks in accordance with changes in the social environment in June 2018. Our new Code of Conduct now includes the statement, "Integrity: We act with integrity in compliance with laws and regulations, and show respect for human rights and local communities in which we operate."
Additionally, in March 2019, we established the Teijin Group Human Rights Policy. Under this policy, we pledge to endeavor not to be involved directly-or to be complicit indirectly by way of external affiliates-in any kind of human rights violations in our business activities, in recognition of the fact that respect for human rights is an important social responsibility to be fulfilled as a company.
*

UN Global Compact: A set of voluntary corporate-action principles proposed by the former Secretary General Kofi Annan during the World Economic Forum (Davos Forum) held in January, 1999.
The Ten Principles of the UN Global Compact
Human Rights

Principle 1: Businesses should support and respect the protection of internationally proclaimed human rights; and
Principle 2: make sure that they are not complicit in human rights abuses.
Labour

Principle 3: Businesses should uphold the freedom of association and the effective recognition of the right to collective bargaining;
Principle 4: the elimination of all forms of forced and compulsory labour;
Principle 5: the effective abolition of child labour; and
Principle 6: the elimination of discrimination in respect of employment and occupation.
Environment

Principle 7: Businesses should support a precautionary approach to environmental challenges;
Principle 8: undertake initiatives to promote greater environmental responsibility; and
Principle 9: encourage the development and diffusion of environmentally friendly technologies.
Anti-Corruption

Principle 10: Businesses should work against corruption in all its forms, including extortion and bribery.