Corporate Social Responsibility
F
CSR Management System
Aiming for the sustainable development of both business and society, the Teijin Group promotes "CSR management integrated with business", which involves contributing to the solving of society's issues through business activities.
Features of Activities to Promote CSR
In light of social issues such as those identified by the United Nations' SDGs (Sustainable Development Goals) and the Paris Agreement on climate change, the Teijin Group promotes "CSR management integrated with business", which involves contributing to the solving of society's issues through business activities in our aim to achieve sustainable development of both business and society. From material CSR issues, we establish reduction of the environmental burden, diversity, etc as major areas for our midterm business plans and push forward with initiatives for these as key management issues.
To implement the Teijin Group's CSR management in a unified, efficient manner, a main division/organization in charge is specified under the supervision of the Chief Social Responsibility Officer for each material CSR issue. This main division/organization then starts the PDCA cycle of planning for the medium- to long-term and single fiscal years (Plan), implementing this plan (Do), evaluating (Check) and improving (Action) to achieve ongoing improvement and enhancement of our CSR activities.
PDCA approach to CSR activities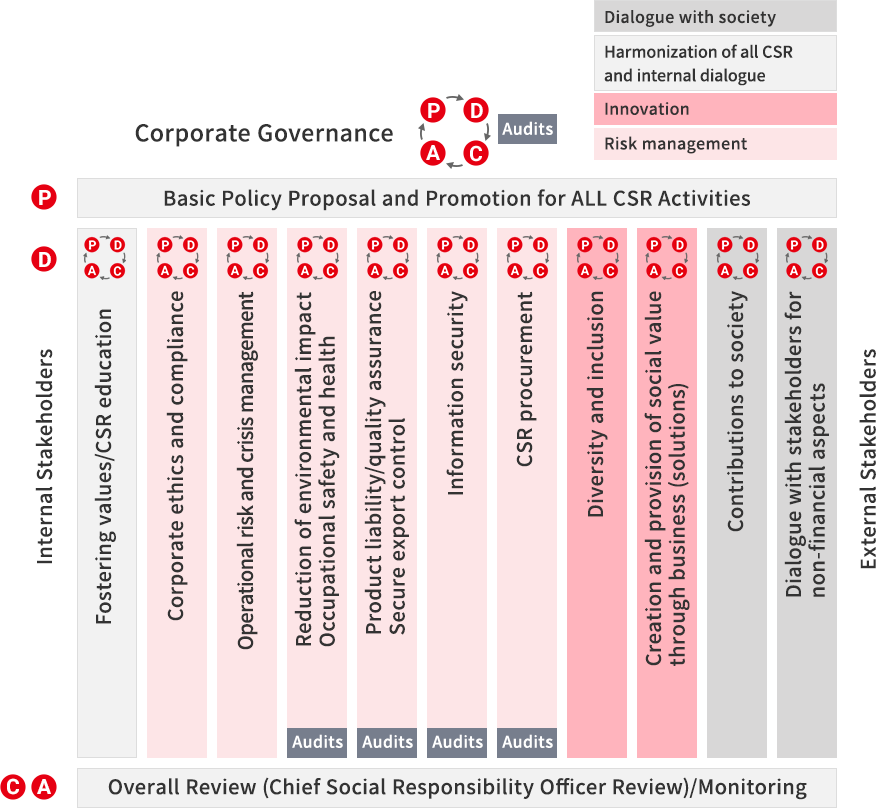 Role of the Group CSR Committee
The Group CSR Committee meets twice a year to discuss and promote key issues and initiatives relating to group-wide CSR. In FY2017, meetings were held in March and September. In addition to the long-term vision and short-to-mid-term policies relating to CSR, the Committee discussed amendments to CSR procurement basic policy and guidelines, as well as confirmed the progress of individual material topics.
Under the Group CSR Committee, there are six subcommittees and conferences. These implement action towards material CSR topics and a wide variety of other CSR issues.
In light of the fact that the number of issues the Group CSR Promotion Subcommittees address is increasing, the number of annual meetings has been increased from two to four in order to discuss issues in greater depth. In FY2017, these meetings were held in June, August, October and February and comprised of gathering results on value creation corresponding with social issues (3 Solutions), as well as discussing the topics of amendments to CSR procurement basic policy and guidelines, business deployment, etc.
Teijin Group CSR management system
As of April 1, 2018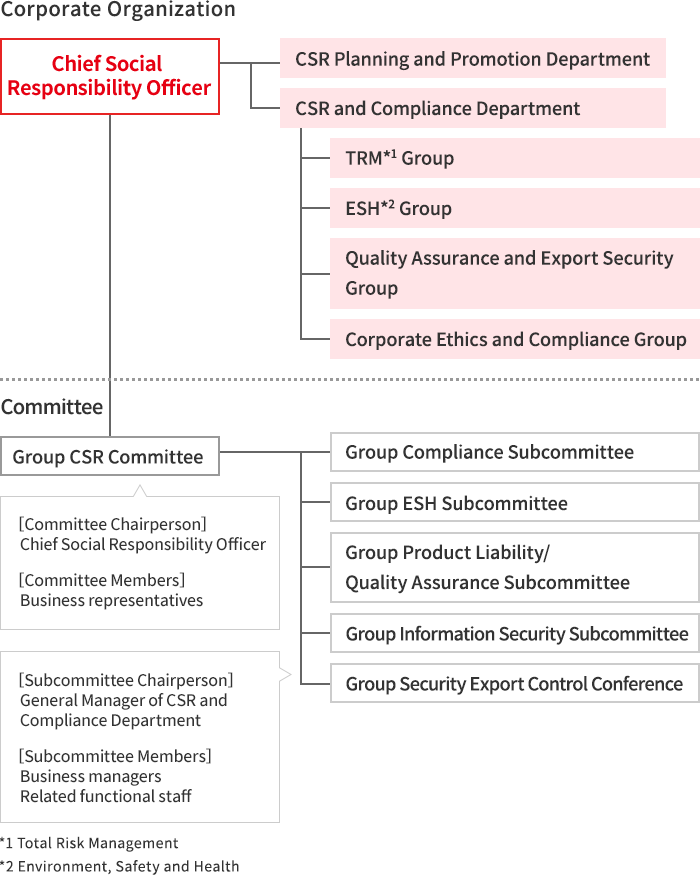 Status of inclusion in SRI indices (as of August 2018)

The Teijin Group was evaluated on its initiatives for ESG to date, and for its transparency in regards to information disclosure. As a result, we continue to be included in the following leading socially responsible investment (SRI) indices.
Dow Jones Sustainability Indices (criteria for inclusion: economic, environmental and social performance)
FTSE4Good Index Series(criteria for inclusion: efforts to ensure environmental sustainability, development of positive relationships with stakeholders and support for universal human rights)
Ethibel Investment Register (criteria for inclusion: ethical economic policy, environmental policy, internal and external social policies)
FTSE Blossom Japan Index
MSCI Japan ESG Select Leaders Index
MSCI Japan Empowering Women Index (WIN)




Awards and Certifications (FY2017)

The Teijin Group received the below awards and certifications in FY2017 for our ESGR-related initiatives.
Teijin Aramid B.V. awarded a "GOLD" rating in an EcoVadis sustainability survey
Nantong Teijin obtained an "Exhaust Permit" from Jiangsu Province
Certified as a "Company with Excellent Health Management (White 500)
Chosen as a Nadeshiko Brand for promoting the active role of women in the workplace
Participation in the Global Compact
Teijin Limited joined the UN Global Compact* in March 2011. Participation in this global initiative for sustainable development is voluntary. Participating companies are required to follow the 10 basic principles of the Global Compact relating to "human rights", "labor", "environment" and "anti-corruption".
As a global company, in order to practically implement high-quality CSR management, in FY2011, the Teijin Group reviewed its Corporate Code of Conduct and Corporate Standards of Conduct based on the principles of the UN Global Compact. In addition, in terms of business activities, we clarified policies to practically implement the basic principles such as respecting human rights.
*

UN Global Compact: A set of voluntary corporate-action principles proposed by the former Secretary General Kofi Annan during the World Economic Forum (Davos Forum) held in January, 1999.
The Ten Principles of the UN Global Compact
Human Rights

Principle 1: Businesses should support and respect the protection of internationally proclaimed human rights; and
Principle 2: make sure that they are not complicit in human rights abuses.
Labour

Principle 3: Businesses should uphold the freedom of association and the effective recognition of the right to collective bargaining;
Principle 4: the elimination of all forms of forced and compulsory labour;
Principle 5: the effective abolition of child labour; and
Principle 6: the elimination of discrimination in respect of employment and occupation.
Environment

Principle 7: Businesses should support a precautionary approach to environmental challenges;
Principle 8: undertake initiatives to promote greater environmental responsibility; and
Principle 9: encourage the development and diffusion of environmentally friendly technologies
Anti-Corruption

Principle 10: Businesses should work against corruption in all its forms, including extortion and bribery.