For Investors
Top Management Message
To Our Shareholders and Investors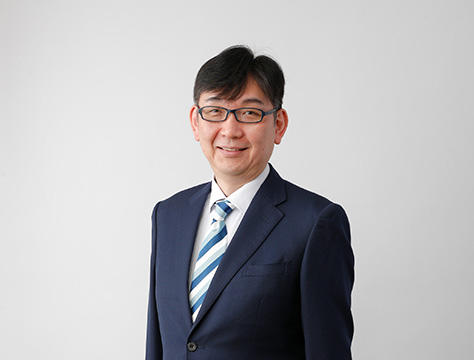 First of all, I would like to extend my heartfelt gratitude to you as shareholders and investors for your continued understanding and support of the Teijin Group's business activities. I would like also to express my genuine sympathy to COVID-19 patients and their family members and my deepest respect and gratitude to those involved in fighting the pandemic for their sustained, selfless efforts.
Toward the fulfillment of its Long-Term Corporate Vision of "To be a Company that Supports the Society of the Future," the Teijin Group has implemented various initiatives to create growth platforms, including proactively allocating resources to the three solutions of Environmental Value Solutions; the Safety, Security, and Disaster Mitigation Solutions; and the Demographic Change and Increased Health Consciousness Solutions and strengthening the management base to drive innovation, in line with its Medium-Term Management Plan 2020-2022: ALWAYS EVOLVING. In the Materials Business Field, we are striving to shift to a business model focused on providing customers with solutions, including high-performance and lightweight materials for mobility applications, and we are proactively investing in endeavors to achieve carbon neutrality. In the Healthcare Business Field, we have acquired the sales rights for diabetes treatments, and therefore built the foundation for expanding our services to contribute toward preventing lifestyle-related diseases and their development, and we have also embarked upon the regenerative medicine business, which integrates the Teijin Group's technological bases in healthcare, materials and engineering.
Meanwhile, it is still uncertain when the global COVID-19 pandemic, which began to spread worldwide in 2020, will be over. The world is experiencing a global shortage of semiconductors, a sharp rise in materials and energy prices, disruptions in logistics networks, and heightened and realized international political and geopolitical risks. These factors have had a certain impact on our businesses, and mainly on the Materials Business Field. Fiscal 2022, the final fiscal year of our Medium-Term Management Plan, is an important year in which we should not only make a full commitment to achieve the goal of creating growth platforms, but also design the next Medium-Term Management Plan and draw a picture of the future with a sense of speed. We will conduct a fact-based review of the achievements and results we have produced so far from the perspective of what we have successfully done and what we have not done. We will also take a fresh, careful look at our purpose in a society filled with drastic changes and uncertainties, and seriously address real issues and the pain that society and customers are now facing. By doing these things, we aim to transform our business models to those that are focused on delivering solutions. We believe that accomplishing this aim will require the Teijin Group to create an organizational structure and corporate culture that facilitates innovation, and to unite to form a strong team. To bring happiness to all stakeholders, we will make Group-wide efforts, with our purpose as the starting point, to be a company that can continue to provide value with solutions to material issues (materiality).
We look forward to the continued understanding and support of our shareholders and investors.
April 1, 2022

Akimoto Uchikawa
President and CEO