Teijin Launches Super Barley in Asia
Tokyo, Japan --- Teijin Limited announced today that has begun selling functional-food ingredients in Asian markets, starting with its highly nutritious "super barley," BARLEYmax™, which has been adopted by Taiwan FamilyMart Co., Ltd. as an ingredient in 10 food items, including rice balls, breads and boxed lunches.
Teijin acquired the exclusive Asia-region sales rights to BARLEYmax™ from The Healthy Grain Pt. Limited. and is now developing business in markets with growth potential. In Japan, FamilyMart Co., Ltd. and Teijin are already implementing various initiatives as strategic partner in the healthcare field.
Taiwan FamilyMart is responding to the increasingly sophisticated food preferences of consumers in Taiwan, including by becoming the first company in the retail industry to acquire "clean label" certification by offering food products with reduced additives.
The newly launched products are a win-win result of Teijin's efforts to expand the Asian market for BARLEYmax™ and Taiwan FamilyMart's development of health-food products.
After launching BARLEYmax™ in Taiwan, Teijin now plans to accelerate its functional-food business in China and other Asian countries. Teijin is committed to enhancing the quality of life worldwide by providing people with functional foods under the strategy of healthcare business to support lives in all stages of life.
BARLEYmax™

BARLEYmax™ is a non-genetically modified barley that contains high amounts of dietary fiber, including two times more than normal barley, seven times more than brown rice and 40 times more than white rice. It also is four times as resistant to digestion as resistant starch. Three types of dietary fiber--fructan, β-glucan and resistant starch--resist digestion in the small intestine and then ferment in the large intestine, where they support healthful "good" bacteria.




Taiwan FamilyMart Co., Ltd.
| | |
| --- | --- |
| Established | August 18,1988 |
| Location | 7F, NO. 61, Zhongshan N Rd, Section 2, Zhongshan District, Taipei 104 |
| President | Yeh, Jung-ting |
| Stores | 3,597 (January 2020) |
Examples of newly released products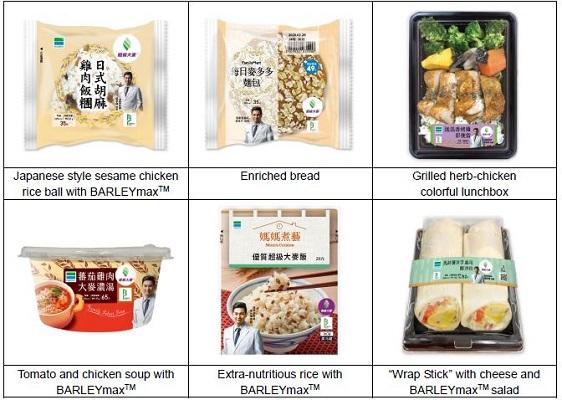 About the Teijin Group

Teijin (TSE: 3401) is a technology-driven global group offering advanced solutions in the areas of environmental value; safety, security and disaster mitigation; and demographic change and increased health consciousness. Its main fields of operation are high-performance fibers such as aramid, carbon fibers & composites, healthcare, films, resin & plastic processing, polyester fibers, products converting and IT. The group has over 170 companies and around 20,000 employees spread out over 20 countries worldwide. It posted consolidated sales of JPY888.6 billion (USD 8.1 billion) and total assets of JPY 1020.7 billion (USD 9.3 billion) in the fiscal year ending March 31, 2019.
Press Contact
Corporate Communications
Teijin Limited
Information in the press releases is current on the date of the announcement.
It is subject to change without prior notice.