Risk Management Activities
Sustainability
Risk Management Activities
The Teijin Group has in place a Total Risk Management (TRM) systems targeting both strategic and operational risks to comprehensively manage risks, and the TRM Committee has been conducting total risk management.
Total Risk Management (TRM)
In addition to enhancing shareholder value, the mission of the Teijin Group is to conduct sustainable business activities that deliver value to its shareholders and all of its other stakeholders.
In light of this mission, the Group strives to comprehensively and effectively assess, evaluate, and manage the various risks that could threaten the realization of its mission. By doing so, the Group adopts an organizational and systematic approach to risk management that leverages its Groupwide management capabilities.
Specifically, the Group has in place a Total Risk Management (TRM) system targeting both strategic risks which relate to such factors as the formulation of management strategies and plans, the implementation of strategic actions, and the determination of individual investment projects and operational risks, which involve various adverse events that can negatively affect the Group's operations, in order to address the various risks that impact the sustainable growth of the Group.
Established in fiscal 2003, the TRM Committee, chaired by the CEO, serves under the Board of Directors. The Board of Directors deliberates and decides the basic policy and annual plan related to TRM proposed by the TRM Committee.
At the same time, the Board of Directors formulates systems for managing important risks and ensuring business continuity. Also, the statutory auditors conduct audits to check whether the Board of Directors is appropriately handling policy decisions, overseeing, and monitoring with regard to TRM.
The CEO is in charge of assessing strategic risks and provides this assessment as valuable information to the decision-making process of the Board of Directors and other bodies. The Chief Social Responsibility Officer (CSRO) is in charge of overall Groupwide operational risks, including risks facing overseas Group companies, and works on a cross-organizational level to ascertain and confirm the status of risk management in each business group and at each Group company as well as to formulate consistent response policies.
Through these efforts, the CSRO helps reinforce Groupwide risk management. In addition, the Group is working to clarify how risks and opportunities presented by trends in the macroeconomic environment relate to its materiality and follows up on such risks accordingly.
Responding to risks related to the COVID-19 pandemic
Amid the prolonged COVID-19 pandemic, we are monitoring the impact of the pandemic on the Group's operations and are executing response measures to address areas that have already been impacted by the pandemic. At the same time, we are preparing response measures on an ongoing basis in anticipation of the pandemic's prolongation.
The pandemic's impact on the global economy has had a major effect on our performance in the Materials Business Field, for which automotive and aircraft applications serve as the main market. In particular, demand for carbon fibers for aircraft remains sluggish, although a recovery trend is starting to emerge.
As part of our efforts to address this issue, we are working to enhance production and operational efficiency by expanding into other applications for which demand is robust. We are also striving to increase profitability by improving our sales mix.
Furthermore, while rigorously monitoring profitability, we are promoting development geared toward the acquisition of large-scale programs for carbon fiber intermediate materials for aircraft for which demand is expected to recover over the medium to long term.
In regard to the lockdowns and other policies in China following the country's zero-COVID policy, we are closely monitoring the impact on supply chains and the suspension of operations at our manufacturing facilities and those of our customers.
Response to Geopolitical Risks
With regard to the Russian invasion of Ukraine in February 2022, we have set up an emergency response structure under which we have been providing humanitarian aid. We have also been carrying out appropriate measures to respond to the risks brought about by this invasion after analyzing and evaluating its direct and indirect impacts on our operations.
The details on the recognition of strategic risk and operational risk that the Group manages under the TRM Committee are as follows.
Strategic Risks: Identification and Analysis, and Relevant Response Measures
We have analyzed specific and recent strategic risks, including those already actualizing in our business strategies, from the perspectives of level of impact, period of actualization, and fluctuation trends, by making use of a risk map. Based on this analysis, we have established response measures in accordance with the level of urgency and impact and have swiftly begun to put these measures into action.
Identify and analyze strategic risks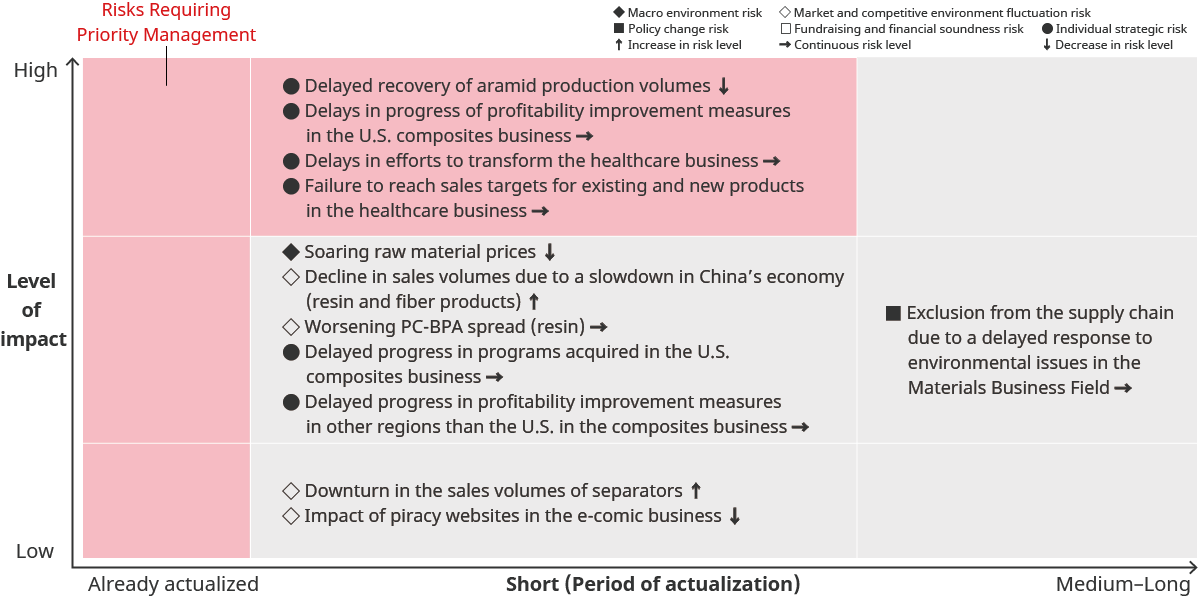 Strategic Risks: Overall Risks and Basic Response Policies
Risk category
Risk summary
Basic response policy
Macro environment risks

Fluctuations in sales due to the economic trends and conditions in each country and region of operation as well as the trends in the automotive and aircraft markets, which are major markets where the Group supplies products and services
Fluctuations in costs due to changes in raw material and fuel prices
Fluctuations in the exchange rates needed to reflect transactions in foreign currencies in the financial statements and convert the foreign currencies in the financial statements of overseas consolidated subsidiaries into yen (e.g., if the yen appreciates by ¥1 against the US$, over the year it will push down operating income by approximately ¥0.3 billion)
Fluctuations in interest expenses due to changing interest rates

We are taking steps to identify and assess primarily trends that could have a substantial impact on our performance and financial position, such as the impact of the COVID-19 pandemic on the automotive and aircraft markets.
We are also working to reduce risks through a broad range of measures. For example, we are stabilizing raw material and fuel prices by securing appropriate inventory levels, entering into long-term purchasing contracts, and implementing appropriate selling price measures. For exchange rates, we are also utilizing foreign exchange forward contracts and procuring funds for overseas investment in local currencies. In terms of interest rates, we are pursuing long-term debt with fixed interest rates.
Policy change risk

Tightening of GHG emissions regulations, plastic product regulations, and other regulations to a greater extent than expected between the U.S. and China as well as rising economic security risks
Emergence of global protectionism including the recurrence of trade conflicts between the U.S. and China as well as rising economic security risks
Acceleration of domestic drug price revisions and other government policies to curtail medical costs

To respond to policy change risk such as tightening environmental regulations and the emergence of protectionism around the globe, as well as market and competitive environment fluctuation risk, we are creating contingency plans in advance for individual businesses affected by such risks. At the same time, we are promoting ongoing monitoring activities, including detecting signs of risk occurrences, and ensuring we are prepared to swiftly respond to risks by revising our strategies and other measures. In addition, we are working to collect relevant information on economic security to promptly ascertain a potential crisis.
Market and competitive environment fluctuation risks

Fluctuations in supply-demand structure due to changes in the competitive environment
Inventory adjustments that exceed the real economy in each stage of the supply chain caused by changes in end-user demand within the materials, intermedi-ate materials, and components supply businesses
Fluctuations in supply-demand structure due to production activities being impacted by infectious disease outbreaks, natural disasters, and geopolitical risks as well as to supply chain disruptions such as a suspension in logistics activities

Resource investment risks

Cancellation of or delay in the execution of capital expenditures or M&As due to the inability to find projects compatible with strategies
Major divergence of R&D results from targets against the R&D expenses invested

For large-scale investment projects to create and expand businesses, we are taking steps to ascertain the business environment and prioritizing follow-up measures toward action plans for individual issues.
Fundraising and financial soundness risks

Occurrence of an impairment loss on non-current assets owned by the Group, owing to such factors as a decline in profitability from an extreme worsening of the economic environment, among other factors
Occurrence of loss on deferred tax assets in the event some or all deferred tax assets are deemed unrecoverable due to changes in estimated future taxable income

In addition to regular monitoring of the ratio of net interest-bearing debt to EBITDA, the shareholders' equity ratio, and the debt-to-equity ratio, we are assessing the scale for risk of loss on shareholders' equity through the continuous monitoring of assets with impairment concerns and deferred tax assets. When procuring funds, we examine optimal procurement methods in consideration of financial soundness and based on demand for large-scale funding over the near to medium term as well as the risk of loss on shareholders' equity. Furthermore, we are making thorough efforts to streamline assets through working capital management and the reduction of cross-shareholdings.
Operational Risks: Identification and Analysis, and Relevant Response Measures
We have identified and analyzed recent operational risks based on their level of impact and frequency of occurrence. By doing so, we have positioned four categories of Groupwide risks as "serious Group risks" and are formulating policies to respond to these categories, which include: i) Climate change risks; ii) Risk of human rights infringements in the supply chain; iii) Information security risks; and iv) Geopolitical risks (see table below).
Identify and analyze operational risks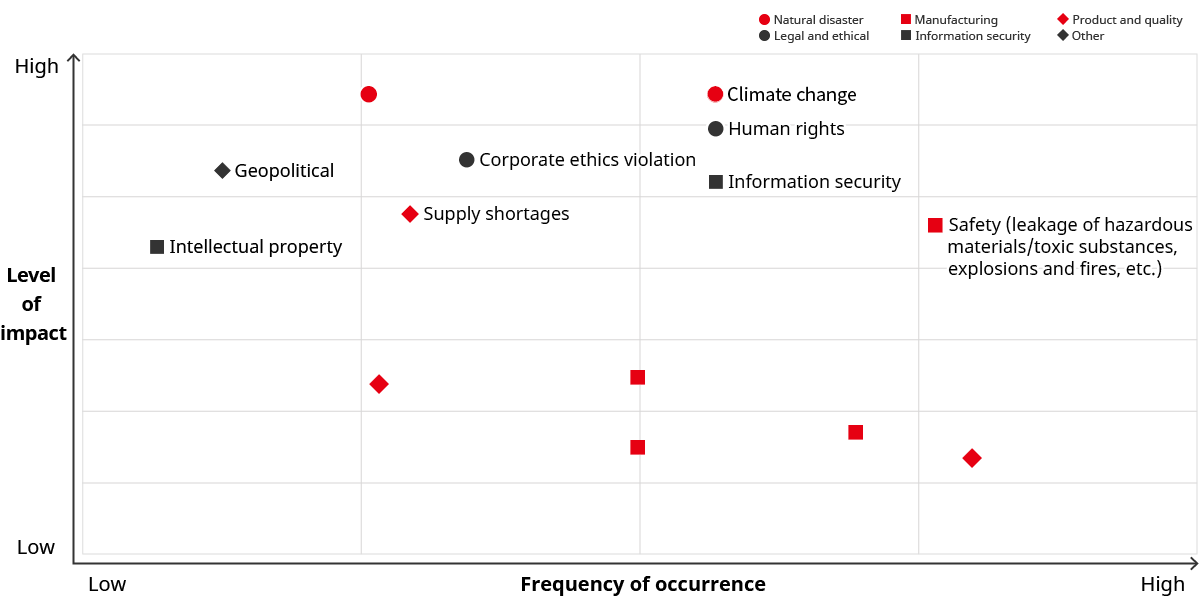 Operational Risks: Specific Initiatives toward Serious Group Risks
Risk category
Risk summary
Relevant material issues*
Response measures
Frequency of occurrence
Climate change risks

Inability to respond to system and policy changes, etc., resulting from climate change could hinder business continuity.
Occurrence of natural disasters due to climate change. For example, in the Materials Business Field, we anticipate that natural disasters will disrupt logistics operations and impact supply chains. We also expect to see massive increases in raw material and other prices due to energy transitions.

1
We assess and manage climate change-related risks impacting each of our businesses in a comprehensive and systematic manner. We also work to enhance climate change risk identification and strengthen risk management PDCA cycles in each business.
Additionally, risks impacting specific businesses that qualify as strategic risks are responded to as such within our efforts to manage strategic risks.
Medium-High
Risk of human rights infringements in the supply chain

Inability to respond appropriately to human rights-related issues within the supply chain could hinder business continuity.

5
We use consistent policies and guidelines to assess and monitor not only our business partners' adherence to laws and regulations but also their response to soft laws. In this way, we are strengthening the management of supplier compliance.
Medium-High
Information security risks

Unexpected information leaks could not only damage our competitiveness but also violate laws and be subject to fines.
Cyberattacks could hinder business continuity and result in major information leaks and demands for ransom payments.

5
We respond to risks related to the management and transfer of information assets and trade secrets and risks related to cyberattacks based on the perspective of physical threats and vulnerabilities, technological threats and vulnerabilities, and human threats and vulnerabilities. To that end, we have set up an information security governance structure and established various processes and are promoting specific initiatives through the Group Information Security Subcommittee.
Medium-High
Geopolitical risks

Conflicts and terrorist attacks could threaten the lives of Group employees and Group assets and could hinder business continuity by severing logistics and procurement systems and infrastructure.

5
We have been working to establish emergency response structures during normal times to enable the provision of support to our business locations across the globe, should any one of them become involved in a conflict. We are also preparing a global crisis management structure and are implementing relevant training and drills.
Low
*

Materiality: 1 = Climate change mitigation and adaptation; 2 = Achievement of a circular economy; 3 = Safety and security of people and local communities; 4 = Realization of healthy and comfortable living for people; 5 = Further strengthening of our sustainable management base
Groupwide system for operational risk management
We conduct Groupwide operational risk management including overseas subsidiaries based on the system below. The CSRO and the Corporate CSR and Compliance Department strengthens the risk management system for the entire Group by grasping and confirming the individual risk management conducted by each business group (unit) and Group company across the entire Group, and by establishing unified risk response guidelines.

Operational Risk Management Activities
In FY2021, through risk assessments (July-September) and the Chief Social Responsibility Officer Review (October), we checked the management status of serious material risk items in each business and functional area and confirmed that concrete responses were taken.
In the same fiscal year, in addition to the use of the risk management tool (ERMT) globally, we have positioned the four risks of climate change risk, risk of human rights violations, information security risk, and geopolitical risk as "significant Group risks", and have started examining response guidelines and the like with the Chief Officers.
Further, we are committed to improving the systems and maintenance of risk management-related regulations and frameworks. The Teijin Group's basic concepts of risk management, which have been included in the existing risk management regulations, have been summarized in the Group Risk Management Regulations, and the risk assessment methods and crisis management operation procedures common to the Teijin Group have been clarified as for the Risk Management Implementation Regulations , and reorganized as subordinate rules. Furthermore, as a risk management system for the entire Group, we have newly introduced the "three lines of defense*" of an integrated framework for internal control.
*

The first line of defense (business units, Group companies, etc.); Basically business units and Group companies respond to risks as risk owners.
The second line of defense (chief officers, CSR Committee, subcommittees, regional control etc.): Basically providing support and monitoring the first line of defense to prevent and reduce serious risks, etc. to the Group among other things.
Third line of defense (Corporate Audit Department): From an independent standpoint from the first and second lines of defense, it provides rational advice and recommendations etc. on risk management.
Status of Business Operations Risk Responses and Business Continuity Plans
Response to Natural Disasters
There were no reports of damage to Teijin Group personnel or facilities in FY2021 due to the earthquake in Japan. Operations were suspended at some business sites due to the heavy rains in West Japan that occurred in July 2021, but there were no casualties. In the healthcare business that sustains home healthcare, we confirmed the safety of patients using therapeutic oxygen concentrators in areas that were severely affected and delivered spare cylinders.
Implementation of Business Continuity Drills
As a part of our Business Continuity Management (BCM) efforts, disaster prevention drills and earthquake evacuation drills are conducted annually at Teijin's business locations and research facilities in Japan.
In FY2021, we began considering Business Continuity Management (BCM) in the event of a large-scale disaster that would affect multiple businesses in a wide area, something that had not been anticipated in the past, including the establishment of a system at the head office.
Safety Verification Drills
Safety verification drills for a time of emergency utilizing a system ("Emergency Call") provided by Infocom Corporation of the Teijin Group are conducted annually.
Following the undersea volcanic eruptions in Tonga that occurred on January 15, 2022, in response to tsunami warnings issued by the Japan Meteorological Agency, EMC performed safety checks throughout Japan except the Hokuriku region at midnight of the same day. In the evening of the next day, the Teijin Group in Japan confirmed that there was no direct damage caused by the tsunami.