Corporate Ethics and Compliance
Sustainability
Corporate Ethics and Compliance
Compliance is essential for creating a sound corporate culture. With this in mind, we seek to always act responsibly with high ethics.
Compliance and Risk Management (CRM) Promotion System
We hold meetings of the Group CSR Committee, which is chaired by the Chief Social Responsibility Officer and has the general managers of each business unit as its members, as a forum for deliberation and sharing information on compliance and risk management policies, measures, and activities within the group.
In addition, the Compliance Subcommittee, which is chaired by the general managers of CSR and Compliance Department and has the general manager of departments responsible for compliance in each business group or unit as its members. The Compliance Subcommittee deliberates and shares information on specific measures and activities in accordance with the policies of the Group CSR Committee and disseminates that information to each business division.
Compliance and Risk Management Promotion Managers (CRM Promotion Managers) are appointed at each worksite and promote the implementation of activities.
In addition, we hold the global CSR meeting, which has compliance personnel at main overseas group companies as its members.
Positioning of compliance and risk management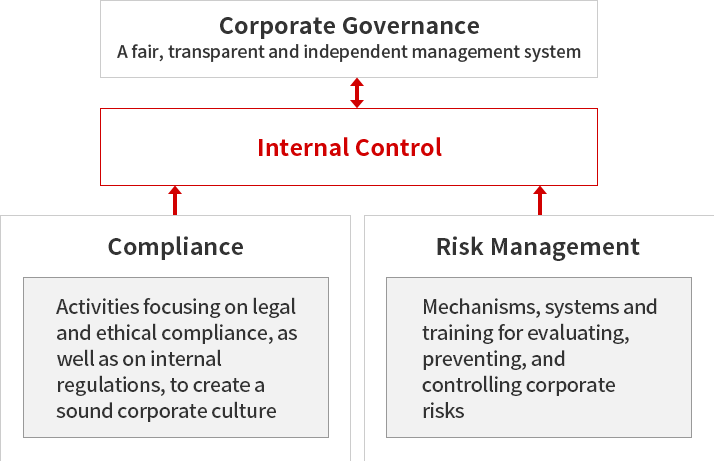 PDCA cycle of compliance and risk management activities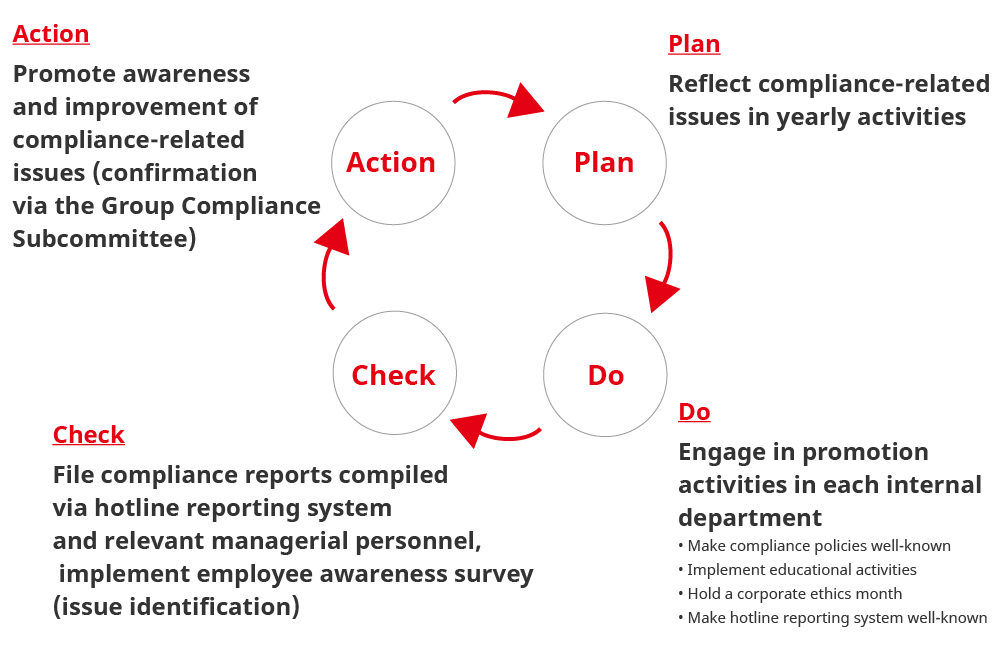 Corporate Ethics and Compliance Activities
Compliance is essential for creating a sound corporate culture. With this in mind, we carry out educational programs not only on internal rules and laws relevant to our business but also on various aspects of corporate ethics.
We also operate a counseling and reporting system (hotline) that is designed to facilitate self-resolution of internal legal and ethical problems.
Revision to the code of conduct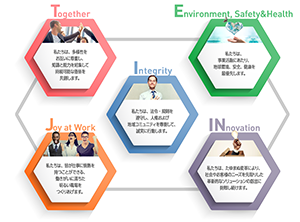 The Teijin Group Code of Conduct comprises the five following elements, which are derived from the letters of T/E/I/J/IN.
Respect diversity: Together
Emphasize the environment, safety, and health: ESH
Value good faith: Integrity
Recognize one another and create vitality: Joy at work
Aim for innovation: INnovation
The Code of Conduct was comprehensively revised in June 2018 as the shared values of all employees in order to contribute to the development of a sustainable society and support the society of the future.
In FY2019, we undertook activities to disseminate the Code of Conduct globally. We prepared a handbook (Teijin Group Code of Conduct Practice Handbook) with the objectives of supporting the dissemination and practice of the new Code of Conduct, distributed it to Group employees worldwide, and made sure to explain the Code of Conduct during various compliance training.
Furthermore, responsible personnel from main group companies engaged in an exchange of opinions on measures to promote the Code of Conduct throughout the group at the global CSR meeting held in the Netherlands in October 2019.
With the aim of sharing this Code of Conduct with the entire Teijin Group, in August 2020 we created a video message featuring our CEO which was sent to all our group companies with subtitles in local languages of all regions and countries in which the Teijin Group operates.
Corporate ethics workshop for all employees
Teijin Group holds the Corporate Ethics Workshop every year targeting all executives and employees (including contract/temporary employees).
The participation rate in FY2019 in Japan was 89%, which was 2 points lower than the previous fiscal year. Overseas, the number of eligible group companies that participated, rose to 72 from 70 the previous fiscal year. The participation rate of individuals overseas was 61% (9,108 people).
As material for this training, we prepared five Japanese-language case studies and three English-language case studies on corporate ethics so that employees could sense the close relevancy of such topics with themselves. In FY2019, we examined cases of human rights issues concerning sexual minorities.
Check sheets to survey all employees at the corporate ethics workshop
Every year, we use check sheets to survey executives and employees of group companies in Japan (including contract/temporary employees) to measure the participation rate in workshops for all employees and examine the level of interest and comprehension of corporate ethics. In FY2019, we surveyed a total of 11,697 employees and received 11,624 responses (response rate of approx. 99%).
The participation rate in workshops for all employees was 89% for group company executives and employees in managerial positions and 90% for other employees. Adding those who could not participate but studied by themselves, nearly 100% of employees learned about corporate ethics at every employee level.
As regards a question about the content of the workshops for all employees, approximately 79% of the participants replied that they had deepened their understanding. This was because the workshop materials contained themes and explanations appropriate for each workplace, and were designed to help the participants deepen their understanding.
Group-wide application of corporate ethics and compliance
1. Level-based workshop training
Every year, as part of level-based workshop training for employees at group companies in Japan, the CSR and Compliance Department conducts training that includes group discussions on the reasons why companies undertake corporate ethics and compliance activities and the roles of employees (in FY2019, 344 participants in total).
Overseas, we promoted greater awareness of corporate ethics through e-learning as part of the EaGLES training program for personnel newly appointed to managerial positions.
In FY2016, we began full implementation of rotational training, whereby members of the CSR and Compliance Department visit sites of each business and affiliate company to conduct corporate ethics training.
This training uses case studies from both inside and outside of the Teijin Group and aims to create an awareness that corporate ethics and compliance issues can affect anyone, anytime. Moreover, by creating a curriculum to suit the needs of each business/affiliate company, this training is proving to be even more effective. In FY2019, rotational training was conducted 33 times with a total of 516 people participating.
3. Training for promoting-managers
The CSR and Compliance Department organizes training sessions held at the Tokyo and Osaka head offices. In FY2019, training on corporate ethics, compliance, and human rights was conducted with 53 promoting-managers participated. In addition, a group-work based case study was implemented with training materials to be used in workshops for all employees in the Corporate Ethics Month campaign. By discussing a case that actually occurred at other companies, they learned important points for conducting workshops for all employees.
4. Workplace training/education
Promoting-managers conduct regular training at each workplace in Japan and overseas continuously. Relevant materials and case examples are always available on the intranet to create an environment that facilitates employees to learn independently in the workplace.
During the 2019 Corporate Ethics Month (October), we displayed posters with the slogan "Are you aware? Business and Human Rights" and created forums at each worksite for issues to be presented and discussed. The CEO's message emphasized the usefulness of promoting diversity and inclusion and called for thinking and action on creating a culture that respects the rights of others and values people.
We are increasing the number of languages the CEO's message is disseminated in each year, and in FY2019, the 13 languages of from last year (Japanese, English, Chinese (simplified and traditional), Thai, Indonesian, German, Korean, Dutch, French, Spanish, Vietnamese and Burmese) were supplemented by Portuguese, Hungarian, and Czech, making 16 languages in total.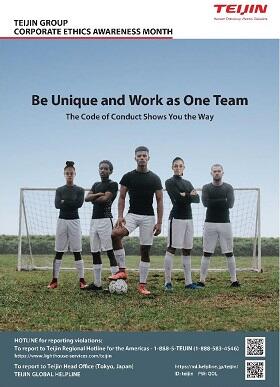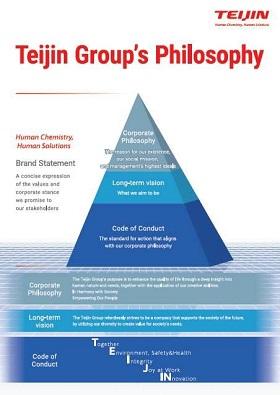 Implementation of Employee Awareness Survey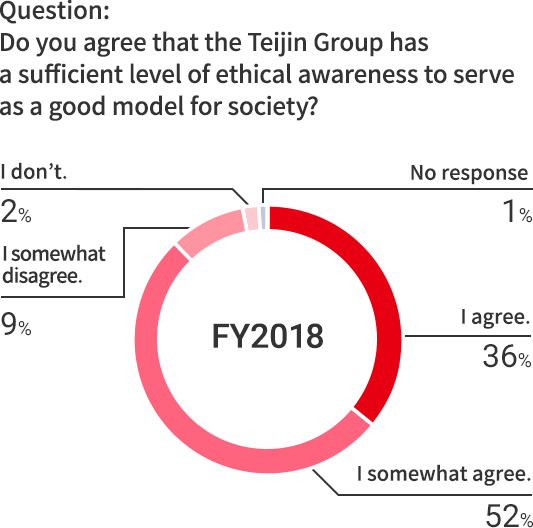 In November 2018 we conducted the Employee Awareness Survey targeting all employees worldwide to gauge the state of employees' awareness and action in light of our corporate philosophy setup, including the new Code of Conduct, and to mull dissemination measures. This survey embraced questions about CSR in general, including our corporate philosophy and brand statement, awareness of ethics, degree of employees' satisfaction and diversity. Scores were given to answers so as to rank degree of permeation and awareness in five stages. Survey results are shown in the graph.
The results revealed that 85% of respondents answered "Yes" or "I suppose so" to the question, "Do you think Teijin Group's awareness of ethical issues serves as a model for society?".
"If you discover or suspect non-compliant conduct in the workplace, would you promptly report it to and consult with your superior?" 90% of respondents answered "Yes" or "I suppose so".
Our aim is to further improve ethics awareness in the future, and engage in educational activities to create workplaces where it is easy to consult others about problems and where problems can be solved internally.
Counseling and reporting center operations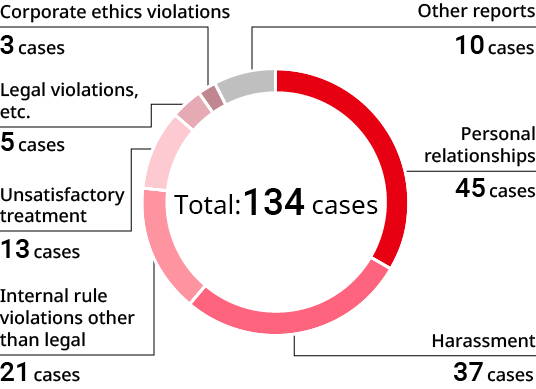 The Teijin Group has created counseling and reporting system as a means for officers and employees as well as business partners to report directly on violations, suspicious conduct, and other issues at Teijin and its subsidiaries.
The Teijin Group launched a counseling and reporting system in 1999 for all group employees. Currently, this service is available to anyone working in Japan for an organization of the Teijin Group. A reporting/consultation website page for outside suppliers has been available since 2006. In addition to this, every year since FY2013, during Corporate Ethics Month in October, we directly distribute to employees envelopes for the "Corporate Ethics Opinion Box" to all employees at group companies in Japan.
Employees who work for group companies are able to use the Corporate Ethics Opinion Box, direct reporting, and other means among the group's counseling and reporting system. In North America, Teijin Holdings USA, Inc., and in China, Teijin (China) Investment Co., Ltd. each established counseling and reporting center, and Teijin Frontier Co., Ltd., INFOCOM Corporation, and Teijin Aramind B.V. established counseling and reporting center and accept counseling and reports from officers and employees of these companies and their affiliated companies.
In March 2019, we also established a new global hotline that enables all officers and employees of overseas group companies to directly report to the Teijin Group headquarters hotline in their local languages.
The Rules for the Teijin Group's Whistle-Blowing were newly established in 2019 to set for the operational responsibilities, authority, and procedures regarding these Teijin Group counseling and reporting systems. We also plan to complete the review of operational program designs in accordance with the Whistleblower Protection Act during FY2020. In addition, we have introduced an internal leniency program that allows the Chief Social Responsibility Officer to issue an opinion on reduction of or exemption from disciplinary measures imposed on a person who reports improper conduct according to the circumstances.
Reports and consultations which could possibly become major risk issues are reported to the Total Risk Management (TRM) Committee, and are handled by top management. While protecting privacy, the content and responses to all issues raised by employees via consultations/reports are disclosed to employees every six months on the intranet for the purposes of raising employees' awareness and as a preventative measure.
Basic Approach to the Prevention of Corruption
The Teijin Group is a signatory to the Global Compact promoted by the United Nations.
We agree with the principle that "businesses should work against corruption in all its forms, including extortion and bribery," and we prohibit corrupt conduct including bribery, money laundering, and insider trading in our Code of Conduct.
Bribery of public officials in particular is conduct that destroys the foundations of social trust, and Teijin Limited established the Rules on Anti-bribery of Public Officials, etc. in March 2019 and established anti-corruption procedures and systems.
Anti-Corruption Procedures and Systems
When the Teijin Group conducts business with public institutions such as governmental organizations and provides benefits such as entertainment and gifts or makes donations, prior approval by the designated responsible person is required. The same applies to transactions between private companies in countries and regions where the provision of benefit, donations, and so on between private companies are regulated.
In addition, we perform due diligence to confirm the eligibility of potential business partners from the perspective of preventing corruption conducted by external partners. We also conduct appropriate due diligence of target companies when conducting corporate acquisitions to confirm that there is no past or current corruption. We require new business partners to comply with our CSR procurement policies including the prohibition of bribery.
While taking these measures, we regularly conduct compliance education and training relating to anti-corruption and conduct internal audits.
In FY2019, we conducted assessments of the domestic and overseas sales functions of each Teijin group company in order to study the exposure of the risk of corruption throughout the entire group companies. The results did not identify any sales departments with significant corruption risks. In business with public institutions including governmental organizations, however, it was recommended that development of management systems and regular and proper trainings be conducted preferentially in accordance with Teijin Limited fundamental policies, taking into consideration characteristics at the site of business.
In FY2020, we plan to conduct assessments of manufacturing functions.
During Corporate Ethics Month (October) we conducted anti-corruption education for domestic and overseas Teijin Group officers and employees. The education was an opportunity for personnel to consider anti-corruption using case studies.
In addition, we held an anti-corruption compliance lecture conducted by an outside attorney for executives of Continental Plastic Parts and Renegade, which were recently acquired, in February 2020.
Status of Violations of Laws and Regulations Relating to Corruption
There were no incidents resulting in employee discharge or the imposition of legal measures for corrupt conduct in FY2019.
We will periodically conduct internal audits and risk assessment surveys and assess and review (the PDCA cycle) management systems for the prevention of corruption so that we can maintain ongoing and effective management in accordance with rules.
In addition, we will encourage Group employees who encounter corruption and other risks to make extensive use of consultation hotlines and reporting systems, and for outside business partners, we will proceed with development in stages including education and the creation of channels for the provision of information.
Status of the Provision of Capital
Within the Teijin Group, Teijin Pharma Limited, which engages in the pharmaceutical business, established a policy relating to transparency in relationships with medical institutions and discloses the status of the provision of funds to such organizations in accordance with that policy.
Continued Operation and Strengthening of the Security Export Control System
For the Teijin Group, whose business is expanding globally, compliance with laws and a fully functioning security export control system are vitally important. In light of this, we have established the Group Security Export Control Regulations governing the corresponding Security Export Control Regulations and Detailed Implementation Rules, which apply to each group company that conducts exports. We implement this via a dual-level control system, placing specialist back-office staff at the head office and business groups to ensure a highly reliable level of security export control.
The laws that must be complied with in security export control are frequently amended, so an important factor in training activities is to ensure high levels of awareness and thoroughness in regard to the latest information. In this regard, we conduct regular training and promote skills development of employees by encouraging them to sit external practical skills certification exams.
In FY2018, business group committee members gathered in August and December for the Group Security Export Control Conference. These opportunities allowed participants to share information about regulatory trends by the US government, such as the National Defense Authorization Act, and related points of caution and to raise their awareness of the importance of security export control work, which is showing signs of expanding.