Teijin Group Global Environmental Charter
Sustainability
Teijin Group Global Environmental Charter
The Teijin Group defines its Global Environmental Charter in line with our corporate philosophy.
The Teijin Group Global Environmental Charter
To fulfill the Teijin Group's corporate philosophy "We place the highest priority on safety and the preservation of our natural environment" to ensure society's sustainable development, we will:
1.

Strive to promote efficient use of resources and energy and reduction of environmental impact to preserve the global environment.

2.

Provide products and services that reduce the environmental impact for society through progress in science and technology with a focus on global environmental consciousness.

3.

Participate in social activities aiming at conserving the global environment through education and raising awareness for group employees, and cooperation with local communities involved in our business activities.
(Established in December 1992; revised in July 2007)
Measures to Address the Marine Plastic Waste Problem
Marine plastic waste has become a serious problem as a result of its negative impacts on life and ecosystems through marine pollution and food chains. This problem has become an increasingly urgent global concern.
In September 2018, the Teijin Group issued a "Declaration for Solving the Plastic Marine Waste Problem" to demonstrate its commitment to this problem.
Regulatory trends surrounding marine plastic waste could elevate the risk of a loss of existing business. However, the Teijin Group considers this as an opportunity to drive growth in the markets for recycling and alternative products. Based on this belief, the Teijin Group is advancing initiatives to reduce its environmental impact and provide environmental value solutions.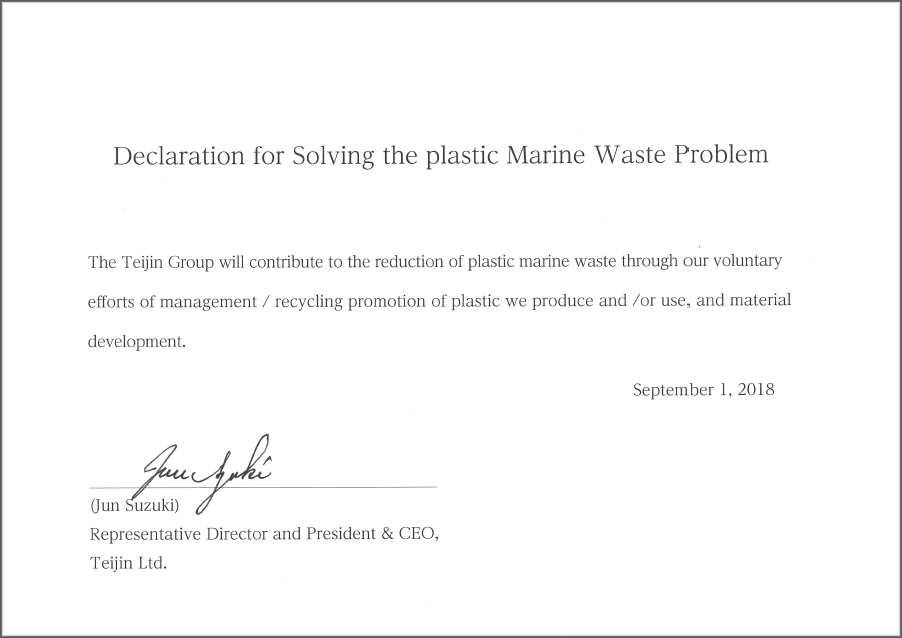 Helping to solve the marine plastic waste problem through the recycling of PET bottle
Teijin Frontier Co., Ltd. has been implementing a recycling project based on the concept of "local production for local consumption" in various parts of Japan. In this project, Teijin Frontier collects waste generated at the venues of outdoor events and recycles this waste into resources.
In July 2018, Teijin Frontier collected PET bottles at a beach cleanup event at Katsuura Beach and recycled the PET bottles into original straps. In September 2018, "Munakata Fes," an outdoor music festival, was held in the city of Fukutsu in Fukuoka Prefecture. At the event, Teijin Frontier handed out the original straps made from recycled PET bottles to participants in the cleanup activities and volunteers at the venue of the music festival. Teijin Frontier also collected PET bottles on the days of the "Munakata Fes" for recycling and recycled them into official merchandise for the 2019 music festival.