Teijin to Build World's First Building Made of Advanced Fiber-Reinforced Wood Looks Toward Living Space in Future
Tokyo, Japan, September 25, 2018 --- Teijin Limited announced today that it will construct the world's first building made of advanced fiber-reinforced wood (AFRW), a structural timber product comprising a number of layers of dimensioned timber and high-performance fibers bonded together with structural adhesives. Teijin first developed the materials in 2015, and will construct the new building in Teijin's Tokyo Research Center in Hino City.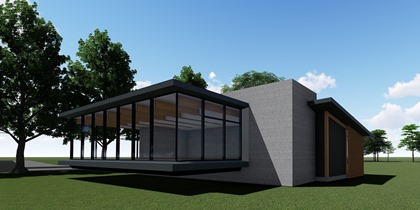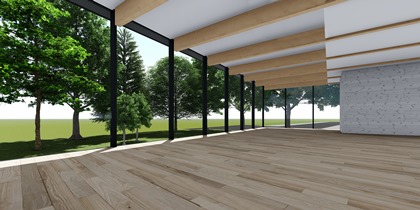 The AFRW-used building (artist's impression)
The new building exploits the warm texture and unique timber composition of AFRW to help create a stress-free environment. It also aims to realize open and comfortable space by avoiding the use of columns, thus maximizing the inflow of natural light.
The project was officially recognized as a "Sustainable Building Project" by Japan's Ministry of Land, Infrastructure, Transport and Tourism (MLIT) in February 2018. In addition, the structural performance of this building using AFRW were certified by an independent third-party organization in May and officially approved by the MLIT in July.
Construction of the building will start in October, with technical support provided by the professional construction firm Maeda Corporation and the Structural Engineering Laboratory of Kochi University. Upon completion, Teijin and Maeda will monitor adhesive stability and the vibration durability of AFRW for a period of seven years.
Teijin will continue to develop AFRW technology following construction of this first building and the initial monitoring phase. The company expects the new technology and materials to be deployed in general construction by around 2020.
Going forward, Teijin aims to contribute to the realization of safer and more comfortable wooden buildings as well as the development of sustainable architecture using timber as sustainable resources that absorb carbon dioxide. The initiatives form part of Teijin's long-term vision to be an enterprise that supports the society of the future.
A growing demand for safer architectural construction is sharpening the focus on lightweight, highly earthquake-proof wooden structures. Wood is valued as a structural material offering a warm texture and design flexibility. It also helps achieve Sustainable Development Goals or SDGs by absorbing CO2 and thereby contributing to the mitigation of global warming.

About the Teijin Group
Teijin (TSE: 3401) is a technology-driven global group offering advanced solutions in the areas of environmental value; safety, security and disaster mitigation; and demographic change and increased health consciousness. Its main fields of operation are high-performance fibers such as aramid, carbon fibers & composites, healthcare, films, resin & plastic processing, polyester fibers, products converting and IT. The group has some 170 companies and around 19,000 employees spread out over 20 countries worldwide. It posted consolidated sales of JPY835 billion (USD 7.6 billion) and total assets of JPY 986.2 billion (USD 9 billion) in the fiscal year ending March 31, 2018.

Press Contact
Corporate Communications
Teijin Limited
pr@teijin.co.jp


Information in the press releases is current on the date of the announcement.
It is subject to change without prior notice.