Teijin and Makita Launch World's First Fan Jacket Incorporating Pressure-controlled Cooling Structure
Tokyo, Japan, April 9, 2018 --- Teijin Limited announced today that it has jointly developed the world's first fan-cooled jacket incorporating a two-layer pressure-controlled cooling structure together with Makita Corporation, a leading Japanese manufacturer of electric power tools.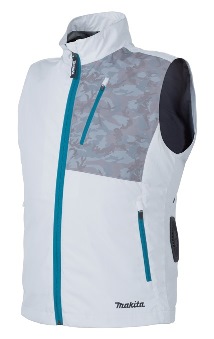 Pressure-controlled fan-cool vest
Sales of the new fan jacket will start from mid-April 2018 through Makita's existing marketing channels and be expanded by developing new channels with Teijin's group companies and marketing partners.
The first customer realized through one of Teijin's marketing channel is Mitsui O.S.K. KINKAI, Ltd., a group company of a Japanese major multi-model transport group Mitsui O.S.K Lines. The fan jackets will be used on a test basis by crewmembers working on ships in high-heat climates of the Middle East.
The pressure-controlled fan jacket has a unique cooling structure that allows air to enter through the jacket's outer shell and inner lining in both the front and back of the jacket. The design prevents fabric from bundling up inside the jacket to allow the user to work unencumbered. The air is discharged on a pressure-regulated basis through openings mainly in the neck, underarms and chest, where blood circulation is particularly active, for enhanced cooling effect.
The zippered arms and neck can be removed to enable the fan jacket to be used as a fan-cooled vest. Different combinations of Teijin high-performance fibers are available to make the jacket waterproof, stretchable and antistatic according to customer needs.
The fan unit designed by Makita measures just 39.5mm thick, which is 5.5mm thinner than conventional units. The battery can be recharged with the same charging device available for other Makita cordless electric-power tools.
Since the revision of Japan's Industrial Safety and Health Law in December 2015, Japanese companies have been working to upgrade their work environments for employees. Factors including global warming and La Nina have intensified the need for urgent solutions to ease conditions for people working in intense heat. Reflecting this intensifying need, the market demand for fan jackets has been rising since 2014.
So far, conventional fan jackets have involve to fastening collar, cuffs and underwaist to let the air taken from outside circulate in jackets, which leads to fabric bundling and thus less freedom of movement. The innovative new pressure-controlled fan jacket was developed by combining Teijin's expertise in high-performance materials that feature superior cooling and absorption properties and Makita's expertise in specialty fans and battery systems.
Going forward, Teijin will continue developing advanced fabrics and related solutions, including innovative, value-added clothing with wearable-sensing functions.

About Makita Corporation
Makita (TSE: 6586), which was founded in 1915 as an electric motor sales and repair company, became the first company in Japan to manufacture and sell electric planersin 1958. Over the half century since, Makita has worked to build a steady position as a manufacturer of portable power tools and, today, continues its quest forward to provide products and services that are beneficial to all types of customers engaged in housing construction. Makita's history also parallels that of the evolution of power tools and, over the course of its history, Makita has worked to dovetail its products to its customers' developing needs.

About the Teijin Group
Teijin (TSE: 3401) is a technology-driven global group offering advanced solutions in the areas of environmental value; safety, security and disaster mitigation; and demographic change and increased health consciousness. Its main fields of operation are high-performance fibers such as aramid, carbon fibers & composites, healthcare, films, resin & plastic processing, polyester fibers, products converting and IT. The group has some 170 companies and around 19,000 employees spread out over 20 countries worldwide. It posted consolidated sales of JPY 741.3 billion (USD 6.5 billion) and total assets of JPY 964.1 billion (USD 8.5 billion) in the fiscal year ending March 31, 2017.

Press Contact
Corporate Communications
Teijin Limited
pr@teijin.co.jp
Information in the press releases is current on the date of the announcement.
It is subject to change without prior notice.