Teijin's Advanced Materials and Technologies to Support Vehicle Built by Kogakuin U. for World Solar Challenge
Tokyo, Japan, June 29, 2017 --- The Teijin Group announced today that its advanced high-performance materials and technologies will be adopted once again in the latest solar-powered, carbon-fiber-reinforced plastic (CFRP) vehicle developed by Kogakuin University Solar Team for the Bridgestone World Solar Challenge, the world's biggest solar car race, which will take place in Australia from October 8 to 15. The materials and technologies have been provided by Teijin Limited, Toho Tenax Co., Ltd., the core company of Teijin's carbon fibers and composites business, GH Craft Ltd., Teijin's composite structure design development and evaluation unit, and Teijin Frontier Co., Ltd., a products converting company.

Kogakuin University's new solar car, Wing
GH Craft is engaged in all stages of composite-structure fabrication for super-lightweight vehicles, including design, molding and structural evaluation. The company is a leading developer of CFRP composite structures for transport vehicles in the automotive, marine, rail and aerospace fields. Considering that the Bridgestone World Solar Challenge was a lifetime task of the late Manabu Kimura, the founder of GH Craft, the company provides the Kogakuin University Solar Team with all possible technical support leveraging its site, including dispatching a GH Craft member to accompany the solar-car race team to provide mechanical and technical backup.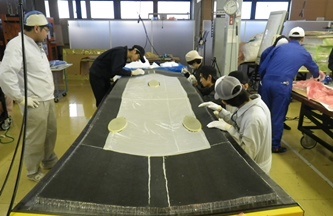 The Teijin Group is supplying the team with a variety of high-performance materials, including the following:
- Ultra-lightweight fabric made with TENAX carbon fiber for the racing vehicle's body. Toho Tenax, together with Sakai Ovex Co., Ltd., developed an ultra-lightweight carbon fiber fabric as thin as 0.06 mm, which is incorporated in the car's CFRP body.
- Panlite Polycarbonate (PC) resin is used for the car windows to reduce the vehicle's body weight and improve driver safety. Compared to glass, Teijin's Panlite is 200 times more resistant to impact and weigh half as less.
- Technora para-aramid fiber pre-preg for the wheel wells reduces vehicle weight and reinforces durability. Teijin's Technora para-aramid fiber boasts eight times the tensile strength of steel and yet is just one-fifth the weight of steel.
- V-Lap nonwoven polyester fabric for the seat cushion contributes to the vehicle's lightweight body as well as driver comfort. V-Lap is Teijin Frontier's nonwoven fabric made of fibers oriented vertically (upward) to make it highly resilient and breathable, as well as lightweight.
- NANOFRONT ultra-fine polyester fiber is used in the team's driving gloves, which offer extra-positive steering. Teijin Frontier's NANOFRONT, which as a cross-sectional area that is just 1/7,500th that of human hair, realizes superior fitting, positive gripping, breathability and moisture permeability.
- SOLOTEX polytrimethylene terephthalate (PTT) fiber is incorporated in the team's uniforms for excellent comfort and fit in harsh race environments. Teijin Frontier's SOLOTEX is wonderfully soft, stretchable, shape retaining and durable. It is also environmentally friendly as 37% of its components are bio-derived.
The Teijin Group is striving to be an enterprise that helps to solve social issues under medium-term management plan for 2017-2019. As part of this effort, the company is delighted to contribute to society by supporting the ambitions the Kogakuin University Solar Team's young engineers.
This year, the Bridgestone World Solar Challenge, which was inaugurated in 1987, will hold its 14th competition as the world's biggest biannual solar car race to showcase advanced, innovative technologies for solar cars. The Kogakuin University Solar Team is entered in the competition's Challenger Class. Teijin has been supporting the Kogakuin University Solar Team since 2013.

About the Teijin Group
Teijin (TSE: 3401) is a technology-driven global group offering advanced solutions in the areas of environmental value; safety, security and disaster mitigation; and demographic change and increased health consciousness. Its main fields of operation are high-performance fibers such as aramid, carbon fibers & composites, healthcare, films, resin & plastic processing, polyester fibers, products converting and IT. The group has some 170 companies and around 19,000 employees spread out over 20 countries worldwide. It posted consolidated sales of JPY741.3 billion (USD 6.5 billion) and total assets of JPY 964.1 billion (USD 8.5 billion) in the fiscal year ending March 31, 2017.

Press Contact
Corporate Communications
Teijin Limited
+81 3 3506 4055
pr@teijin.co.jp
Information in the press releases is current on the date of the announcement.
It is subject to change without prior notice.
Related Links