Teijin Subsidiary DSC to Exhibit Pultruded Composites at JEC World 2017
Tokyo, Japan, March 13, 2017 --- Diversified Structural Composites Inc. (DSC), a Teijin Group subsidiary in Erlanger, Kentucky in the U.S. that manufactures and sells pultruded composite materials, announced today that it would attend JEC World 2017, the world's largest composites show, to exhibit a selection of pultruded composite profiles, commonly referred to as pultrusions, that can help to reduce automobile body and structure weight and raise the performance of industrial materials, while maintaining cost competitiveness.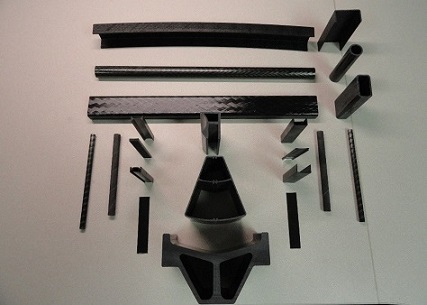 Pultrusion samples to be displayed at JEC World 2017
Pultrusion is a method of forming long-length shapes for a wide range of general industrial purposes. A cost-effective manufacturing process, its many applications include increasing use in automotive linear-structure materials.
The exhibits will showcase relatively large samples of pultruded composites, such as those for automobiles and wind turbines.
DSC, which was established in 1978 and became a Teijin subsidiary in 2008, is a leader in pultruded composites and has been expanding its pultrusion business mainly in blade structures of wind turbines, profiles for down-hole oil and gas operations, automotive, and aerospace composites. The company produces components to customized performance and cost specifications by designing cross-sectional shapes utilizing a selection of high-performance resins, which it then combines with reinforcement fibers, such as carbon, glass or aramid fibers.
Teijin continues to strengthen its capabilities as a tier 1 supplier that fully meets customer needs and specifications for enhanced-strength thermoplastic and thermosetting resins combined with carbon, glass and aramid fibers, with form molding technologies such as pressing, sheet molding compound, resin transfer molding (RTM) or pultrusions taking advantages of its efficient mechanical characteristics.
About the Teijin Group
Teijin (TSE: 3401) is a technology-driven global group offering advanced solutions in the areas of sustainable transportation, information and electronics, safety and protection, environment and energy, and healthcare. Its main fields of operation are high-performance fibers such as aramid, carbon fibers & composites, healthcare, films, resin & plastic processing, polyester fibers, products converting and IT. The group has some 150 companies and around 16,000 employees spread out over 20 countries worldwide. It posted consolidated sales of JPY790.7 billion (USD 7.4 billion) and total assets of JPY 823.4 billion (USD 7.7 billion) in the fiscal year ending March 31, 2016.
Press Contact
Corporate Communications
Teijin Limited
+81 3 3506 4055
pr@teijin.co.jp
Information in the press releases is current on the date of the announcement.
It is subject to change without prior notice.