Teijin's Polyester Subsidiary in Thailand Teams Up with Footballer Chanathip Songkrasin for Advertising Campaign
Tokyo, Japan, March 9, 2017 --- Teijin Polyester (Thailand) Limited (TPL), a Teijin Group subsidiary in Bangkok, Thailand that manufactures and sells polyester fiber, announced today that it would feature of Muangthong United and Thai national team footballer Chanathip Songkrasin in the company's first corporate advertising campaign.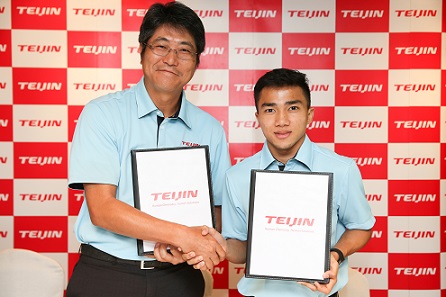 Left:Tadashi Sakata, President, Teijin Polyester (Thailand) Limited
Right:Chanathip Songkrasin
The new campaign is expected to help raise awareness of the Teijin Brand and strengthen TPL's recruitment of excellent personnel in Thailand, a key hub in Teijin's global production operations. Advertisements featuring Chanathip on TV, billboards, online and at employment fairs will run for one year beginning May 1.
Teijin has been steadily expanding business in Thailand since establishing a local office for polyester fibers sales and import/export in 1966. Thailand is now home to seven Teijin companies and about 1,500 employees. Teijin's most recent direct investment in Thailand was its open of a meta-aramid fiber production facility in August 2015.
TPL has been sponsoring the Japan Dream Football Association (JDFA), an organization that supports the nurture and development of young football players in Southeast Asia, since 2012.
Other football-related initiatives of the Teijin Group include:
■

Support for the All Japan High School Soccer Tournament since 1991; operation of the Teijin Soccer School in Matsuyama, Japan with the volunteer assistance of former Matsuyama Factory team members; and establishment of the Teijin Academy Fuji human resources development center together with the Japan Football Association in 2015.

■

Teijin develops high-performance polyester fibers for sportswear featuring properties such as moisture absorbency, waterproofing, stretchiness and deodorant and bacteria resistance. Also,

Cordley

high-grade artificial leather features softness, durability and lightness for sports shoes and balls.

■

Also Teijin Frontier, the Teijin Group's fiber-products converting company, works with Japanese J League football teams GAMBA OSAKA and F.C. Tokyo to collect pet bottles at football stadiums for recycling into team goods based on

THINK ECO

, one of the company's highly functional materials and environmental action policy initiatives.
About the Teijin Group
Teijin (TSE: 3401) is a technology-driven global group offering advanced solutions in the areas of sustainable transportation, information and electronics, safety and protection, environment and energy, and healthcare. Its main fields of operation are high-performance fibers such as aramid, carbon fibers & composites, healthcare, films, resin & plastic processing, polyester fibers, products converting and IT. The group has some 150 companies and around 16,000 employees spread out over 20 countries worldwide. It posted consolidated sales of JPY790.7 billion (USD 7.4 billion) and total assets of JPY 823.4 billion (USD 7.7 billion) in the fiscal year ending March 31, 2016.
Press Contact
Corporate Communications
Teijin Limited
+81 3 3506 4055
pr@teijin.co.jp
Information in the press releases is current on the date of the announcement.
It is subject to change without prior notice.