Toho Tenax Develops Flame-retardant, High-modulus Thermoplastic Textile Prepreg
Tokyo, Japan, February 29, 2016 --- Toho Tenax Co., Ltd., the core company of the Teijin Group's carbon fibers and composites business, announced today that it has developed a flame-retardant, high-modulus thermoplastic textile prepreg.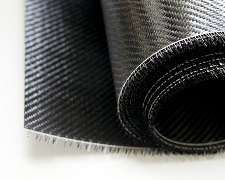 Prepreg Roll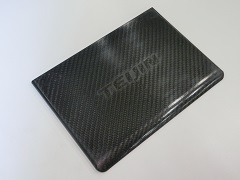 Chassis Sample made of New Prepreg
A prepreg is a carbon fiber sheet pre-impregnated with matrix resin. This new textile version instead uses TENAX TPWF (Thermo Plastic Woven Fabric) as a base and achieves a high level impregnation with polyethersulfone resin, resulting in more than 55 percent carbon fiber content. This delivers high flame retardancy and robust mechanical properties. It can be used to produce high performance carbon fiber reinforced thermoplastics (CFRTP) in 1-meter-width rolls.
Currently, a typical carbon fiber reinforced plastics (CFRP) uses a thermoset resin such as epoxy, which requires a long processing time and high production costs. In parallel with this new prepreg, Toho Tenax also developed a rapid heat and cool press-molding technology that can produce CFRTP in a 4-minute cycle time, significantly shortening the processing time and enabling high production volume. Toho Tenax is currently developing technology that will allow for an even shorter cycle time.
Furthermore, typical thermoset prepregs require refrigerated storage, but the use of thermoplastics in this new prepreg enables it to be stored long-term at room temperature.
The prepreg has UL94 V-0 capability and will be certified by June 2016. In addition, the thermoplastic resin allows this textile prepreg to be recycled into pellets for injection molding.
Initially, Toho Tenax plans to use this new thermoplastics textile prepreg to develop CFRTP for consumer electronics, medical equipment and sporting goods. Sample shipments will start in March 2016. Going forward, further applications will be developed for industrial equipment, aircraft and other promising areas.
Teijin Group is currently pursuing development of new CFRTP applications for mass production as part of the acceleration of its midstream-to-downstream business strategy. This new roll-formed thermoplastic textile prepreg is expected to deliver a wide variety of solutions across multiple industries, thanks to its capability to meet customer demand for high-tenacity, high-tensile strength high modulus and high heat and shock resistance.
About the Teijin Group
Teijin (TSE: 3401) is a technology-driven global group offering advanced solutions in the areas of sustainable transportation, information and electronics, safety and protection, environment and energy, and healthcare. Its main fields of operation are high-performance fibers such as aramid, carbon fibers & composites, healthcare, films, resin & plastic processing, polyester fibers, products converting and IT. The group has some 150 companies and around 16,000 employees spread out over 20 countries worldwide. It posted consolidated sales of JPY786.2 billion (USD 6.6 billion) and total assets of JPY 823.7 billion (USD 6.9 billion) in the fiscal year ending March 31, 2015.
Press Contact
Corporate Communications
Teijin Limited
+81 3 3506 4055
pr@teijin.co.jp
Information in the press releases is current on the date of the announcement.
It is subject to change without prior notice.