Teijin's World's-first Surface-based Authentication Beacon to be Used for Multilingual Restaurant Ordering System
Tokyo, Japan, January 25, 2016 --- Teijin Limited announced today that PaperBeacon, the world's first surface-based authentication-enabling sheet-type beacon that Teijin co-developed with TAGCAST, Inc. and CELLCROSS Co., Ltd., will mark its first commercial application in a multilingual ordering system at Frame Cafe in Odaiba, Tokyo. The system will begin operating on January 12.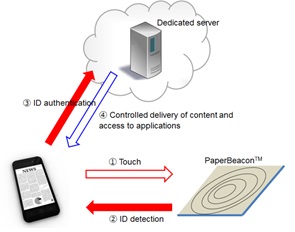 PaperBeacon system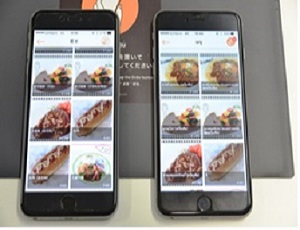 Multilingual menus
The ordering system adopted by Frame Café combines PaperBeacon and Putmenu, a multilingual ordering system for restaurants developed by an American company, Putmenu, Inc. A dedicated smartphone application offers menus written in up to 10 languages. The customer selects a language and chooses items to order using their smartphone, then places the smartphone on the PaperBeacon to send the order and their positional information (table number) to the kitchen via Bluetooth Low Energy (BLE). In the kitchen, a Japanese version of the order is printed out automatically for the chefs.

Teijin expects the system to enable restaurants, even those without multilingual staffers, to serve non-Japanese tourists efficiently and accurately thanks to streamlined ordering and multilingual capability.

Multilingual restaurant order system using PaperBeacon
PaperBeacon uses a built-in beacon, or wireless transmitter, powered by BLE to transmit a universally unique identifier (ID) and positional information to mobile devices. Beacon signals, received by the two-dimensional communication sheet CELLFORM built in PaperBeacon, are propagated on the sheet's surface, like a Near Field Communication (NFC) card, to enable the authentication and positioning of any Android and iOS device placed on top of the sheet.
CELLFORM is a two-dimensional communication sheet that confines electromagnetic waves to a cell within and around a special thin, flat sheet. It incorporates the @CELL data communication technology developed by CELLCROSS Co., Ltd., a spin-off venture company from the University of Tokyo, and specialized materials and manufacturing know-how developed by Teijin.
Leading up to the Tokyo 2020 Olympic games, Teijin will steadily expand its development of PaperBeacon.
Teijin expects combined sales of PaperBeacon, wireless LAN sheets and Recopick smart cabinet system, all incorporating CELLFORM, to reach two billion yen by fiscal 2020.
For a demonstration of PaperBeacon, please visit http://youtu.be/5Sf41TZugkw.
About the Teijin Group
Teijin (TSE: 3401) is a technology-driven global group offering advanced solutions in the areas of sustainable transportation, information and electronics, safety and protection, environment and energy, and healthcare. Its main fields of operation are high-performance fibers such as aramid, carbon fibers & composites, healthcare, films, resin & plastic processing, polyester fibers, products converting and IT. The group has some 150 companies and around 16,000 employees spread out over 20 countries worldwide. It posted consolidated sales of JPY786.2 billion (USD 6.6 billion) and total assets of JPY 823.7 billion (USD 6.9 billion) in the fiscal year ending March 31, 2015.
Press Contact
Corporate Communications
Teijin Limited
+81 3 3506 4055
pr@teijin.co.jp

Information in the press releases is current on the date of the announcement.
It is subject to change without prior notice.