Teijin Pharma Starts Operation of New R&D Center to Accelerate Material and Pharmaceutical Integrated Development
Tokyo, Japan, October 2, 2015 --- Teijin Pharma Limited, the core company of the Teijin Group's medical and pharmaceutical business, announced that it has opened the Technology Integrated Pharmaceutics Center to leverage the group's total resources for material and pharmaceuticals integrated development, such as a promising fibrin sheet offering high-performance hemostatic and tissue-sealing properties for surgical operations.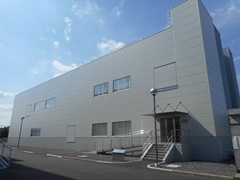 The Center's new two-story building will be equipped with Good Manufacturing Practice zones, manufacturing and testing equipment, and unique R&D facilities for pharmaceutical-material integration. The facility, measuring 2,300 square meters in floor space, will be located in the Pharmaceutical Products Research Laboratories of Teijin's Iwakuni Factory in western Japan at a cost of approximately two billion JPY (16.3 million USD). Construction of the center begun in October 2014.
Teijin Group is aiming at creating new health care business by overlapping the group's materials and health care domains under the Transformation and Growth Strategies. As one such integrative undertaking, Teijin Pharma is developing KTF-374, an advanced sheet-type fibrin sealant offering high-performance hemostatic and tissue-sealing properties for surgical operations.
The Technology Integrated Pharmaceutics Center will consolidate systems for R&D functions for integrative products, as well as facilitate the manufacture of investigational drugs and the development of mass production processes for KTF-374.
About the Teijin Group
Teijin (TSE: 3401) is a technology-driven global group offering advanced solutions in the areas of sustainable transportation, information and electronics, safety and protection, environment and energy, and healthcare. Its main fields of operation are high-performance fibers such as aramid, carbon fibers & composites, healthcare, films, resin & plastic processing, polyester fibers, products converting and IT. The group has some 150 companies and around 16,000 employees spread out over 20 countries worldwide. It posted consolidated sales of JPY786.2 billion (USD 6.6 billion) and total assets of JPY 823.7 billion (USD 6.9 billion) in the fiscal year ending March 31, 2015.
Press Contact
Corporate Communications
Teijin Limited
+81 3 3506 4055
pr@teijin.co.jp

Information in the press releases is current on the date of the announcement.
It is subject to change without prior notice.
Related Links