Teijin Frontier's New Polyester Fabric Offers Superb Comfort Through Towel-like Pile Structure
Tokyo, Japan, June 30, 2015 --- Teijin Frontier Co., Ltd., the Teijin Group's fiber-product converting company, announced today that it has developed an all-new, highly comfortable and functional polyester material that achieves the pile structure of toweling. The material, made of 100% polyester, offers excellent water absorbency, a soft texture and a unique bulky-but-lightweight feeling.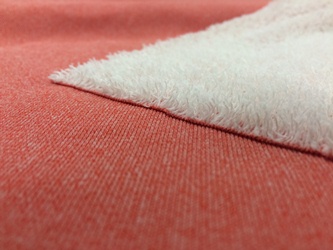 Teijin Frontier is developing a variety of applications for the new material, focusing on 2016 fall/winter sportswear but also functional clothing such as underwear and uniforms, as well as bedding and industrial materials. The fiscal 2019 sales target is 500,000 meters.
Thanks to its pile structure without buffing, the new material's surface appearance, functionality and comfort remain durable after repeated washing. In addition, the fabric structure is applicable for multi-seasonal products, not just fall and winter clothing.
Structure and Functions
Cross-sectional image
Functions
1) Water moves rapidly from human skin to the fabric surface, keeping the skin dry. Water diffusion is approximately five times faster than that of general fast-drying materials.

2) Heat insulation is approximately three times greater than that of fleece due to its bulky fiber structure. Heat is retained even when the material is wet (absorbs water equivalent to 50% of its fiber weight).
New Technologies and Features
Development Technologies
Features
Compound technologies for yarn processing, knitting and dyeing
- New towel-like false-twist yarn for pile
- Unique warp-knitted multilayer structure
- Special dyeing process for structural stabilization

1) Dry feeling due to excellent water absorption
2) Light and bulky towel-like texture
3) Heat retention thanks to bulkiness and water diffusion
4) Surface appearance and functionality remain durable after repeated washing
5) Diverse fabrications for all-seasonal clothes.
Fleece, a major synthetic fiber product with a bulky fiber structure, has been used widely for many years because its napping provides excellent heat retention and warmth. The fabric has disadvantages, however, including deteriorating surface appearance and water absorption after repeated washing, and usage limited to fall and winter clothing.
Teijin Frontier's response was to innovate a new type of polyester fabric with a pile structure similar to that of toweling. The company combined technologies from its popular DELTAPEAK, a highly balanced material that incorporates unique yarn texturizing, knitting and dyeing techniques, and newly developed textile technologies based on a new false-twist yarn.

About the Teijin Group
Teijin (TSE: 3401) is a technology-driven global group offering advanced solutions in the areas of sustainable transportation, information and electronics, safety and protection, environment and energy, and healthcare. Its main fields of operation are high-performance fibers such as aramid, carbon fibers & composites, healthcare, films, resin & plastic processing, polyester fibers, products converting and IT. The group has some 150 companies and around 16,000 employees spread out over 20 countries worldwide. It posted consolidated sales of JPY786.2 billion (USD 6.6 billion) and total assets of JPY 823.7 billion (USD 6.9 billion) in the fiscal year ending March 31, 2015.
Press Contact
Corporate Communications
Teijin Limited
+81 3 3506 4055
pr@teijin.co.jp

Information in the press releases is current on the date of the announcement.
It is subject to change without prior notice.
Related Links