Teijin's R&D Center for Sereebo™ CFRTP Technology Obtains ISO/IEC 17025 Accreditation for Testing Laboratories
Tokyo, Japan, April 13 2015 --- Teijin Limited announced today that its Teijin Composites Innovation Center (TCIC) has obtained ISO/IEC 17025 accreditation as a testing laboratory, thereby strengthening its role as the research and development base for Sereebo, Teijin's proprietary technology for mass producing carbon fiber reinforced thermoplastic (CFRTP).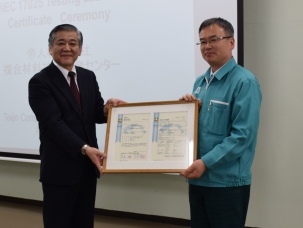 Teijin becomes the world's first manufacturer of carbon fiber composite materials to obtain ISO/IEC 17025 accreditation. TCIC will now offer its CFRTP technology for production and evaluation on a one-stop basis to promote the accelerating application of Sereebo.
Third-party accreditation based on international standards verifies the competency of the TCIC's testing operations to evaluate the physical properties of its own CFRTP products and to inspect externally manufactured CFRP products as a third-party organization.
Following ISO/IEC 17025 accreditation, the TCIC's evaluation capabilities have been reviewed and approved by the Japan Accreditation Board (JAB), an international certification organization. The TCIC's evaluation data will now be recognized in a wide number of countries based on an international agreement to which JAB is a signatory.
Teijin developed Sereebo in 2011 as the world's first mass-production technology for thermoplastic CFRP with a one-minute takt time. Joint development activities are progressing in collaboration with companies in Japan and other countries. Nikon Corporation has been expanding its use of Sereebo since adopting the technology for the production of its D5300, D3300, D750 and D5500 digital SLR cameras in 2013.
Teijin, by combining its carbon fiber, resin and CAE technologies, is becoming a leading developer of composite products that offer promising opportunities for the application and popularization of Sereebo™ in fields including automobiles.

About the Teijin Group
Teijin (TSE: 3401) is a technology-driven global group offering advanced solutions in the areas of sustainable transportation, information and electronics, safety and protection, environment and energy, and healthcare. Its main fields of operation are high-performance fibers such as aramid, carbon fibers & composites, healthcare, films, resin & plastic processing, polyester fibers, products converting and IT. The group has some 150 companies and around 16,000 employees spread out over 20 countries worldwide. It posted consolidated sales of JPY784.4 billion (USD 7.7 billion) and total assets of JPY 768.4 billion (USD 7.5 billion) in the fiscal year ending March 31, 2014.

Press Contact
Corporate Communications
Teijin Limited
+81 3 3506 4055
pr@teijin.co.jp
Information in the press releases is current on the date of the announcement.
It is subject to change without prior notice.
Related Links