Teijin to Develop Advanced Fiber-reinforced Wood for Medium- and Low-rise Wooden Buildings
Tokyo, Japan, February 4, 2015 --- Teijin Limited announced today that it has launched a new project to develop technology for advanced fiber-reinforced wood (AFRW), a structural timber product comprising a number of layers of dimensioned timber and high-performance fibers bonded together with structural adhesives for use in medium- and low-rise wooden buildings.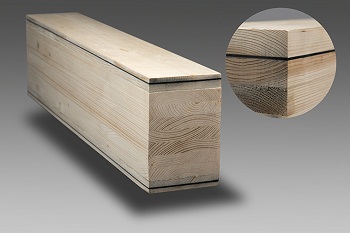 Carbon fiber reinforced wood (CFRW)
Teijin has developed AFRW based on its expertise in fiber reinforced composites, including aramid fibers by Teijin and carbon fiber by Toho Tenax which is the core company of the group's carbon fibers and composites business.

Carbon fiber reinforced wood (CFRW), laminated timber that includes layers of highly stiff, thin-walled carbon fiber, achieves twice the flexural stiffness of conventional laminated timber. CFRW offers enhanced durability and design qualities for use as structural beams. The targeted development of AFRW, a more advanced material, is expected to extend applications to medium-rise buildings.

Teijin will continue developing AFRW technology by incorporating high-toughness aramid fibers and highly stiff carbon fiber, and hybrid materials incorporating these fibers, aiming to meet growing demands for large-space buildings and medium- to low-rise buildings made with wood.

High-performance composite materials that offer new value are one of the strategic product fields in Teijin's Transformation and Growth Strategies medium-term business plan that the company announced in November 2014.

Development of AFRW as an innovative, high-performance material with potential for manufacture in emerging markets is recognized as an official project under the Next Generation Material Cluster in Shikoku Region, an initiative of the Shikoku Bureau of Economy, Trade & Industry. Teijin, collaborating with Kochi University as one of the partners specialized in wood materials, looks forward to contributing to the Shikoku, Japan region's industrial development and forestry revitalization.

Recent seismic disasters in Japan have raised the demand for the construction of safer architectural structures. Lightweight, highly earthquake-proof wooden structures are one possible solution. Wood is also valued as a structural material offering heat resistance, design possibilities and soothing natural appearances. In addition, Japan is working actively to revive its forestry industry. The new Legislation on Promotion of Use of Wood in Public Buildings, which was enacted in 2007, calls for the increased use of wood in low-rise public buildings, such as gymnasiums and public-service and local government buildings. Until now, however, low stiffness and related design limitations have hindered the implementation of this policy.

About the Teijin Group
Teijin (TSE: 3401) is a technology-driven global group offering advanced solutions in the areas of sustainable transportation, information and electronics, safety and protection, environment and energy, and healthcare. Its main fields of operation are high-performance fibers such as aramid, carbon fibers & composites, healthcare, films, resin & plastic processing, polyester fibers, products converting and IT. The group has some 150 companies and around 16,000 employees spread out over 20 countries worldwide. It posted consolidated sales of JPY784.4 billion (USD 7.7 billion) and total assets of JPY 768.4 billion (USD 7.5 billion) in the fiscal year ending March 31, 2014.
Press Contact
Corporate Communications
Teijin Limited
+81 3 3506 4055
pr@teijin.co.jp

Information in the press releases is current on the date of the announcement.
It is subject to change without prior notice.
Related Links