Teijin Opens Second Production Line for LIELSORT® Separators for Lithium Ion Secondary Batteries
Tokyo, Japan, December 18, 2014 ---
Teijin Limited announced today that it will open the second production line for
LIELSORT
, an innovative separator for lithium ion secondary batteries (LIBs), to meet the increasing market demands. Operations will begin on December 24.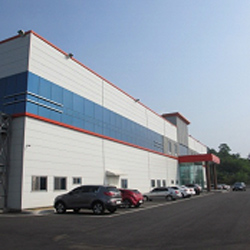 Teijin produces two types of
LIELSORT
separators. One is a polyethylene-based material coated with the highly heat-resistant meta-aramid
Teijinconex
and the other is coated with a highly electrode-adhesive, oxidation-resistant fluorine-based compound. Teijin Lielsort Korea Co., Ltd produces both types, which are sold by Teijin Electronics Korea Co., Ltd, a wholly owned sales company for
LIELSORT
separators.
The new production line will double the
LIELSORT
production capacity to respond to the expanding demand for coated separators.
LIELSORT
is used widely in globally bestselling smartphones and tablets. The line will also accelerate the development of a new type of
LIELSORT
that Teijin is currently working on to achieve both higher heat resistance and adhesion for improved LIB safety.
Teijin utilized its expertise in polymeric chemistry to develop the world's first technology for simultaneously coating both sides of
LIELSORT
. It also developed a high-speed coating technology that is five times faster than conventional coating. Both technologies enable more efficient production.
Teijin, which is working to establish
LIELSORT
as the de facto standard for next-generation LIB specifications, targets
LIELSORT
sales revenue of 2 billion yen by 2020.
About the Teijin Group
Teijin (TSE: 3401) is a technology-driven global group offering advanced solutions in the areas of sustainable transportation, information and electronics, safety and protection, environment and energy, and healthcare. Its main fields of operation are high-performance fibers such as aramid, carbon fibers & composites, healthcare, films, resin & plastic processing, polyester fibers, products converting and IT. The group has some 150 companies and around 16,000 employees spread out over 20 countries worldwide. It posted consolidated sales of JPY784.4 billion (USD 7.7 billion) and total assets of JPY 768.4 billion (USD 7.5 billion) in the fiscal year ending March 31, 2014.
Press Contact
Corporate Communications
Teijin Limited
+81 3 3506 4055
pr@teijin.co.jp
Information in the press releases is current on the date of the announcement.
It is subject to change without prior notice.
Related Links