Teijin's Two-dimensional Communication Sheet to be Used As Instant O2O Marketing Tool to Transmit Large Content
Tokyo, Japan, September 24, 2014 --- Teijin Limited announced today that it will expand the application of its CELL FORM two-dimensional communication sheet as an online to offline (O2O) marketing tool that interfaces with portable devices such as mobile phones or tablets.
O2O is a marketing method that leads consumers from online to actual stores by providing information and coupons via the consumers' mobile devices. CELL FORM is a system that confines electromagnetic waves to a cell within and around a special thin, flat sheet. It incorporates the @CELL data communication technology developed by a University of Tokyo spin-off venture company, CELLCROSS Co., Ltd., and specialized materials and manufacturing know-how developed by Teijin.
CELL FORM can transmit restricted wireless communication at high speed to deliver large-volume content easier and faster than conventional infrared communication, wireless networks or QR codes. Installing CELL FORM in targeted spots will enable O2O-based couponing, video delivery and other marketing activities in large venues, such as major commercial facilities and tourist sites. Since CELL FORM can be designed to recognize and synchronize with a portable device's language encoding when touched, it is an ideal means of delivering information to foreign tourists at transportation hubs, for example. Data delivery from CELL FORM to mobile devices reduces printed information and simplifies the content-update process.
The first CELL FORM O2O marketing application will be unveiled by one of Japan's major department stores, Daimaru, at its Umeda branch in Osaka city from September 24 to October 28. Visitors to a Japanese tea promotion corner will receive coupons by waving their mobile devices over a CELL FORM sheet and then later use the coupons for free gifts if they spend a certain amount for selected products.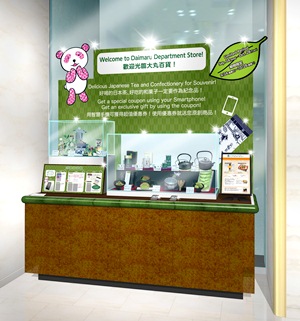 Promotion space
Teijin is developing applications for CELL FORM as a marketing tool in collaboration with advertising agents, marketing companies and system creators.
Uses are envisioned in venues including national and local government offices, commercial and tourist facilities, transportation hubs such as airports and train stations, museums, galleries, aquariums and more.
When a microwave signal is transmitted through the sheet, a shorter-wavelength signal wave seeps out from the surface into the vicinity of the sheet. This highly localized signal, known as an evanescent wave because it is not dispersed widely, helps to prevent signal theft sometimes associated with signals used in wireless local area networks (WLANs). The evanescent wave, which is the point of interface with external signals such as those from an RFID tag, enables a secure, high-speed, low-power connection between the tag, sheet and server.

About the Teijin Group
Teijin (TSE: 3401) is a technology-driven global group offering advanced solutions in the areas of sustainable transportation, information and electronics, safety and protection, environment and energy, and healthcare. Its main fields of operation are high-performance fibers such as aramid, carbon fibers & composites, healthcare, films, resin & plastic processing, polyester fibers, products converting and IT. The group has some 150 companies and around 16,000 employees spread out over 20 countries worldwide. It posted consolidated sales of JPY784.4 billion (USD 7.7 billion) and total assets of JPY 768.4 billion (USD 7.5 billion) in the fiscal year ending March 31, 2014.
Press Contact
Corporate Communications
Teijin Limited
+81 3 3506 4055
pr@teijin.co.jp
Information in the press releases is current on the date of the announcement.
It is subject to change without prior notice.
Related Links