CSR Materiality(Material CSR Issues)
Corporate Social Responsibility
CSR Materiality (Material CSR Issues)
In recent years, shareholders, institutional investors and various other stakeholders have increased their requests to companies regarding the disclosure of financial and non-financial information. Nowadays, disclosing non-financial information appropriately, as it pertains to corporate social responsibility encompassing the environment, society, and governance (ESG), requires identifying the material CSR issues to be disclosed, along with explaining the reasons for their materiality.
The Teijin Group aims for the sustainable development of both business and society. The Group identified the following materiality for a variety of CSR issues related to the social responsibilities of companies, and is advancing CSR management that is integrated with our business strategies, which will help solve social issues through business activities.
CSR Materiality for the Teijin Group
Governance Issues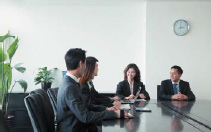 Environmental Issues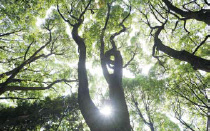 Initiatives for CSR Materiality
The Teijin Group assigns a responsible organization for each identified material issue, as well as sets key performance indicators (KPIs) and targets specific to each issue when formulating medium-term management plans.
Every year, the Group CSR Promotion Subcommittees assess progress against KPIs and targets and report these to the Group CSR Committee as part of the management process.
In particular, for six issues identified as focus areas, we proceeded with the following initiatives:
Corporate governance

The effective operation of the system established has always been one of our material issues. We implemented measures, including an advisory board and a TRM committee.

Environmental value solutions

Safety, security and disaster mitigation solutions

Demographic change and increased health consciousness solutions

Regarding these three solution types, we have listed relevant products and aggregated net sales for each fiscal year in order to promote initiatives as focus areas. Due in part to the addition of net sales by Continental Structural Plastics Holdings Corporation, a company made a wholly-owned subsidiary of our Group in January 2017, our aggregated net sales for FY2017 rose to 427 billion yen from 97.5 billion yen the previous fiscal year.

Reduction of environmental impacts

The Teijin Group is exerting efforts to reduce greenhouse gases caused by production in both its domestic and overseas locations. In FY2017, we reduced CO2 emissions as a result of energy conversion works carried out at the Toho Tenax Mishima Factory (presently "Teijin Mishima Business Site") as well as shutting down our Tokuyama Business Site and ceasing production at our Gifu Business Site, etc. Regarding targets from 2020 onwards taking the Paris Agreement into consideration, we have already begun studies to set these in FY2019.

Diversity

We continued to work on improving diversity awareness and encouraging various ways of working, advancing female employees in the workplace, and promoting the diversification of human resources. Furthermore, in FY2017, as part of creating an environment accepting of diversity, such as sexual orientation, gender identity and sexual expression, we conducted training for our recruitment officers. We also set a new target of increasing the number of female employees in management-level roles to 180 across our four major domestic Group locations by the end of FY2020.

At the four core Group companies in Japan: Teijin Limited (including the former Toho Tenax Co., Ltd.), Teijin Pharma Limited, Teijin Frontier Co., Ltd., Infocom Corporation (Employees of these four companies accounted for 70% of the total number of Group employees in Japan.)
Process of Identifying Materiality
As described below, the Teijin Group grasps and screens a wide range of CSR issues, analyzes those issues screened in terms of their degree of impact on stakeholders and importance to the Teijin Group, and selects material issues. The Chief Social Responsibility Officer then holds dialogues with external experts. For the final stage, the Group Management Committee identifies CSR Materiality of the Teijin Group.

The Teijin Group is grasping a wide range of CSR issues and screening them into groups for materiality analysis.
The Teijin Group has positioned as fundamental the issues that the Teijin Group is already working on, and also Creating Shared Value (CSV) issues that were identified as business opportunities in line with management strategies. These issues are then cross-checked against social issues indicated in relevant international documents such as the ISO 26000 guidance on social responsibility, Global Reporting Initiative (GRI) Guidelines, the United Nations (UN) Global Compact, the UN's sustainable development goals (SDGs), and the Paris Agreement on climate change, and evaluation items of major socially responsible investment (SRI) indices, to grasp and screen CSR issues.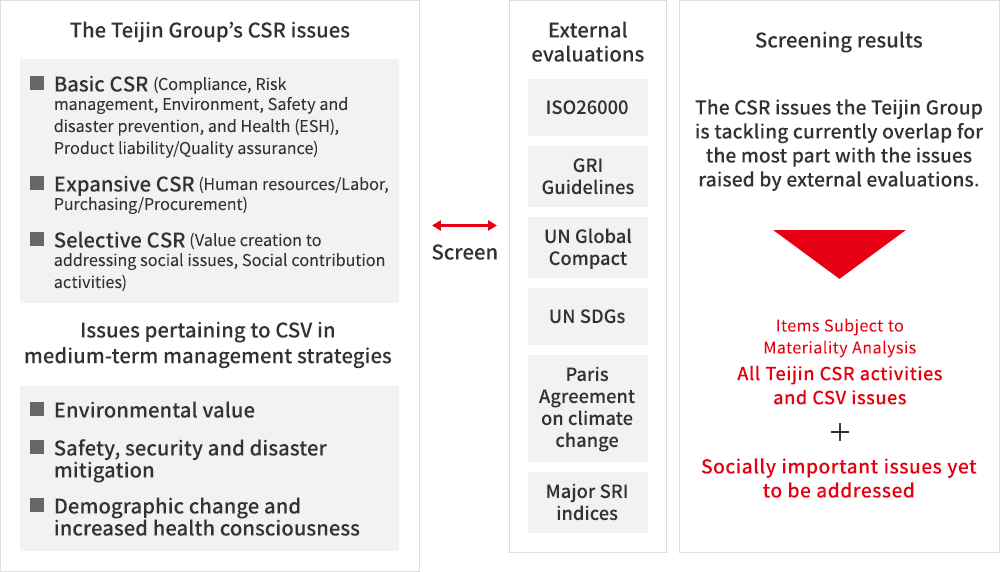 STEP2 Analyze materiality
The CSR issues grasped and screened into groupings are put through a materiality analysis.
The screened CSR issues are analyzed and mapped two-dimensionally, with importance of the CSR issues to the Teijin Group in ascending order along the horizontal axis, and impact on stakeholders in ascending order along the vertical axis.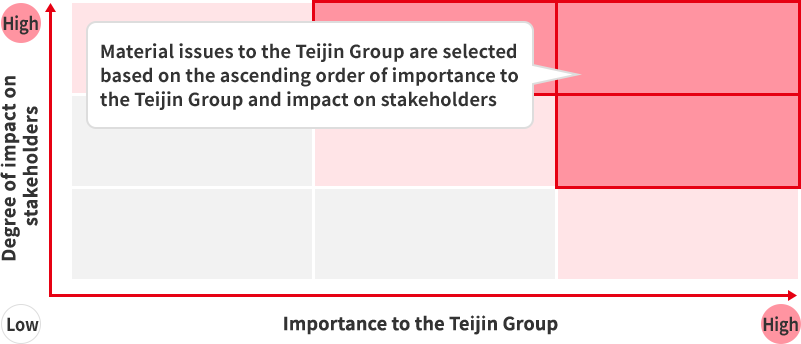 Method for determining impact on stakeholders (vertical axis)
Stakeholders are categorized into (1) shareholders and investors, (2) employees, (3) customers, (4) suppliers, and (5) local residents. The ascending order of degree of impact on stakeholders is determined by whether a CSR issue is of particular interest to each stakeholder category and then tallying the score.
Method for determining degree of importance to Teijin Group (horizontal axis)
Importance to the Teijin Group is determined from both the degree of impact on business (taking into account both the positive and negative aspects), and also the prospect and likelihood of the issues occurring.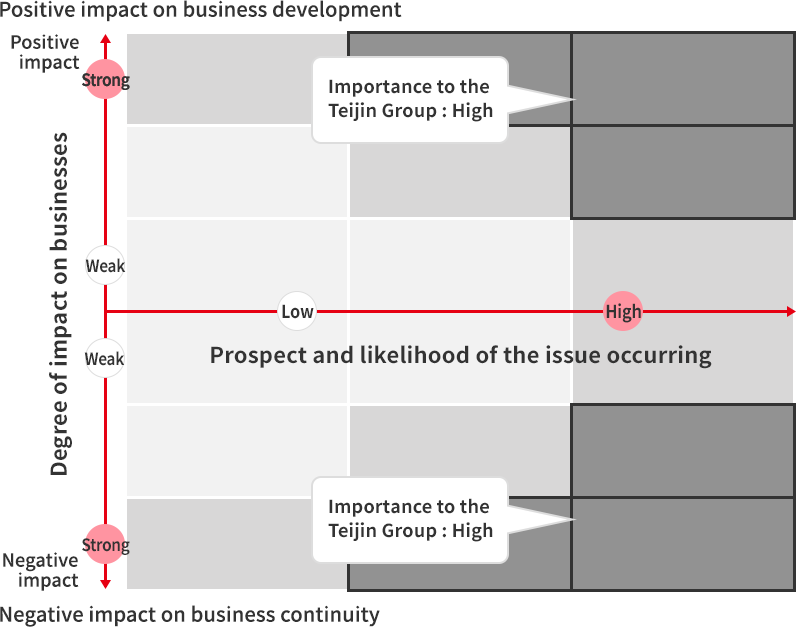 STEP3 Select material CSR issues
From the issues analyzed at STEP 2, we select those issues which have a high importance to the Teijin Group and a high degree of impact on stakeholders.
STEP4 Dialogues with external experts
We conduct dialogues with external experts about the Teijin Group's process of identifying CSR Materiality and the selected issues.
Input from the experts (May 2018)
In FY2017, the Teijin Group held dialogue with three external experts on the theme of "Promoting Diversity & Inclusion" in order to obtain their advice on how the Teijin Group, which positions diversity as a focus area of its medium-term management strategy, can become an organization which creates innovation by diverse human resources leveraging their capabilities.
Diversity is a means of spurring innovation at companies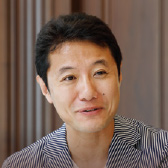 In promoting diversity, the most important thing is to ask yourself why you are doing it. Otherwise, the goal of diversity tends to become diversity itself. It is vital that diversity leads to a means of making the company better or, in other words, that it leads to innovation.
Teijin's medium-term management plan positions diversity as key in strengthening the management base. I think that is a good framework. However, there are also issues. This is a bit harsh, but prompting diversity with the "aim of global excellence" as put forth in the former medium-term management plan does not really hit close to home. That is not going to get the idea across on the front lines. Innovation emerges from diverse people and perspectives. That is why diversity is vital. Frontline employees need to be convinced of that. In other words, a message that does not "sit well" with people is not going to be conveyed. It is up to top management to have a clear vision that gets employees on board. The head of the company presents the overall direction and directors and management bring it to the worksites. I think that discussions about diversity are not enough, but organization-wide discussions are also needed.
I hear that Teijin's diversity arising from its complex business structure is making it hard to bring together employees with differing views from each business. I also hear that Teijin's advancement of M&As with overseas companies has made it difficult to generate synergies with domestic operations and establish good communication. Tips for addressing those issues can be drawn from a certain European company. It always sets out its direction for the century ahead and meticulously disseminates this as a vision throughout the entire group. For this as well, getting frontline employees on board is the key. When you think about what to focus on looking way down the road, there is business growth along with social issues beyond that. I think sharing such a vision throughout the organization and bringing together people with differing views can bring about innovation.
Diversity is about a diversity of minds, not attributes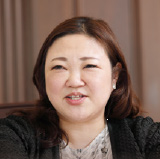 I specialize in succession planning, which entails offering support to companies with organizational development that spurs innovation. As part of that, I also provide support with diversity and inclusion. Teijin has achieved discontinuous growth during its 100-year history and has worked on diversity from early on. But frankly, it seems to me that the opportunities are nowhere near being fully exploited. Like Mr. Iriyama said, to what end is diversity and inclusion being pursued? Women are being treated as symbolic of diversity since they are in the spotlight now. However, women's advancement is just the first arrow—a recipe for minimal growth. Diversity is about a diversity of minds, not attributes.
One way to really leverage diversity is for management to mentor employees, selecting such personnel early on. When it is hard to say which of two candidates is better, choose the woman or non-Japanese for instance. What is important is recognizing potential. Focusing on the productivity and innovation of selected individuals is key. For Teijin, I think choosing personnel from both the materials and healthcare sides of the business to establish a pipeline between the two will close the gap and make networking easier. I think it is important to accelerate work being done now by having employees cross those boundaries while they are young through personnel exchange with each business. Who is to handle this selection of personnel with purpose? Since criticism comes with the territory, I think the job clearly requires a skilled hand. Namely, management.
To further elaborate, the mindset that personnel transfers diminish employees' standing needs to be changed. Conversely, personnel transfers need to be positive. Unless that is assured, really good people are not going to be selected. This is the idea of open innovation. The venture companies that have introduced this succession plan are all growing, and more major companies are incorporating these venture companies' methods.
Creative friction is what sparks innovation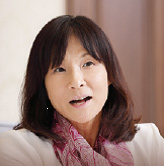 Teijin is taking various diversity and inclusion initiatives but there may not be enough friction. While everything is lined up, friction is lacking. Friction is the potential that arises when an array of diverse elements collide. Generating friction gives rise to creativity, which leads to innovation. No matter how much is accomplished with regard to work-life balance, those efforts will not establish an environment leading to innovation. M&As also cause friction, but it is not currently clear whether that is leading to creativity at Teijin. I think Teijin needs to skillfully create friction between materials and healthcare businesses, or between Head Offices and subsidiaries via M&A, and tie that to creativity.
Fundamental systems are needed to enable work-life balance and equal opportunity. Is the human resource system accessible, rather than being based on seniority? When management approaches employees, is it done in an equitable manner irrespective of age? I think that lifting up younger people and seeing what this type of changing the balance does, brings forth creative friction. Fortunately, the outlook is bright for Teijin's businesses. There is major potential in growth fields. If something was needed, I would say it is more young people. With tons of opportunities to fuse business models and social infrastructure in the chemicals and digital domains, the time has come for Teijin to show its real strength, but the power of youth is what can bring about those chemical reactions. Of course, the overlapping category of women is needed too. Taking a wide approach to diversity and bringing both more women and more younger people into the mix leads to innovation. Shifting the axis of such traditional ways of thinking will bring about friction.
Major dialogues held before fiscal 2017
STEP5 Identify CSR materiality
The Group Management Committee deliberates, confirms, and identifies the Teijin Group's CSR Materiality.
The 3 of CSR Materiality Solutions
3 Solutions identified by Teijin Group as "an enterprise that is essential to tomorrow's society"
Basic Stance
The Teijin Group considers contributing to addressing various social issues through sustainable businesses as the responsibility of "an enterprise that is essential to tomorrow's society". By utilizing its individuality, it continues to strive to offer solutions required by society with focus on the following three areas.
Environmental value solutions
Products/services that offer value to help solve social issues concerning the global natural environment
Safety, security and disaster
mitigation solutions
Products/services that protect human lives and daily life from various disasters, accidents, crime, and conflicts.
Demographic change and
increased health consciousness solutions
Products/services that support healthy and positive lives for all people
Statistics for Sales of 3 Solutions