Corporate Social Responsibility
Purchasing and Procurement
The Teijin Group established the Green Purchasing Policies and Green Purchasing Guidelines in March 2001 to promote green purchasing (preferential purchasing) of environmentally friendly products and services. For office supplies, we have promoted the preferential purchasing of products meeting the requirements of the Green Purchasing Standards for Office Supplies, also established by the Teijin Group.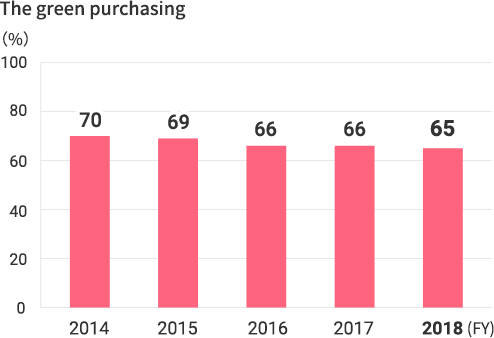 Following on from FY2016, in FY2017, Teijin broadly extended cost reductions and expansion in green purchasing products to Group companies, thereby maintaining the green purchasing ratio at mostly the same level as the previous year.
Green Purchasing Policies
1.

Fully consider the necessity of purchasing before buying a product or service. Curtail the quantity as much as possible when purchasing.

2.

Purchase environmentally friendly products and services based on an assessment of their entire lifecycle, including collection of resources, manufacture, distribution, use, disposal, and recycling.

3.

Give preference to suppliers that are active in environmental conservation.

4.

Pursue environmental information necessary for making decisions on green purchasing from a broad range of sources, and request that manufacturers and distributors provide such information.
Green Purchasing Guidelines
1.

Reducing environmental pollutants

2.

Saving resources

3.

Saving energy

4.

Long durability

5.

Recyclability

6.

Regenerated materials, etc.

7.

Ease of treatment and disposal