Compliance and Risk Management
Corporate Social Responsibility
Compliance and Risk Management
Promoting compliance and risk management
Basic Stance
We believe that compliance and risk management are the two inseparable pillars of internal control. They form the basis for sound corporate governance and are a focus of our CSR activities. We are working hard to ensure that corporate ethics are strictly upheld at all group companies and to promote business continuity management (BCM).
Code of Conduct
Integrity
We act with integrity in compliance with laws and regulations, and show respect for human rights and local communities in which we operate.
Compliance and Risk Management (CRM) Promotion System
The Group CRM Subcommittee, established under the Group CSR Committee, meets twice a year to deliberate on CRM-related policies, measures and activities, and promote their group-wide expansion. In FY2017, the Subcommittee engaged in activities such as review of the Code of Conduct, BCP-related rules and response to GDPR (EU General Data Protection Regulation).
In Japan, at business groups and group companies, we have appointed a person in charge of promoting CRM who manages/operates activities at respective workplaces. Overseas, each business group and group company conducts its own independent training, and global compliance meetings organized by Teijin Limited are held in main overseas regions every year. In FY2017, we held one meeting in China. Furthermore, FY2017 marked the inaugural global CSR meeting whereby representatives from major overseas group companies gathered in Japan.
Positioning of compliance and risk management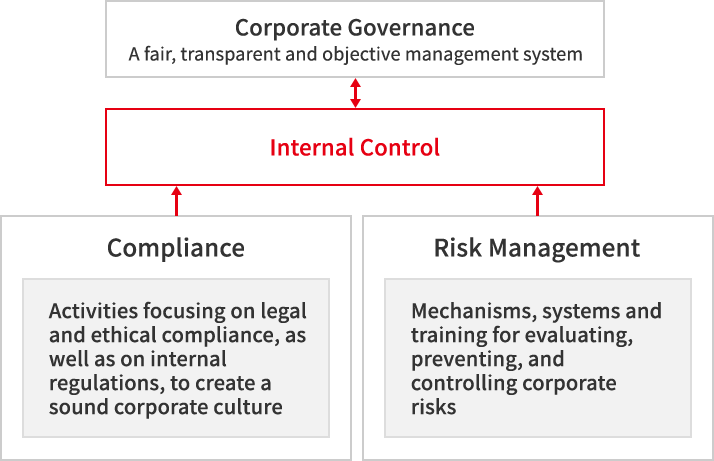 PDCA cycle of compliance and risk management activities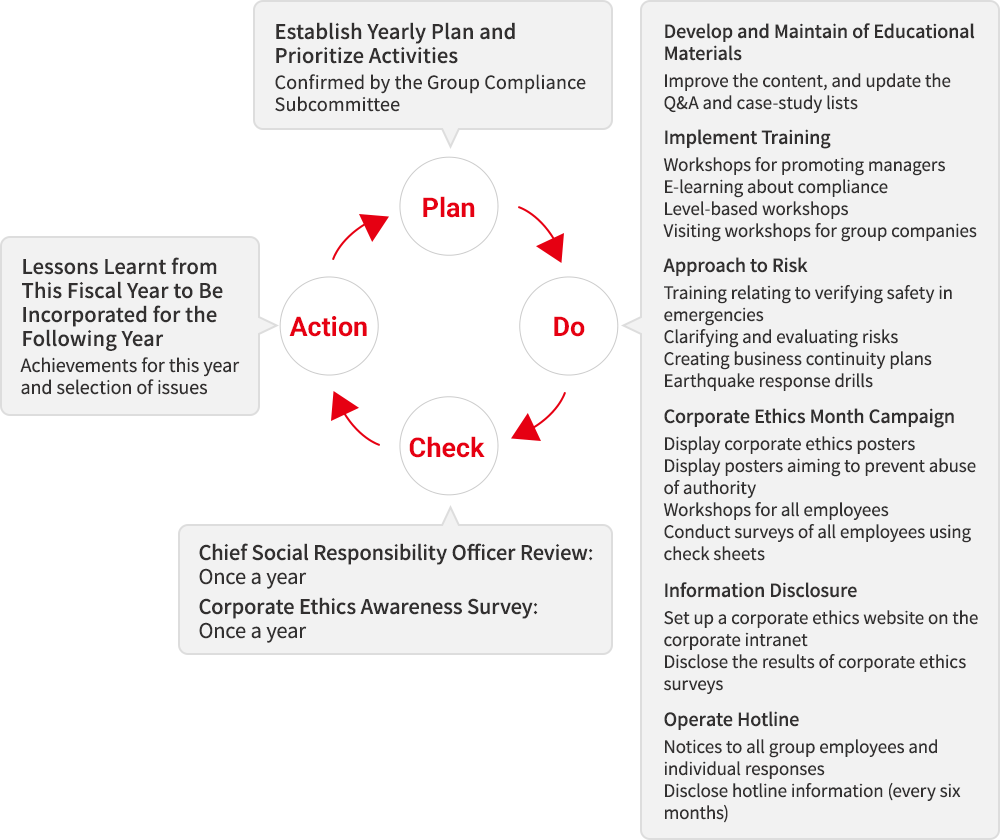 Results of Reviews by Chief Social Responsibility Officer (Law Violations and Occurrence of Accidents)
Every February, the Chief Social Responsibility Officer reviews the CRM activities for the previous calendar year of business groups and group companies. This review assesses whether there were any serious violations of laws or accidents during CRM activities, and confirms the compliance and risk management activities of business groups and group companies on the basis of the compliance and risk management activity survey submitted.
Of the matters reported to the Chief Social Responsibility Officer in February 2018, there were no serious matters relating to violations of laws or accidents.
Corporate Ethics and Compliance Activities
Compliance is essential for creating a sound corporate culture. With this in mind, we carry out educational programs not only on internal rules and laws relevant to our business but also on various aspects of corporate ethics.
We also operate a counseling and reporting system (hotline) that is designed to facilitate self-resolution of internal legal and ethical problems.
Revision to the code of conduct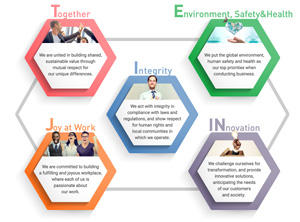 In FY2017, the Teijin Group pushed ahead with revisions to its Corporate Code of Conduct and formulation of the New Code of Conduct. This was done in order to clarify the Teijin Group's response to the Sustainable Development Goals (SDG) slated by the United Nations, the Global Compact and other initiatives corresponding with changes in the social environment, as well as to achieve the sharing of values between Teijin Group employees, ultimately bringing about a transformation in awareness and conduct. The New Code of Conduct comprises of five items and is designed to be straightforward and easy to remember for employees of various cultural backgrounds working in many countries across Europe, the Americas, Asia and so on where the Teijin Group is rolling out businesses. In FY2018, we plan to compile the content stipulated in the existing Code of Conduct in a handbook on the New Code of Conduct.
Moreover, as a measure aimed at prevention of public official bribery, we began formulating new rules in 2016 and held an exchange of opinion between Group members in FY2017. In FY2018, we plan to formulate new rules, including detailed rules specific to the circumstances of individual countries and regions.
Corporate ethics workshop for all employees
Teijin Group holds the Corporate Ethics Workshop every year targeting all executives and employees (including contract/temporary employees).
The participation rate in FY2017 in Japan was 92%, which was one percent higher than the previous fiscal year. Overseas, the number of eligible Group companies that participated, fell to 67 from 77 the previous fiscal year. The participation rate of individuals overseas was 53% (4,847 people)

.
As material for this training, we prepared four Japanese-language case studies and three English-language case studies on corporate ethics so that employees could sense the close relevancy of such topics with themselves.
Check sheets to survey all employees at the corporate ethics workshop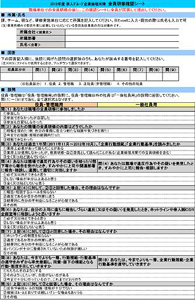 Every year, we use check sheets to survey executives and employees of group companies in Japan (including contract/temporary employees) to measure the participation rate in workshops for all employees and examine the level of interest and comprehension of corporate ethics. In FY2017, we surveyed a total of 12,503 employees

and received 12,390 responses

(response rate of approx. 99%).
The participation rate in workshops for all employees was 91% for group company executives and employees in managerial positions and 93% for other employees. Adding those who could not participate but studied by themselves, the figure was 99.7%, meaning almost 100% of employees learned about corporate ethics at every employee level.
As regards a question about the content of the workshops for all employees, approximately 71% of the participants replied that they had deepened their understanding. This was because the workshop materials contained themes and explanations appropriate for each workplace, and were designed to help the participants deepen their understanding.
Group-wide application of corporate ethics and compliance
1. Level-based workshop training
Every year, as part of level-based workshop training for employees at group companies in Japan, the CSR and Compliance Department conducts training that includes discussions for new recruits, staff in mid-level positions, newly-appointed section chiefs and newly-appointed general managers under the theme of CSR basic knowledge and the role of employees (in FY2017, 321 participants

in total).
Overseas, we promoted greater awareness of corporate ethics through e-learning as part of the EaGLES training program for personnel newly appointed to managerial positions.
In FY2016, we began full implementation of rotational training, whereby members of the CSR and Compliance Department visit sites of each business and affiliate company to conduct corporate ethics training.
This training uses case studies from both inside and outside of the Teijin Group and aims to create an awareness that corporate ethics and compliance issues can affect anyone, anytime. Moreover, by creating a curriculum to suit the needs of each business/affiliate company, this training is proving to be even more effective. In FY2017, rotational training was conducted 20 times in 10 locations for a total of 427 people.
In addition to the above, legal attorneys in charge of the Compliance Hotline were invited to run training at two Group locations, which were attended by 94 participants. Moreover, the same training session was held for a total of 50 people during the Head Office General Manager Meeting. The same training was held for companies new to the Teijin Group.
3.Training for promoting-managers
The CSR and Compliance Department organized training sessions held at the Tokyo and Osaka head offices in which 59 promoting-managers

participated in FY2017. The focus of these sessions was corporate ethics and compliance. A group-work based case study was implemented with training materials to be used in workshops for all employees in the Corporate Ethics Month campaign. By discussing a case that actually occurred at other companies, we learned important points for conducting workshops for all employees.
4.Workplace training/education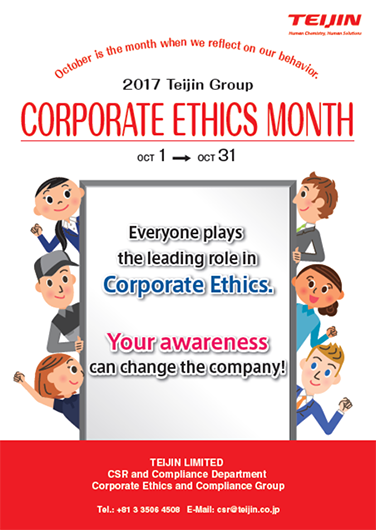 Promoting-managers conduct regular training at each workplace in Japan and overseas continuously. Relevant materials and case examples are always available on the intranet to create an environment that facilitates employees to learn independently in the workplace.
During the Corporate Ethics Month campaign every October, starting with the reconfirmation of the Corporate Code of Conduct and other standards at each workplace in Japan and overseas, the importance of corporate ethics is communicated by a message from our CEO in multiple languages and by displaying a Corporate Ethics Month campaign poster.
The CEO's message for FY2017 placed emphasis on "Even in corporate ethics, in order to produce innovation, it is important that we create an atmosphere which allows people to speak up frankly about negative aspects also". Moreover, each year the poster slogan is chosen from employees' proposals publicly offered, and for FY2017 it was, "Corporate ethics is the responsibility of all employees. You can change the company by changing your consciousness."
We are increasing the number of languages the abovementioned messages are disseminated in, with a total of 13 languages available in FY2017. These were, Japanese, English, Chinese (simplified and traditional), Thai, Indonesian, German, Korean, Dutch, French, Spanish, Vietnamese and Burmese.
We created compliance e-learning programs for group companies in Japan, and implemented basic, intermediate and advanced programs targeting new recruits, staff in mid-level positions and staff newly appointed to managerial positions. In total, there were 481

participants and 479

completed the program in FY2017.
Corporate Ethics Awareness Survey
Corporate ethics awareness survey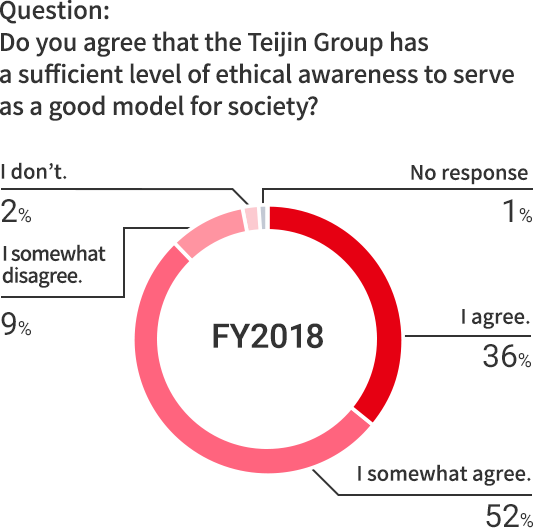 We have enriched our conventional Corporate Ethics Awareness Survey that targeted a portion of our employees and launched a CSR Awareness Survey. This survey, in addition to the ethical awareness and satisfaction of employees, covers general CSR topics including corporate philosophy, brand statement and diversity.
In FY2017, the questionnaire was completed by all employees within our domestic Group companies and we received responses from 9,894 (79.7%).
The results revealed that 75% of respondents answered "Yes" or "I suppose so" to the question, "Do you think Teijin Group's awareness of ethical issues serves as a model for society?" while 12% answered "No" or "I don't suppose so".
For the question, "If you discover or suspect non-compliant conduct difficult to immediately report to your superior in the workplace, would you try consulting via the reporting/consultation hotlines of your company/business or the Teijin Group's?" 76% of respondents answered "Yes" or "I suppose so" while 15% of respondents answered "No" or "I don't suppose so".
Our aim is to further improve ethics awareness in the future, and engage in educational activities to create workplaces where it is easy to consult others about problems and where problems can be solved internally.
Counseling and reporting center operations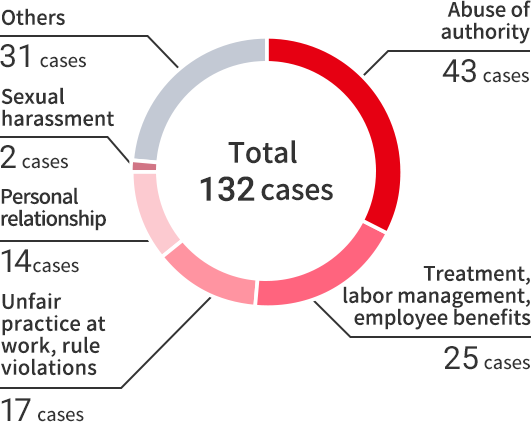 The Teijin Group counseling and reporting system was launched for Japan in 1999 on the intranet and via a consultation center operated through a contract with an external organization. Currently, this service is available to anyone working for domestic organizations of the Teijin Group. In addition to this, every year since FY2013, during Corporate Ethics Month in October, we directly distribute to employees envelopes for the "Corporate Ethics Opinion Box" to all employees at group companies in Japan.
Services offered to our employees at overseas group companies include some elements of the Teijin Group's counseling and reporting system (corporate ethics opinion box, direct reporting, etc.). In addition, Teijin Holdings USA, Inc. and Teijin Aramid B.V accept reports/consultations from employees working for Group companies in North America and Group companies affiliated with Teijin Aramid B.V. In FY2017, Teijin (China) commenced operations of a reporting/consultation hotline for employees of Group companies in China with the aim of strengthening compliance and observance of Teijin Group ethics by Group companies in China.
In order to promote employee utilization of available reporting and consulting services, the Teijin Group displays a corporate ethics month poster (13 languages) in all workplaces both domestic and overseas, which includes the contact details for the direct reporting service. In addition, domestically we have a permanent hotline page on the company intranet, and raise awareness by distributing a hotline carry card and rotational training. In FY2017, there were a total of 95 consultations/reports from within the Teijin Group in Japan and overseas. This figure is the same as last year.
We have been accepting reports from outside the Teijin Group from "Reports from Suppliers" available on our website since 2006 (Japanese). From 2013, an English version has been available on our global website.
These Teijin Group counseling and reporting systems are operated under the direction of the Chief Social Responsibility Officer. Reports/Consultations which could possibly become major risk issues are also reported to the Total Risk Management (TRM) Committee, and are handled by top management. While protecting privacy, the content and responses to all issues raised by employees via consultations/reports are disclosed to employees every six months on the intranet for the purposes of raising employees' awareness and as a preventative measure.
Risk Management Activities
To implement risk management with greater centralization and integration, the Teijin Group has positioned the CSR and Compliance Department under the Chief Social Responsibility Officer. Under this department, we established the TRM (Total Risk Management) Group to comprehensively manage risk.
In FY2017, the use of the risk countermeasures sheet to identify/evaluate risks in order to enable quantitative evaluations was expanded to major group companies (37 companies in Japan and 44 overseas). In addition to taking countermeasures for the various risks identified on the basis of data obtained, we quantified the risks from the viewpoints of the potential scale of damage and of the potential frequency of occurrence, and conducted evaluations of the most severe risks for the Teijin Group overall.
Status of Business Operations Risk Responses and Business Continuity Plans
Response to overseas bases
Although natural disasters and terrorist attacks are occurring across the globe, the Teijin Group did not observe any direct impact to concerned members in FY2017 also. Furthermore, in order to strengthen liaison regarding risk response with overseas bases, we held face-to-face discussions with our contacts in various European (Holland/Germany) regions.
Business continuity plans (BCP)
In FY2017, we established a business continuity plan (BCP) in regards to core management functions. We also made decisions on identification of management tasks, execution methods and locations to set up emergency response headquarters so that operations could be continued even if our head office building became unable to function and distributed this in a written document to the concerned personnel.
Safety verification drills
Safety verification drills for times of emergencies were held from June 2016 to March 2018 utilizing a system ("Emergency Call") provided by Infocom Corporation of the Teijin Group. All-in-all, 11,829 people

participated in these drills. When this training was held in August, all but some departments introduced a process to trace and re-confirm the safety of employees whose safety cannot be confirmed within 24 hours of reporting, which improved the rate for verifying employee safety within 48 hours after reporting from 99.3% to 99.7%.
Promotion of Business Continuity Drills
As a part of our BCM efforts, disaster prevention drills and earthquake evacuation drills are conducted at Teijin's Japanese bases.
The Teijin Group not only has put in place measures to prevent leaks of trade secrets, technological information, personal information, and other information, but also maintains and improves its information security by taking the utmost care in managing its information systems. In each of the Company's divisions, we decide upon the person responsible for IT, the person responsible for personal information protection, and the person responsible for the management of trade secrets. Every year, these responsible persons check the management status of information assets like information systems, networks, facilities, personal information and trade secrets. Moreover, the Corporate Audit Department conducts yearly audits of information security and personal information protection at all Group companies.
Following on from FY2016, there were no information leaks as a result of cyber-attacks from outside the Company in FY2017 also.