Message from the CSRO
Aiming to Achieve Sustainable Growth and to Increase Corporate Value over the Medium- to Long-Term
The year 2015 was a year in which significant milestones for CSR were established. In September, the United Nations adopted its sustainable development goals (SDGs), and in December the Paris Agreement was agreed at the 21st session of the Conference of the Parties (COP 21) to the United Nations Framework Convention on Climate Change. Moreover, in June, the Corporate Governance Code of the Tokyo Stock Exchange was enforced in Japan. In such a year, the Teijin Group identified its material CSR issues related to business (CSR materiality), reorganized the specialist subcommittees of the Group CSR Committee to enable them to work with efficiency and expertise, identified the subcommittee responsible for each materiality, and thus was able to create a solid foundation for promoting systematic initiatives.
Still, we have only just begun setting medium- to long-term targets for these issues and strengthening our specific activities. Also, we have had some cases where we regrettably could not meet society's demands properly.
Companies that do not deal with CSR issues appropriately are placing their continued existence at risk. In contrast, by approaching CSR issues positively and proactively, companies will find opportunities for sustainable growth and expansion. Working toward our vision of being "an enterprise that is essential to tomorrow's society," we will continue to address the important issues surrounding sustainability, including social and environmental issues that have been identified as CSR materiality. As our business groups and dedicated staff work together to advance specific initiatives, I am certain we can contribute to the sustainable development of business and society.
April 1, 2016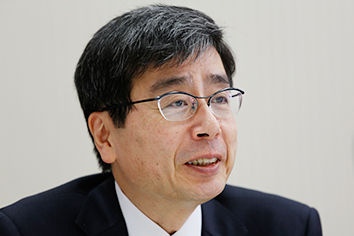 Chief Social Responsibility Officer
Nobuyuki Takakura
CSR Management System and Resposible CSR Materiality of the Subcommittee
As of April 1, 2016