Occupational Safety and Health
Corporate Social Responsibility
Occupational Safety and Health
Creating a safe and secure workplace environment
Basic Stance
A company cannot attain sustainable growth without ensuring the occupational safety and health and hygiene of its employees. In order to provide workplace environments created considering safety and health, we are taking steps to realize zero occupational accidents, redress long working hours and support the mental health of employees.
Code of Conduct
Environment, Safety & Health
We put the global environment, human safety and health as our top priorities when conducting business.
Promoting the three pillars of safety activities
In order to prevent occupational accidents, the Teijin Group has established three pillars of safety activities: the "5S" initiative (five Japanese words [seiri, seiton, seisou, seiketsu and shitsuke] which correspond to organization, tidiness, cleaning, hygiene and discipline), the "Hiyari-Hatto"(meaning close call or near miss) initiative and safety patrols.
Utilizing the information obtained through these activities, we aim to enhance individual awareness of risks, and communication in the workplace in order to eliminate occupational accidents within the Teijin Group.
Teijin works to ensure employees' safety in the workplace and improve its safety activities. To this end, it holds legally stipulated meetings, such as convening of the Health and Safety Committee, and shares information and holds discussions through its own original activities, such as convening of the ESH Promotion Committee.
Initiatives aiming for prevention of lost time injuries
For the 2017 calendar year (January through December), we were unable to achieve our lost-time injury frequency rate* goal of 0.25 or less, due to a result of a 0.38 lost-time injury frequency rate (0.49 domestically).
In FY2017 (April 2016 through March 2017), there was 1 lost-time injury accident related to a rotor.
Prevention of entanglement in rotors (rotor-related accidents) is an ongoing issue, and when such an accident occurs, we exert all efforts to investigate the root cause at the concerned workplace and establish measures for preventing recurrence, as well as implement countermeasures from the aspects of both education and equipment.
Furthermore, in training seminars on machine safety, we are reinforcing awareness of the safety standards and approaches regarding measures to prevent accidents caused by rotors and implementing measures in line with these standards. As for equipment-centric countermeasures, we regularly confirm the status of machine safety promotion within our Group, including overseas locations, and aim to have safe equipment so disaster can be avoided even in the case of human error.
In FY2018, with the aim of minimizing the occurrence of accidents caused by work or conduct, which account for the majority of lost-time injury accidents, we will push forward with countermeasures particularly targeting inexperienced workers with limited field experience.
Moreover, the Teijin Group receives and assesses reports on lost-time accidents of subcontracting companies that occur at Group business sites and supports/promotes initiatives by subcontracting companies to secure safety.
*

Lost time injury frequency rate: The number of lost time injuries per one million working hours.
Lost time injury frequency rates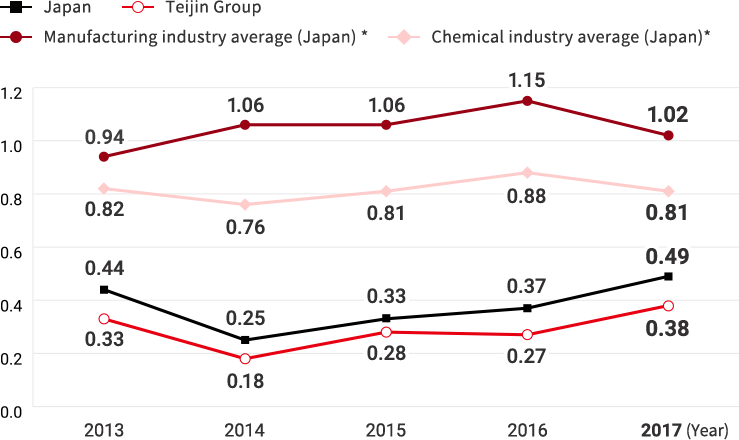 Figures are calculated based on calendar years.
The abovementioned values do not include CSP (Continental Structural Plastics)
*

Source: Ministry of Health, Labor and Welfare, Japan: Survey of Industrial Accidents.
Group-wide sharing of occupational accident information and responses at the time of an accident
Information relating to all occupational accidents resulting in lost time due to injury that occur at Teijin Group companies is distributed via an Intranet to enable these experiences to be used as a reference, and to help prevent the recurrence of similar accidents.
In particular, if the circumstances and cause of the accident satisfy the requirements for a special audit as described in the ESH Audit Regulations, a special audit is performed either by the Head Office or the relevant business group, depending on the details of the accident. Special audits check the status of onsite investigations to determine the cause of the accidents, the progress of recurrence-prevention measures and whether or not there are any points for improvement. In FY2017 (April 2016 through March 2017), we completed one special audit in connection with an overseas accident caused by a rotor not accompanied by a lost-time injury.
Current status of OHSAS management system certification
To reduce risk in the workplace, the Teijin Group encourages its manufacturing and processing sites to obtain the OHSAS 18001 occupational health and safety management system certification.
As of the end of March 2018, a total of 37 business sites and plants, comprising of 24 in Japan and 13 overseas, had been certified. Of the worksites recommended to acquire certification, 73% have acquired the occupational health and safety management system certification.
Health and Sanitary Measures
Health Management
The Teijin Group has for many years proclaimed through its corporate philosophy both internally and externally to be a company that values employee health, and in FY2016 we declared this basic value in the form of the Teijin Group Health Management Declaration. As part of this health management initiative, we compiled and distributed the Health Management Handbook as an opportunity for each of our employees to contemplate their own health as an important issue.
Strongly believing that employees are a company's ultimate management resource, each individual company of the Teijin Group will continue to work in close collaboration to promote the creation of lively working environments with employees who enjoy both physical and mental health.
The Teijin Group was recognized as a Certified Health and Productivity Management Organization 2018 (White 500) by the Ministry of Economy, Trade and Industry for our excellent health management. We have received this recognition two years running.
Mental health care measures through close cooperation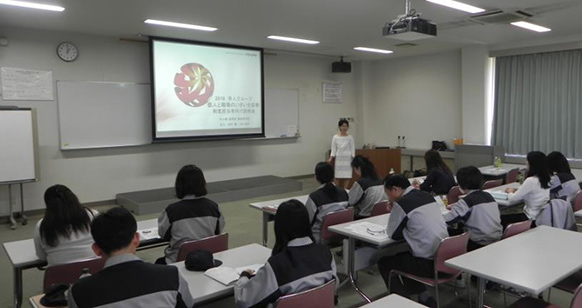 In addition to clinics at our head office and major operation bases, the Teijin Group runs a Health Care Administration Office in our Tokyo head office. This office is a specialized organization responsible for planning and promoting Group-wide physical and mental health management measures as well as verifying the effects thereof.
Particularly in regards to mental health, Teijin has established consultation services for employees both internal and external to the company and the Health Care Administration Office provides tailored mental support under the guidance of medical specialists. In 2017, staff of the Health Care Administration Office (clinical psychologists, health nurses, nurses) and the external EAP (Employee Assistance Program) received a total of 2,812 consultations (compared to 2,431 in 2016).
Furthermore, staff at the Health Care Administration Office regularly conduct various training sessions such as new employee self-care and line-care seminars, and to date have provided approximately 1,600 employees with such preventative mental health education on 61 separate occasions.
Implementation of a diagnosis to measure the "Iki-Iki" level of individuals and workplaces
The Teijin Group has been diagnosing stress levels in all workplaces in Japan every year since 2003. Furthermore, in line with stress check legislation, in July 2016 it implemented the annual initiative of a diagnosis to measure the iki-iki (cheerfulness) level of individuals and workplaces. This diagnosis combines the workplace stress diagnosis with a stress diagnosis for individuals.
Those workplaces which were diagnosed as exceeding a certain level were the focus of workplace improvement activities to achieve bottom-up improvement through discussions with employees in the field. The results of the July 2017 diagnosis (an effectiveness measurement) showed that these activities had led to improvements in around 70% of the workplaces concerned.
Teijin will continue aiming to create cheerful and comfortable workplaces through these diagnosis and improvement activities.